About Haven
Haven Livingston, is a stained glass and mosaic artist who splits her time between Santa Cruz, CA and Tacoma, WA
Haven brings seascapes, landscapes, and wild moments to life in the magical medium of glass. For over two decades she worked as a field biologist studying marine and terrestrial ecosystems. Drawing from this experience and her continued love and exploration of wilderness, she creates everything from suncatchers, stained glass panels, window installations, and mosaic wall hangings and fireplaces. She has shown her work at Santa Cruz County Open Studios, makers fairs, and has pieces in private collections around the world.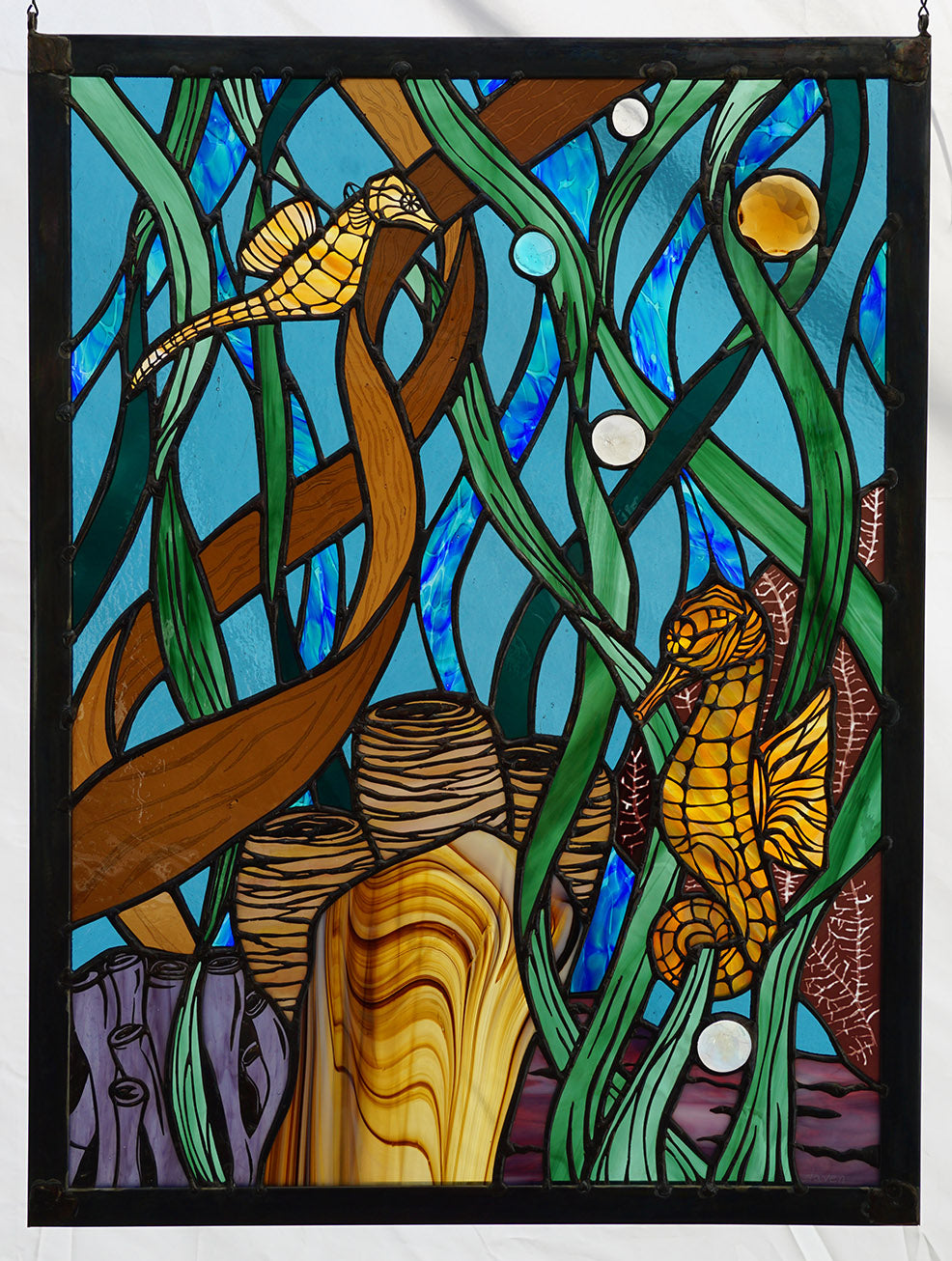 Horsing Around
16"x22"
Horsing around is a playful stained glass scene with a lot going on. Hand engraved glass, copper foil overlay, round and faceted jewels and mouth blown glass bring this seaweed and coral setting to life. This is the ultimate underwater experience in glass!
Shop Now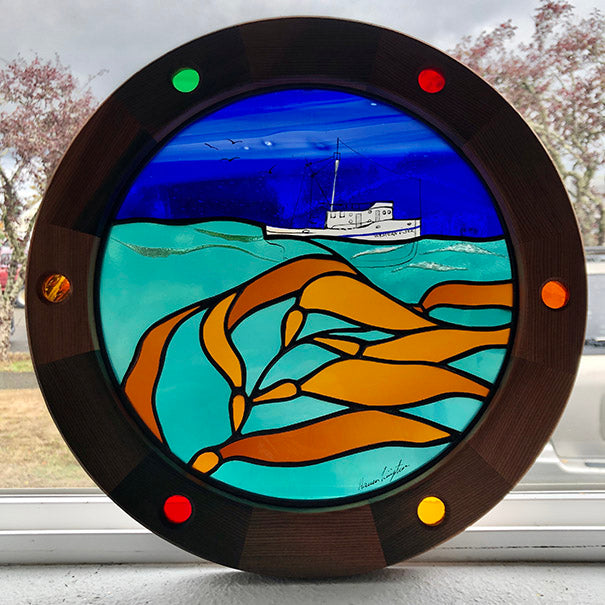 Western Flyer Porthole
SOLD
13" diameter
A collaboration between Ventana and Haven to celebrate the research vessel Western Flyer. The boat was originally built in Tacoma, WA before making its way to the Monterey Bay and becoming famous in John Steinbeck's The Log from the Sea of Cortez. Douglas fir from the hull of the original Western Flyer vessel was used by Ventana to build this porthole frame in Santa Cruz. Haven took these frames back to Tacoma, where she created this porthole view of the vessel cruising through waters of the Pacific. The glass used in this piece was mouth blown in Seattle, WA. Haven used techniques of sandblasting, and kiln fired paints to add details to the glass. The red and green glass in the top two screw holes for the frame represent the guiding lights ships would see when returning to port, "red, right, return" and the green light to the port side, signifying always being able to find your way home.
Shop Now
Glass Mini Surfboards
18"x4"
These mini glass boards are inspired by Ventana's finely crafted patterns on their surfboards. Sized to match exactly to the mini boards that Ventana creates for wall hangings, these can hang in any window, alone, or in a collection. Handcrafted from a combination of mouth blown and machine pressed glass.
Shop Now
Western Flyer Golden Spiral
SOLD
13" diameter
A collaborative work of art between Ventana and Haven that is the sister piece to Western Flyer. This piece includes a frame built by Ventana from original Western Flyer Douglas fir hull wood with a stained glass panel by Haven. Kelp is a favorite for Haven to create. Anyone who loves playing in the ocean or admiring the giant kelp forest of the Monterey Bay Aquarium can relate to the lull of the swirling golden canopy.
Shop Now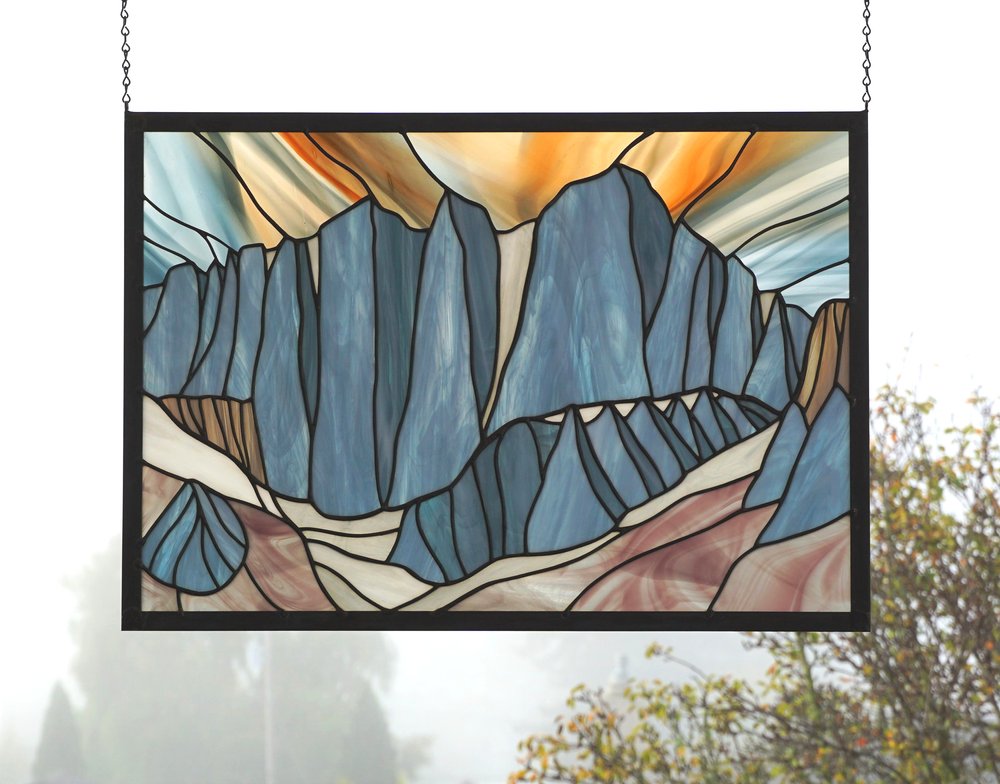 Whitney Portal
20"x29"
When not on the ocean, Haven can be found in the mountains. The ultimate goal is to capture that end-of-day feeling when you're just about to reach camp and you turn back to see the mountain you just summited alight with alpine glow. This portrait in glass of Mount Whitney in the Southern Sierra mountains of California is electrifying with a glowing sunset sky of mouth blown Glass.
Shop Now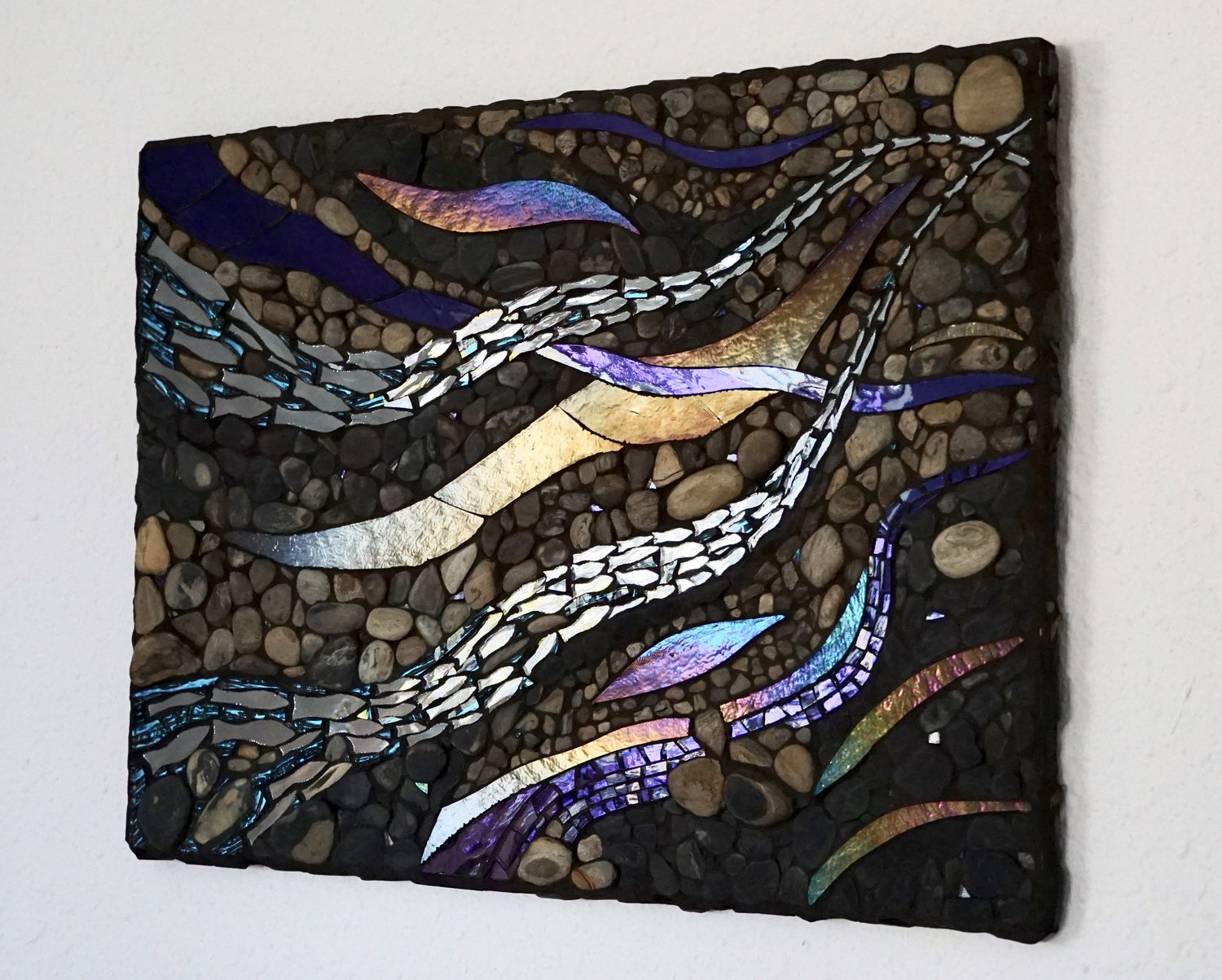 Undercurrents Mosaic
14"x20"
Schooling fish hand shaped in mirrored silver water glass find their way through a maze of natural stones in a blue-purple iridescent glass stream. Iridescent glass shines in purples, blues, gold and silver when the light is at an angle or grey when it's bright. It's stunning in any space, but especially where you can walk past it and see the light follow you in flowing motion. At a distance and in dim light the rocks fall dark and the pattern of glass and tiny twinkling stars glow bright. Glass and stones wrap around all edges of the panel creating a three dimensional effect.
Shop Now