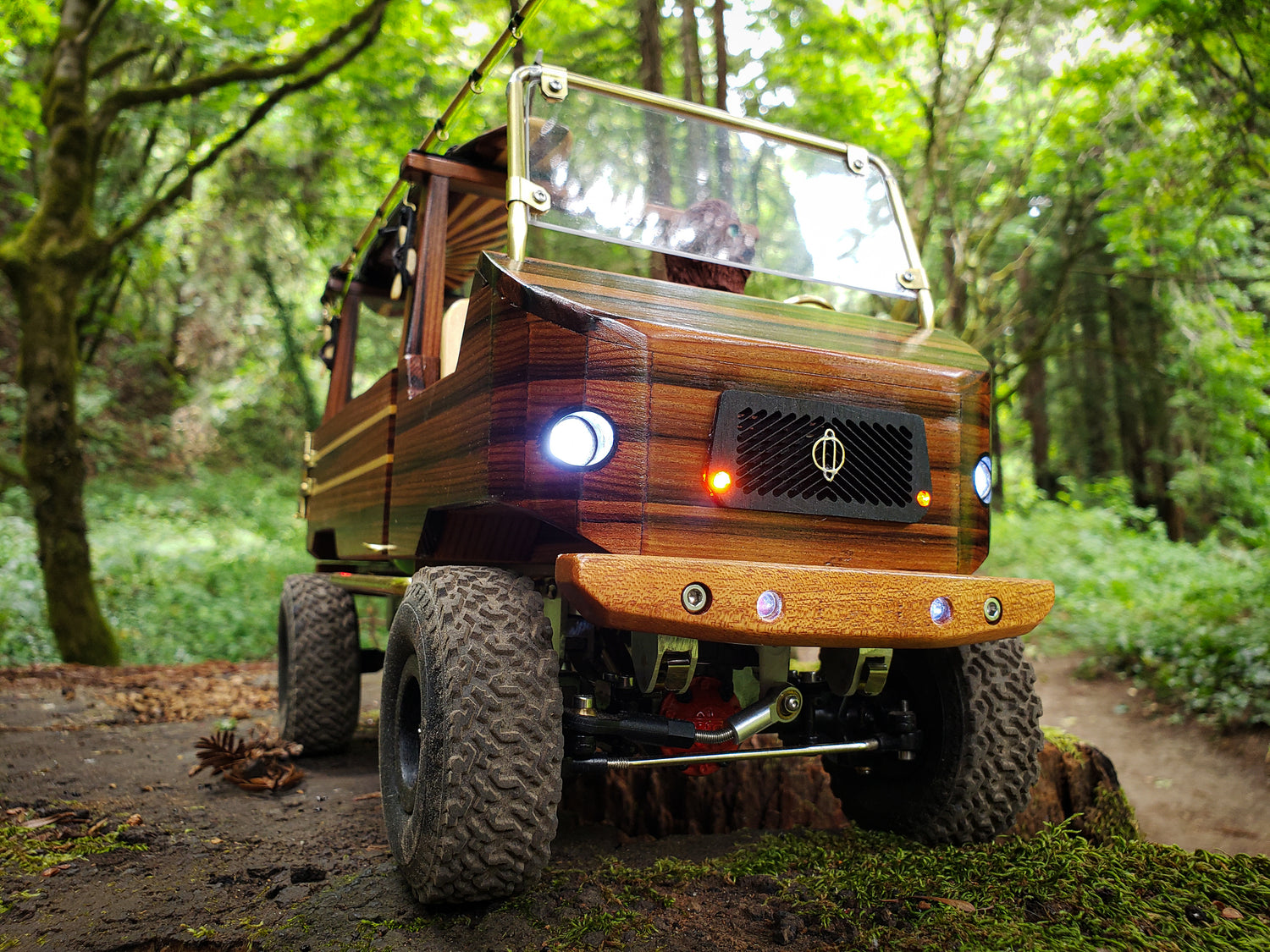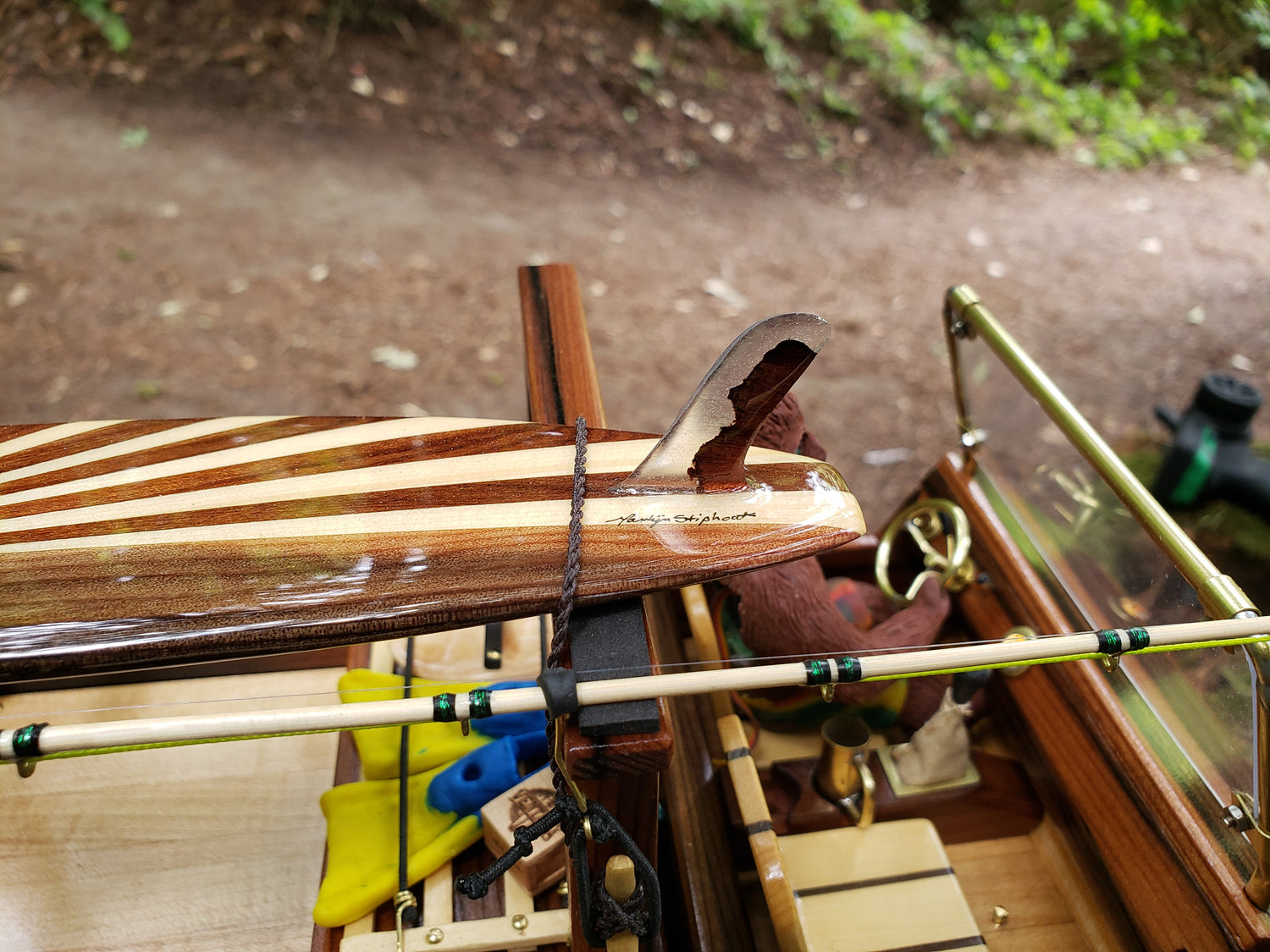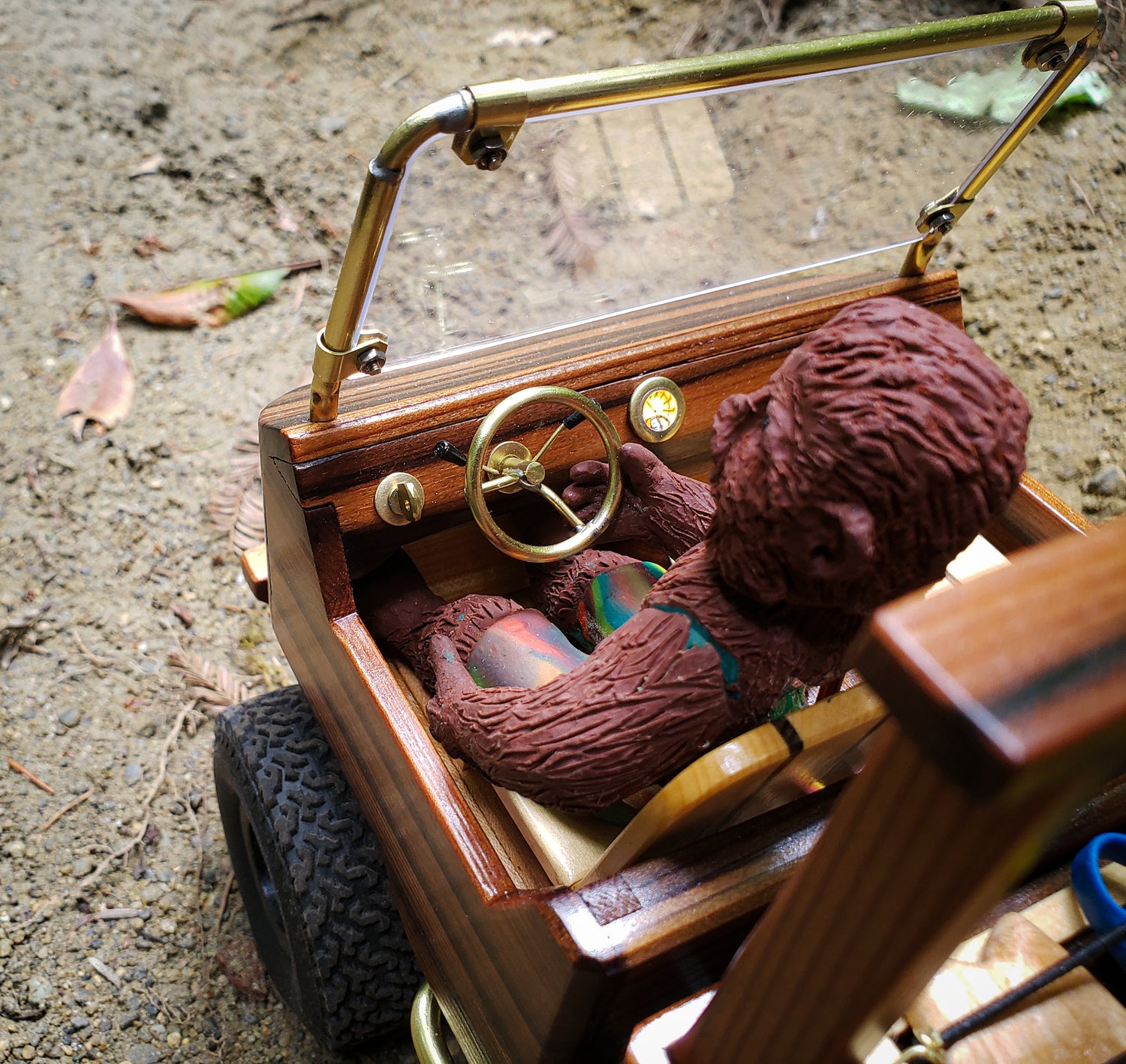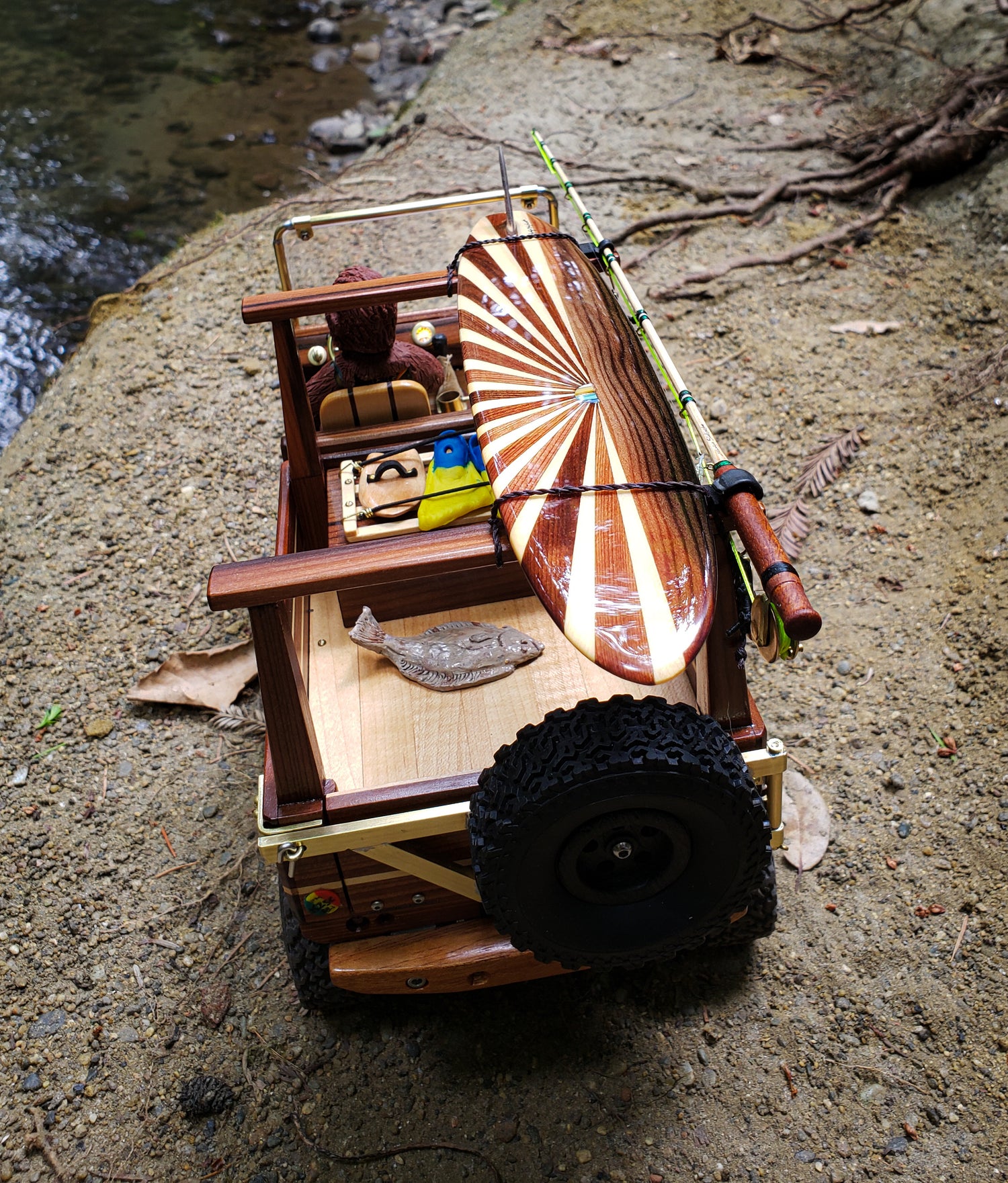 A Legendary Vehicle for a Legendary Creature
Built from scratch at 1/12th scale over four months and 160 hours, master artisan Martijn Stiphout handcrafted nearly every element from reclaimed and salvaged materials.
The details on this remote control 4x4 trail truck crawler are as incredible as the Surfsquatch himself.
While not officially for sale, if you're interested contact us.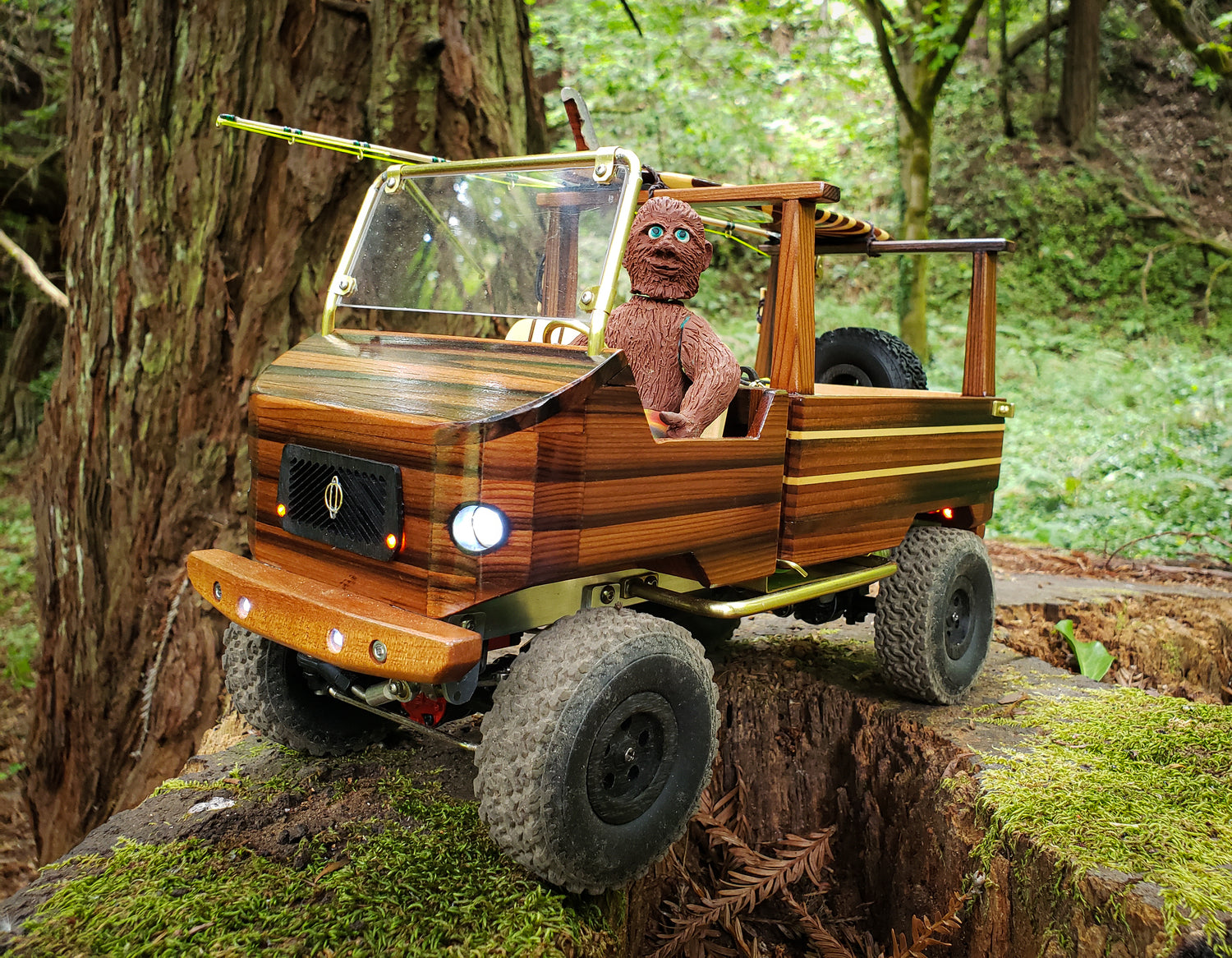 OVERVIEW
Full-time 4WD single speed transmission with locked gears. This is the high clearance all metal transmission made by WPL RC.
4x4 metal axle kit and drive components made by WPL RC.
RES-V3 receiver with petrol sound from WPL RC.
Scale soft rubber off-road C54 tires from WPL RC.
Hand-crafted frame, body, lighting, brass components, and accessories.
Handcrafted details throughout from reclaimed and salvaged materials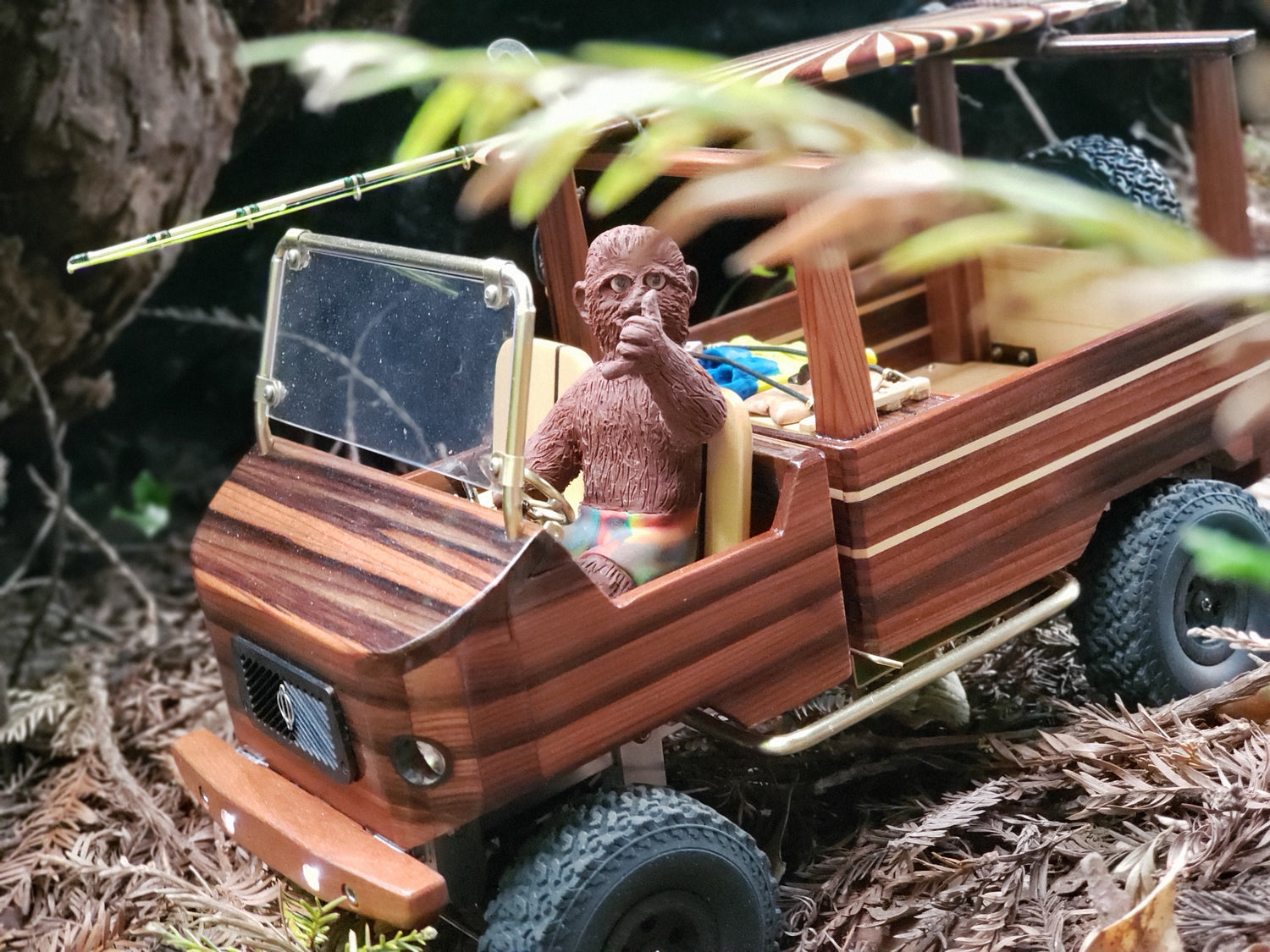 Animatronic VENTANA SURFSQUATCH
Hand-crafted using Sculpey polymer clay
Two, built-in servo motors to control arm and head motion
Head motion is by cable made of steel fishing leader line and concealed in the back
Gear shift button on the remote control raises his hand with a "shaka/hang loose" sign as well as turning his head to the side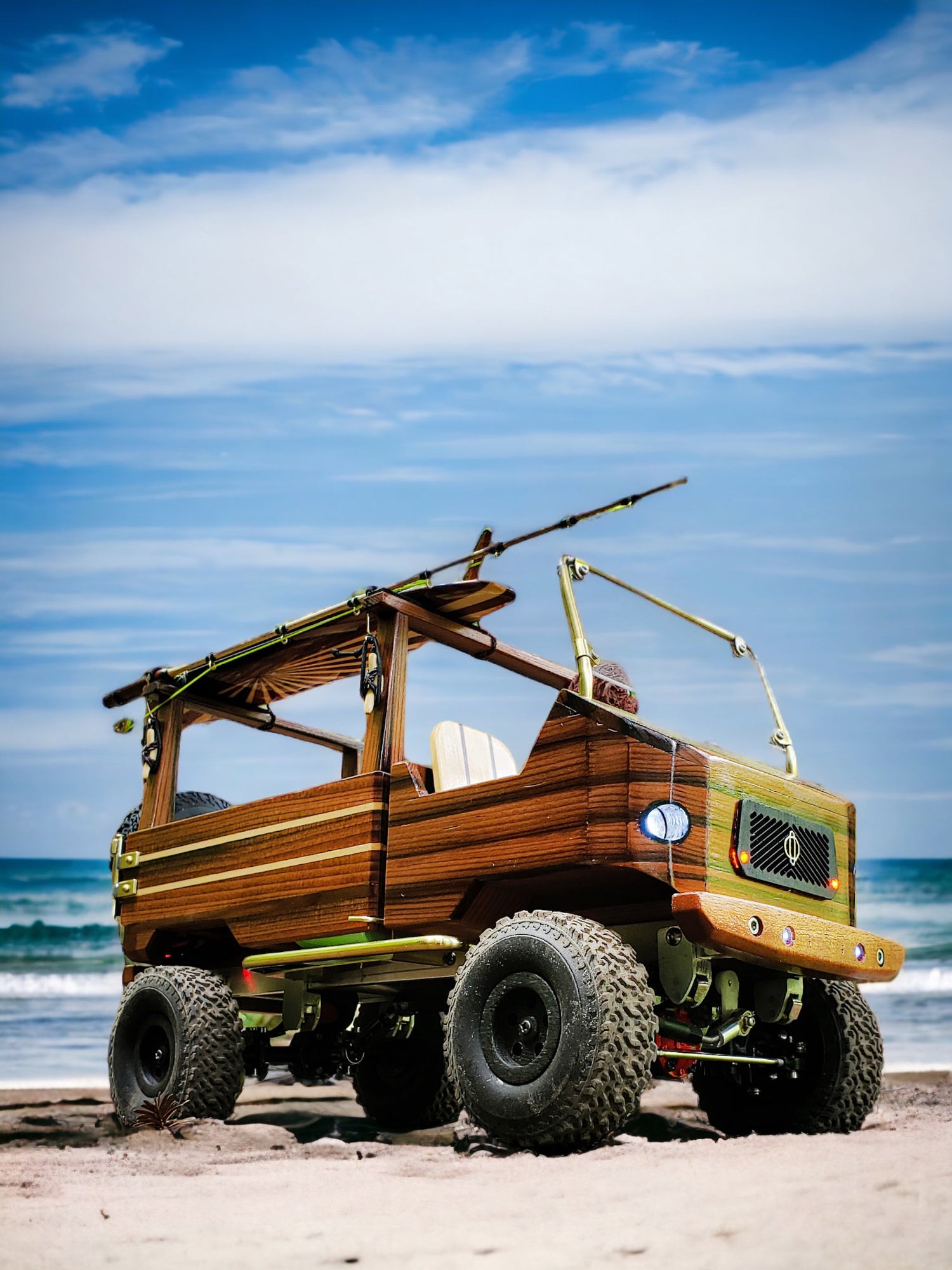 Remote Control Truck
Truck body made of redwood salvaged from a hot tub in the Santa Cruz Mountains with accents of Alaskan yellow cedar (AKYC) from water reservoirs in the San Jose area by way of Mission Bell
Front and rear bumpers made of Honduras mahogany from Santa Cruz Guitar Company
(SCGC)
Front grill of ebony from SCGC
Custom LED lighting
Acrylic windshield from Palace Art & Office Supply trash
Cab and bed floors of maple from Alibi Interiors
Seats of Alaskan yellow cedar from reservoirs with redwood from hot tub
All stainless hardware salvaged from Camp Six Labs prototyping refuse
Hand-carved shift/turn signal/lever handles of ebony from SCGC on brass levers
Shifter boot from discarded Tepui Tents material
Ignition key hand-carved from brass and wired to the dashboard gauge light - fully functional!
Key was hand-filed of 1/4"x1/16" stock fit into a brass cylinder in a brass sleeve connected to a rocker switch and LED light under dash to turn on truck
Dummy gauge with power light in dash
Speed control/receiver/soundboard/remote control by WPL RC, concealed in truck bed "toolbox"
Custom LED lights/switch in toolbox
Two battery compartments under bed behind cab; one for vehicle one for lights
All wood parts sealed with five coats of polyurethane
All brass parts were brushed/polished and then sealed and baked with Everbrite sealer
Carbon fiber headlight tubes from Camp Six Labs
Swing-away tire carrier made of brass, stainless, and aluminum
Five wheels made of white oak from the Western Flyer boat built in 1937 and chartered by John Steinbeck and Ed "Doc" Ricketts in 1940 into the Sea of Cortez
Frame and suspension components fabricated of salvaged aluminum stock from Camp Six Labs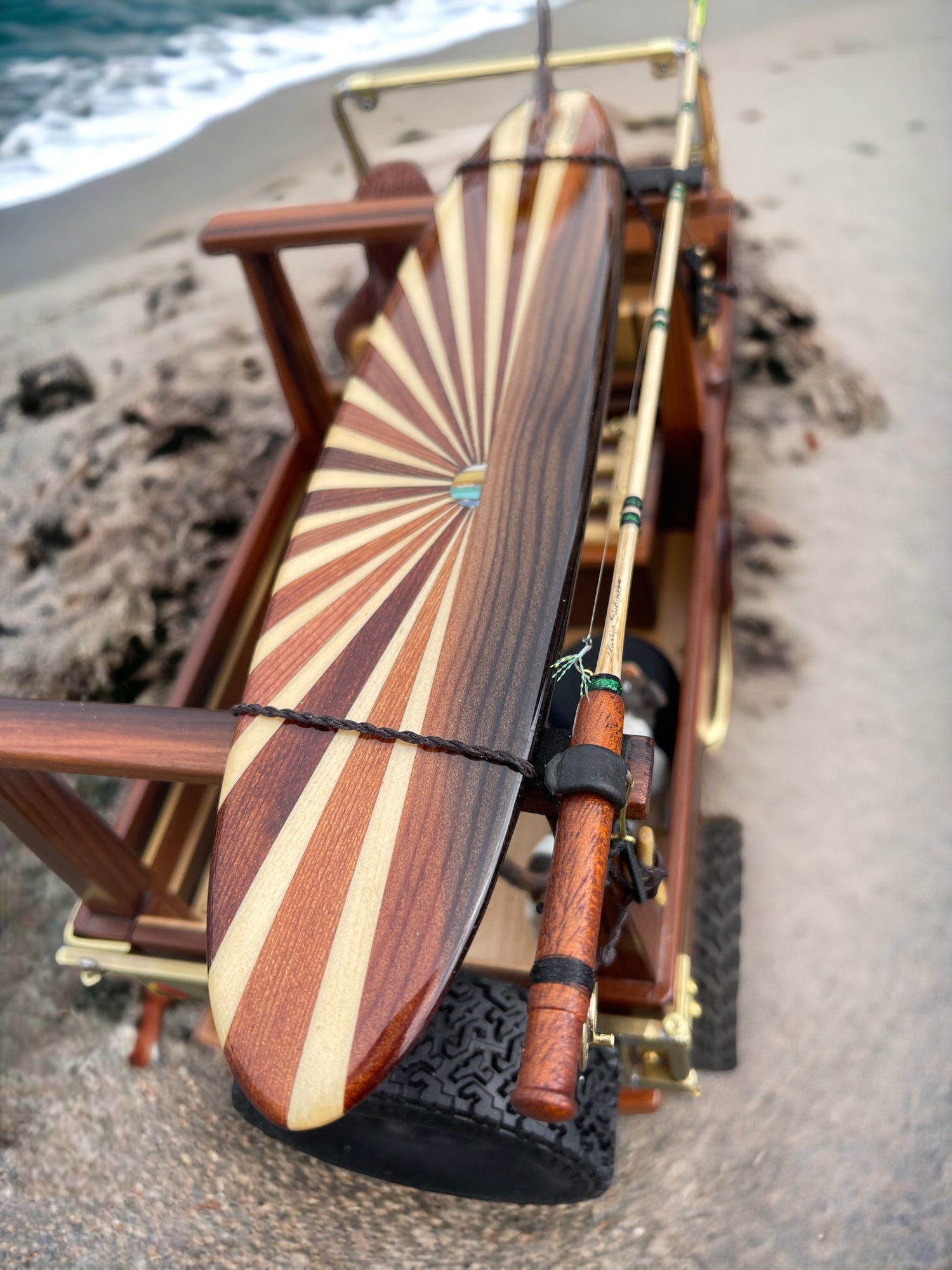 Ventana Sunburst Surfboard
9.5" Ventana Sunburst longboard to scale
"Water" made of Doug fir hull planks from the Western Flyer
Alaskan yellow cedar rays from reservoir wood
Redwood rays from Golden State Mill by way of Mission Bell
"Sun" of Entropy Resins drippings from Locus Surfboards/Ashley Lloyd Surfboards glassing
Manzanita burl from a house in Watsonville used for the live-edge fin with translucent Ecopoxy
Surfboard coated in Ecopoxy and polished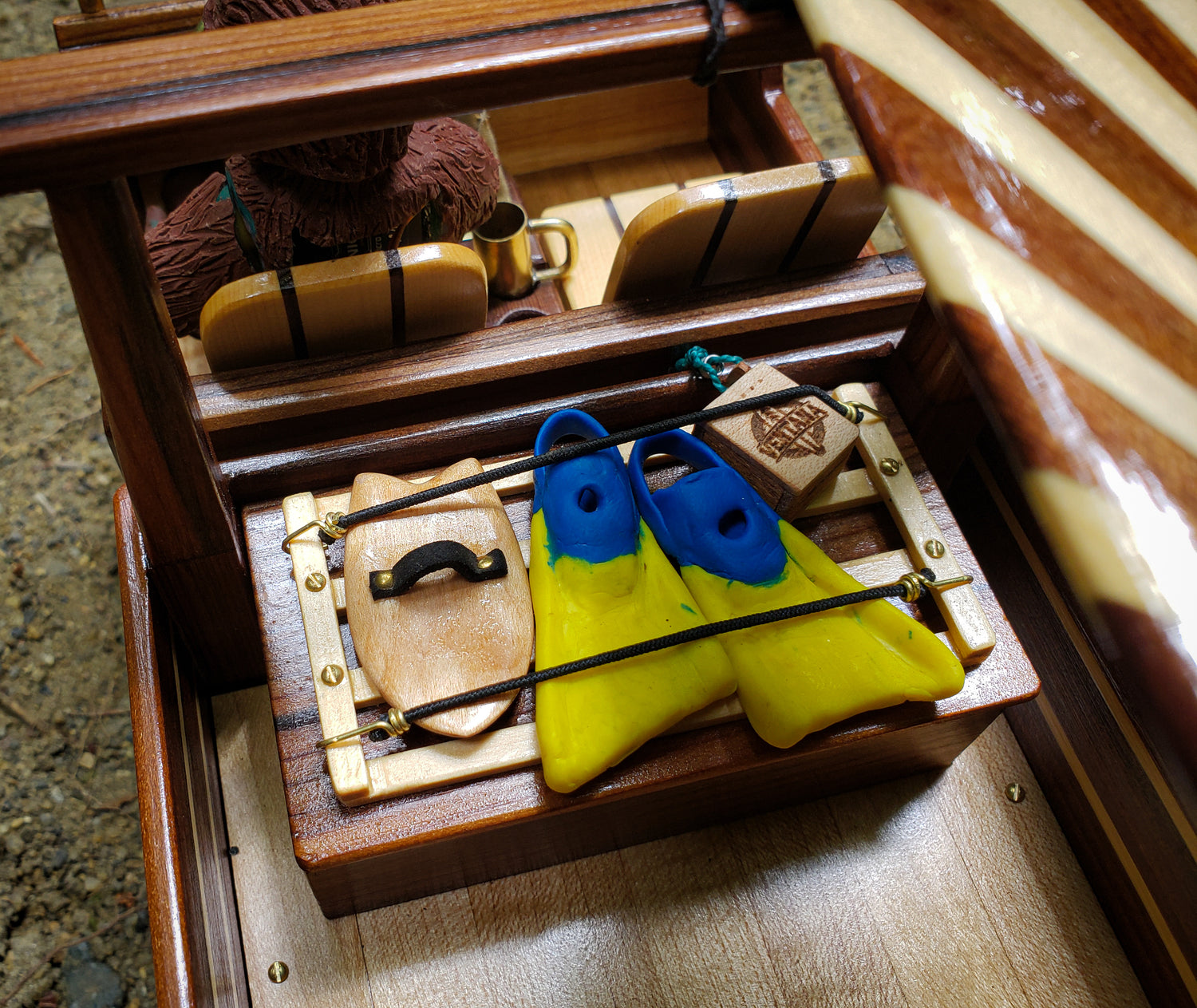 ACCESSORY RACK
Made from Alaskan yellow cedar from a reservoir near San Jose, California with the following on top: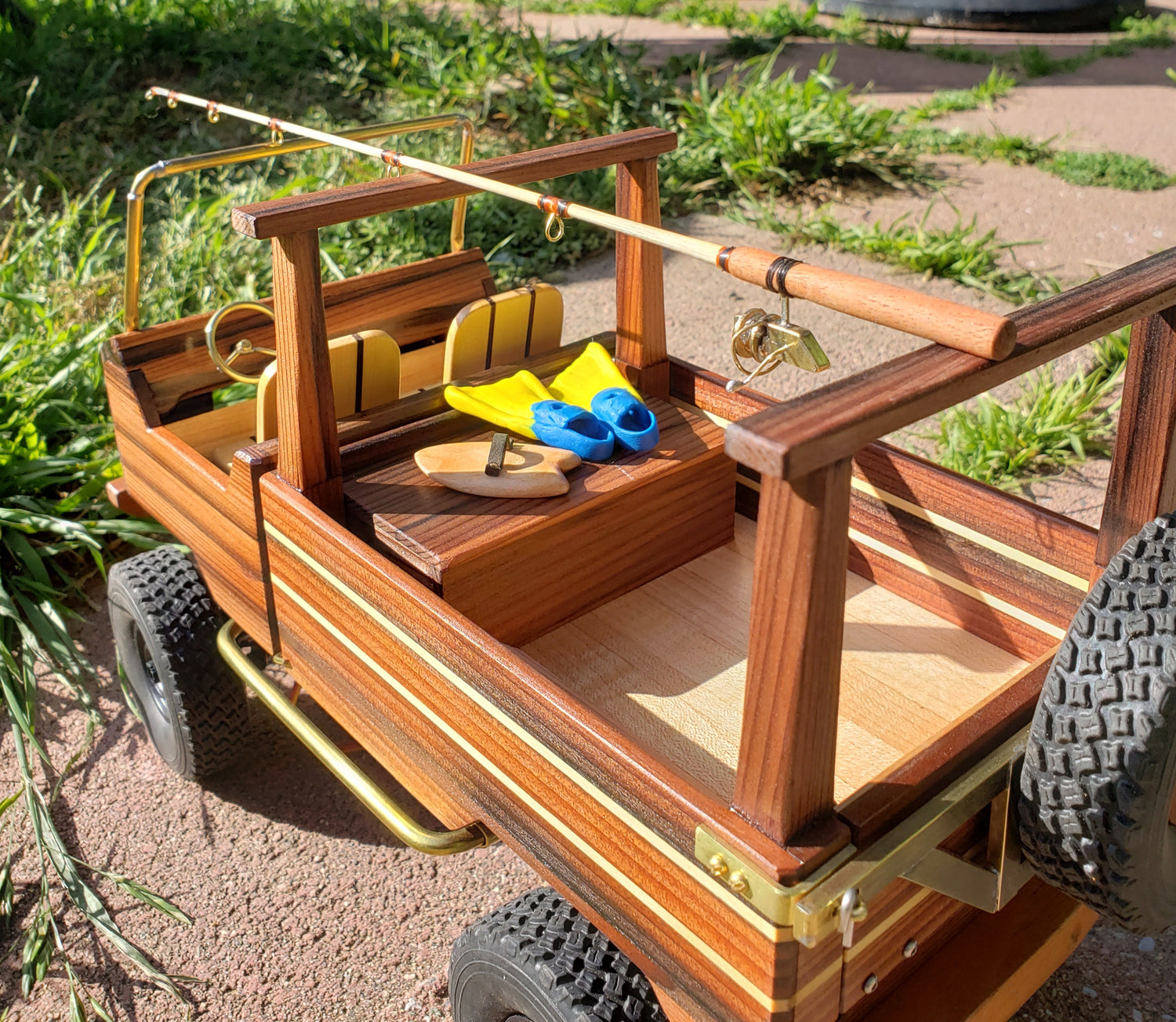 Fishing Rod
12" fly rod
Bamboo skewer turned down to size
Hand-forged brass eyelets tied to rod with black thread
Accent stripes of green glitter from fishing fly tying material over all bindings
All eyelet bindings sealed with fly tying epoxy
Handle of mahogany from Alibi Interiors
Reel made of washers, bolts, and bar stock brass
Fly-line backing line as main line, 2lb test leader
Size 24 fishing hook tied as streamer fly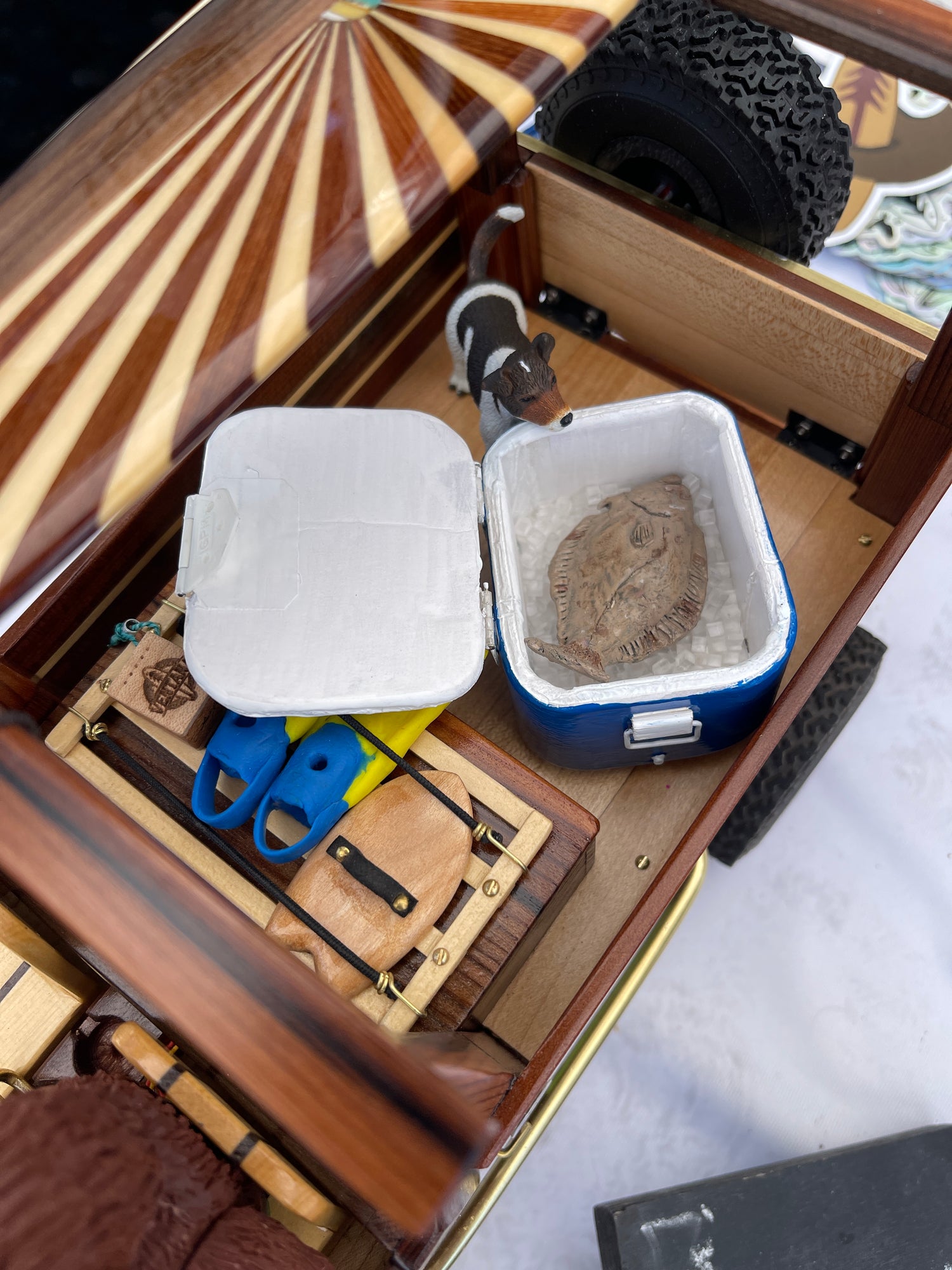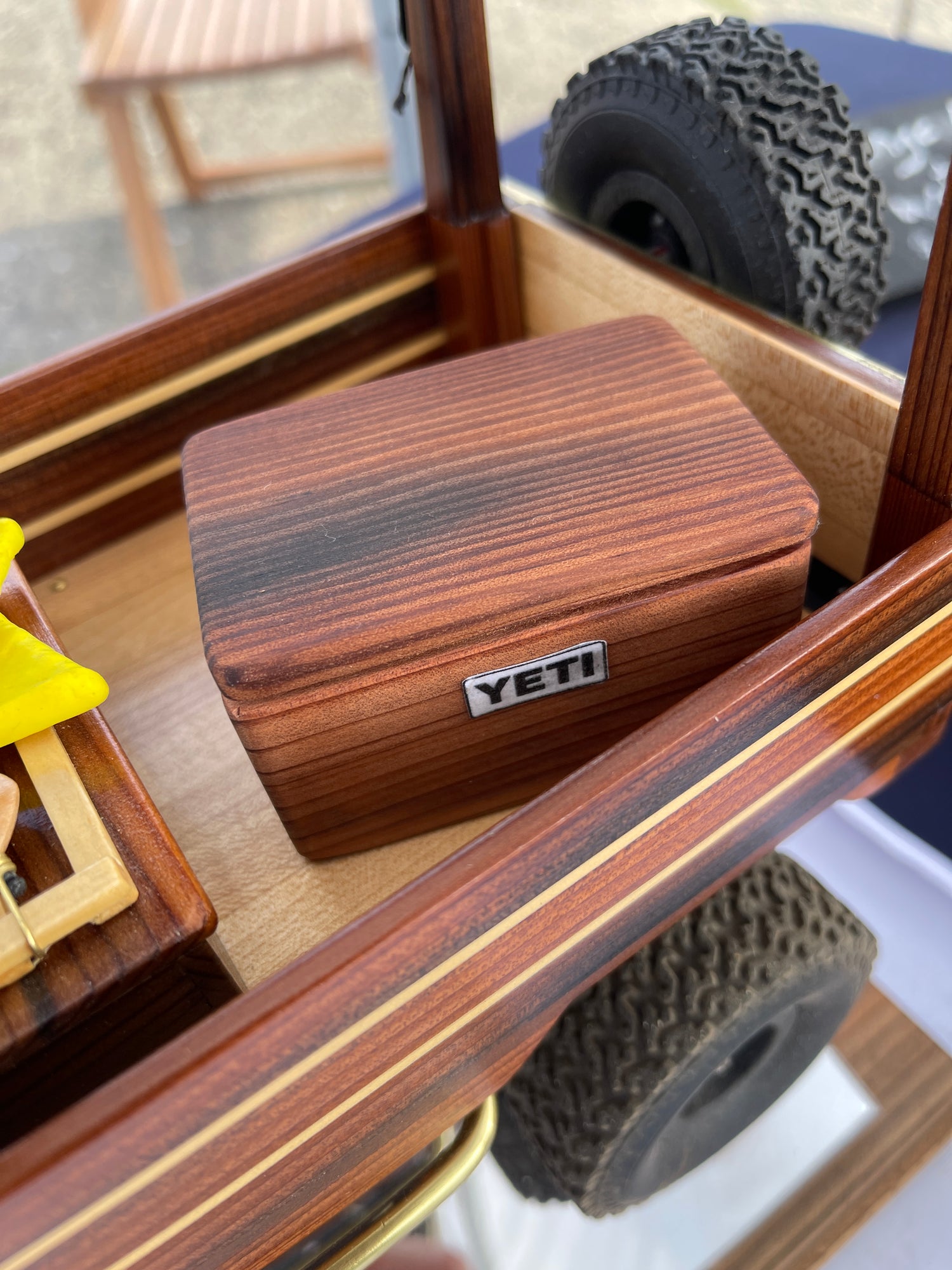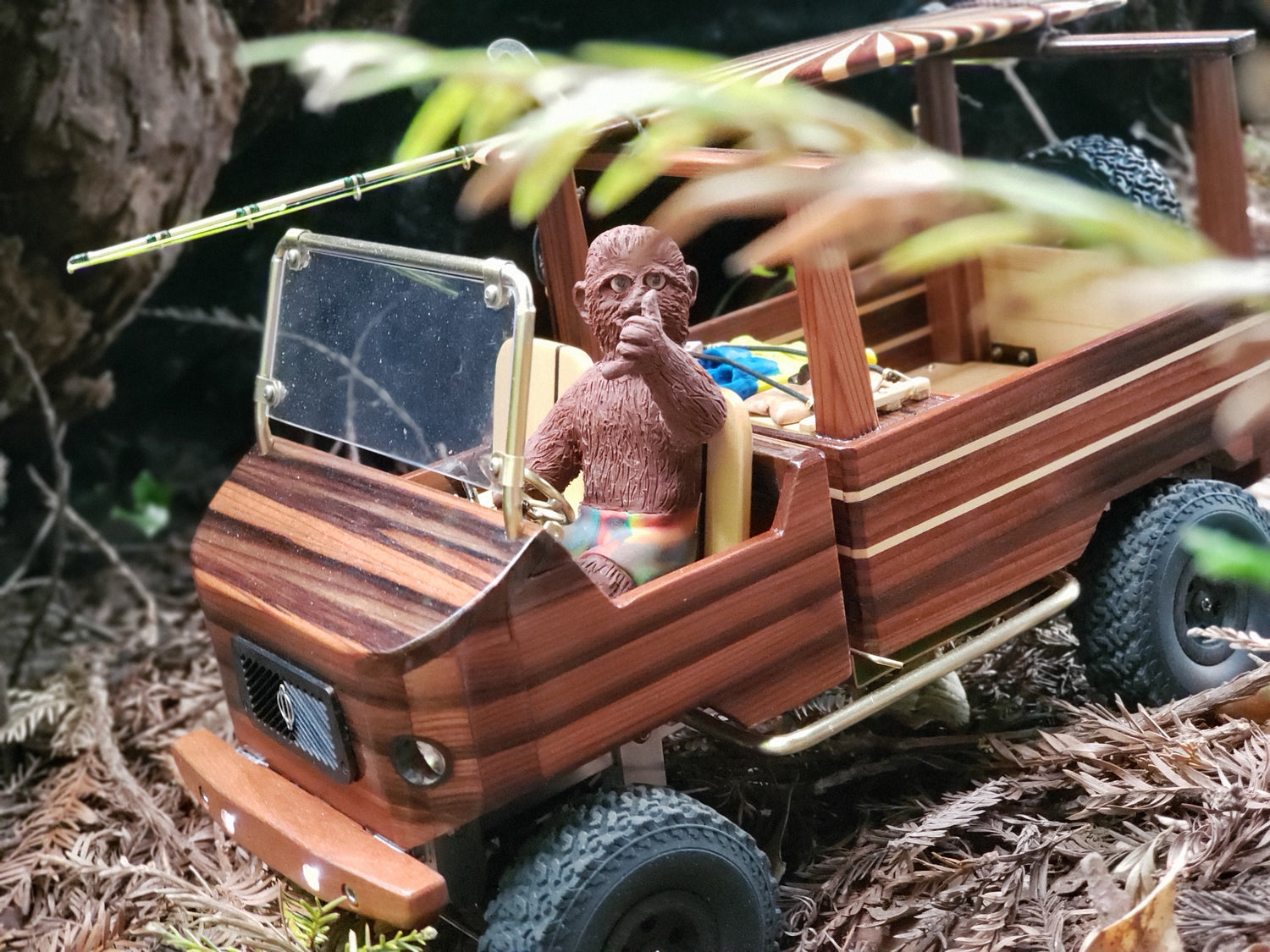 ADDITIONAL DETAILS AND DECORATIONS
California Squatch license plates made of printed paper super-glued to White Claw Blackberry beverage can aluminum
Brass Ventana porthole/surfboard logo on grill
"9 mili-mug" coffee cup made of a discarded 9mm Luger shell found on the road in Watsonville
KZSC bumper sticker made of Sculpey
Ventana stickers made of paper and finished with super glue
Yeti cooler of Douglas fir from the hull of the Western Flyer boat, fiddleback redwood from the Santa Cruz Mountains, and Honduras mahogany from Santa Cruz Guitar Company
Igloo cooler of reclaimed foam board with remote control airplane hinges and steel wire handles
Ice made of acrylic scrap from Alibi Interiors
Halibut made of Sculpey clay
See the Ventana Surfsquatch Mobile in Action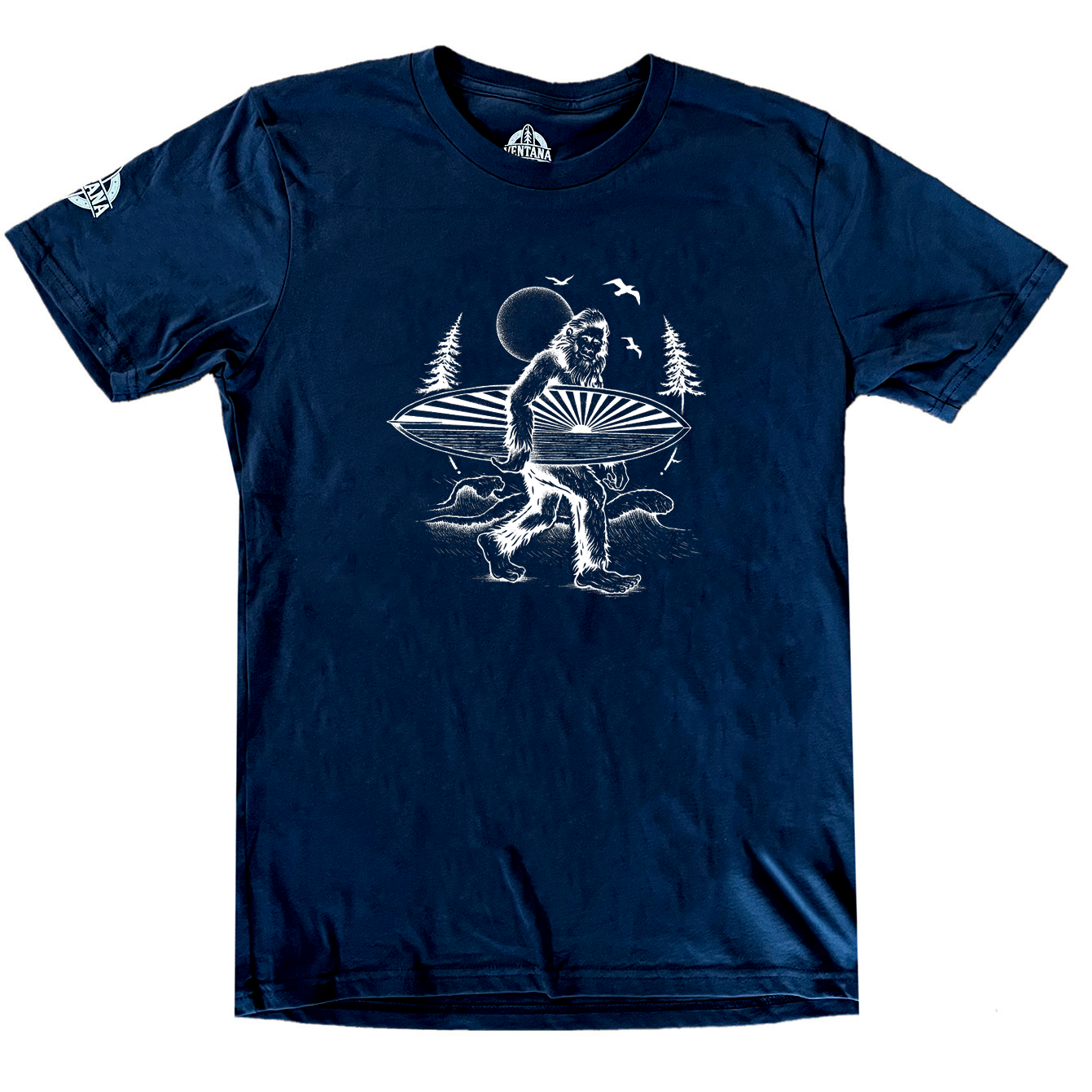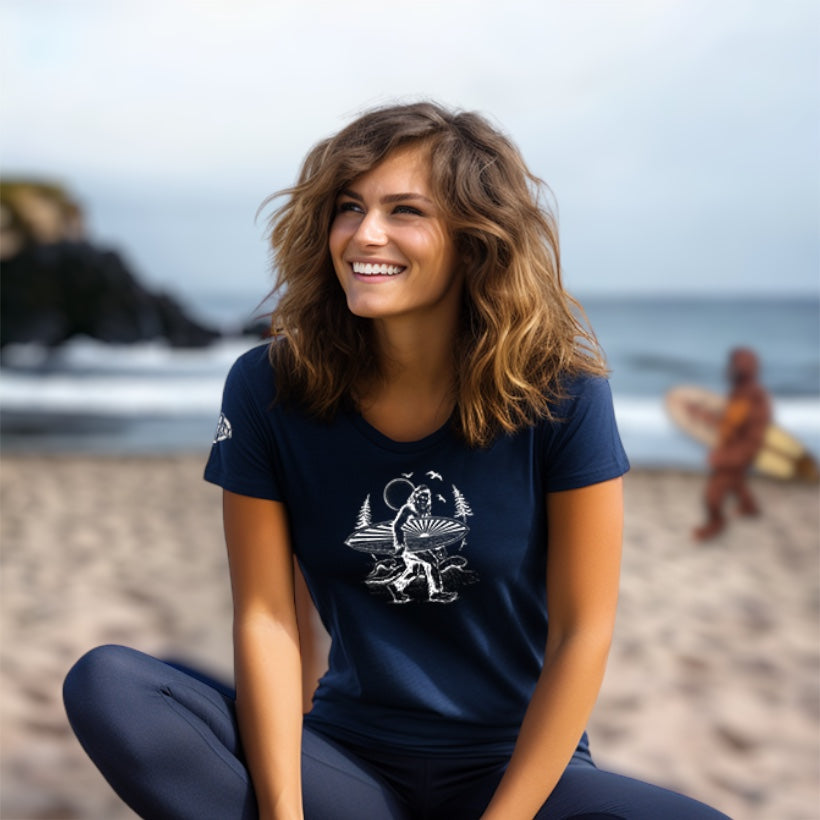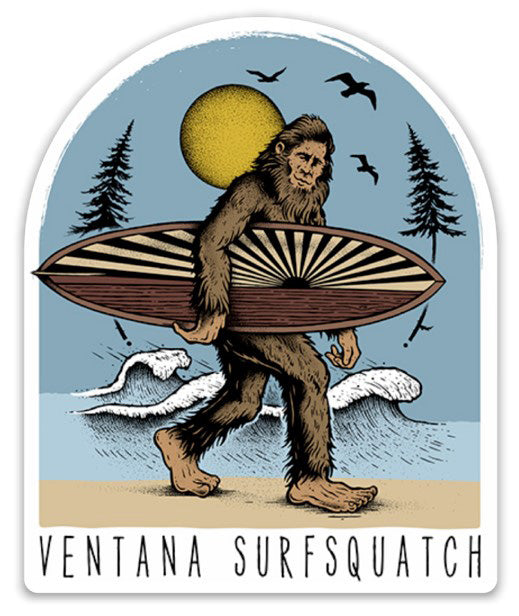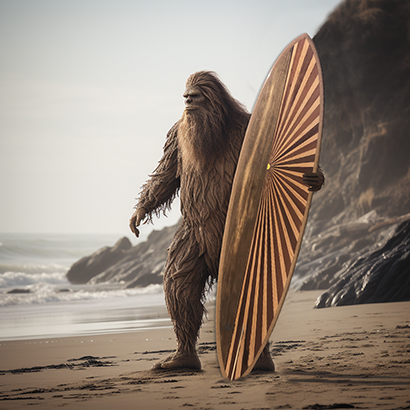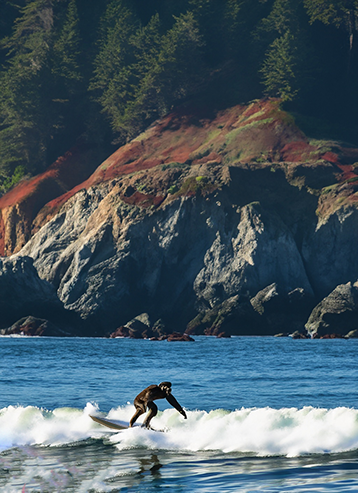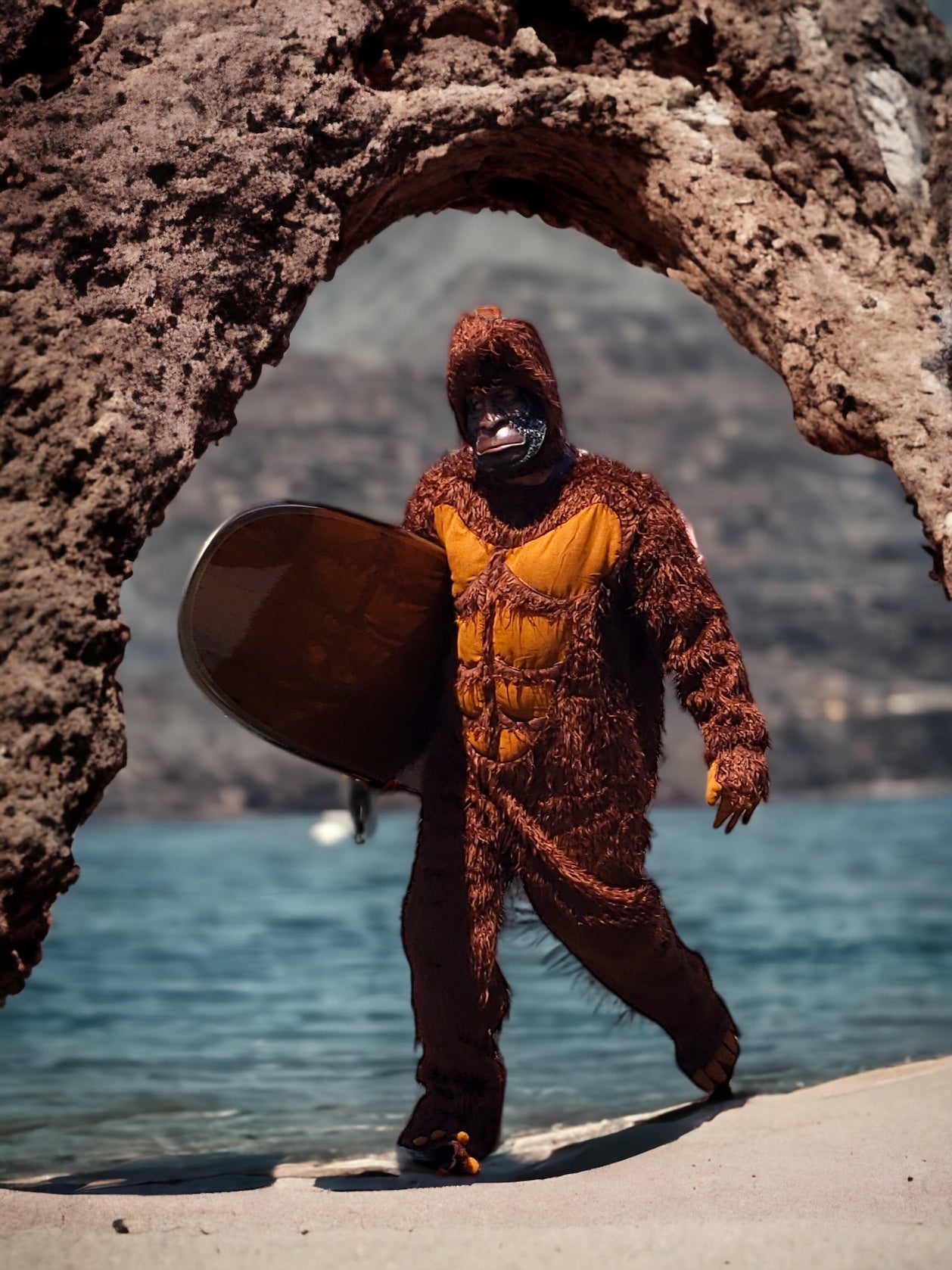 Ventana Surfsquatch by Thiago Bianchini Organic T-Shirt
Regular price

Sale price

$ 38.00