Ventana Save-A-Surf Box
Regular price

Sale price

$ 58.00
Fun insurance for every surfer!

Save your surf session from disaster with all the little things you need and often forget, like fin screws, Allen wrench, wax comb/scraper, leash cord, XXL bar of surf wax...even a bottle opener, compass/sundial, guitar pick, and ruler.

Keeps your car clean and your wax from melting into your floor or seats.

Can be personalized with engraving that's meaningful to you or for the surfer in your life

Give it as a gift and have confidence that it'll be used, loved, and appreciated for years to come. Perfect as a stocking stuffer!

Laser cut to exact specifications from upcycled wood and materials for maximum sustainability.

Designed and assembled, sanded, and oiled by hand by master artisan and wooden surfboard builder, Martijn Stiphout in Aptos, California.

And, with the Orange Peel add-on, you can reuse those small bits of surf wax by melting them back into a full bar using the sun or a microwave oven.

Ships in Cruz Foam bio-benign, chitin-based packaging inside an EcoEnclose recycled and recyclable box.

Get it fast with Free U.S. Shipping...like everything from Ventana!


---
Artisanship
This is a unique tool kit to help you save your surf session when you're out in the wild and keep your car clean from the melted surf wax monster.
With a bar of Ventana Cold Water or Warm Water XXL wax with surf-related fortune, five integrated fin screws, an Allen wrench secured with tiny magnets, a leash cord, a wax comb and scraper lid, a recycled guitar pick, a ruler, and a stainless-steel ring bottle opener,
this all-in-one wax box is perfect for saving your session and opening a beer after you surf. Position the Allen wrench in the groove using the angle guide on the back of the box, turn the compass rose to the north and use it as a sundial to tell time in direct sunlight. If you know the time, position the shadow on that hour and it becomes a compass!
This is a usable piece of art designed and produced by master artisan Martijn Stiphout in Santa Cruz, California. They are laser cut to exact specifications, hand oiled, and assembled by Ventana.
See it in action in this short video!
For an extra $10, choose the package with the innovative Orange Peel by Peel Surf Co. It fits perfectly in your car's cupholder, and lets you store those extra bits of wax left over from each surf session. As your car heats up in the sun, the wax melts into the Orange Peel mold and can be peeled out and re-used as a new bar! Sand and debris sink to the bottom and are easily scraped off. It's 100% silicon, made in the US, and is oven and microwave safe.
Responsibility
These are made in Santa Cruz with edges of sustainably grown, Honduras Mahogany. The face and back are made from various, beautiful, reclaimed woods from cabinet shops and other sources...woods like bay laurel, oak, cherry, cedar, or black walnut.
The mahogany is offcut from the production of guitar necks by the Santa Cruz Guitar Company. And the leash cords are made from the left over, extra strong 550lb. paracord from Khordz mugs. Our guitar picks are made from expired credit cards, spent card keys from the Santa Cruz Dream Inn, and other plastic cards. The Allen wrenches, magnets, and screws, while sourced from U.S. companies, are made overseas. We're interested in improving that piece of the supply chain.


Adventure
These are as beautiful as they are useful. Buy one today and use it at your home break or off-road in the wild whenever you need to save your surf session! 
The sundial is calibrated for California (37 Degrees North Latitude). We can customize for your location, or we can leave the sundial off. Contact us for more information.


Free message engraving of up to three lines on the back. Add a note to your order with your message or email us at craftspeople@ventanasurfboards.com after you place it. And, if you would like to have the sundial calibrated for your latitude, let us know. There may be an additional fee to create a calibrated sundial for your location depending on your location. We can also leave the sundial off the box. Let us know if you'd like a custom logo or design on the front, as well!


Technical Details
Honduras Mahogany wood from the Santa Cruz Guitar Company
Reclaimed black walnut, bay laurel, oak, cherry, cedar, or wood from other interesting species
Wax box fits any size bar
Bar of Ventana XXL Cold Water Wax with surf fortune (or two bars of warm water wax)
Wax comb/scraper sliding lid
Upcycled guitar pick
Embedded Allen wrench
5 embedded, stainless steel fin screws (2 FCS, 2 Futures and 1 longboard screw). If you would like a different mix of screws, let us know.
Laser cut sundial/compass (calibrated for Santa Cruz @ 37 degrees North Latitude)
Paracord leash cord
Ruler
Stainless Steel Bottle Opener Ring
Dimensions: 3.5" x 4" x 2.25"
Orange Peel + Save-A-Surf Box Package + $10
Orange Peel silicon wax mold
Congratulations! You read this far. If you would like a limited edition Ventana Surfsquatch Save-A-Surf Box, just let us know in your order notes or via email to craftspeople@ventanasurfboards.com.
Learn more about the Legend of the Ventana Surfsquatch!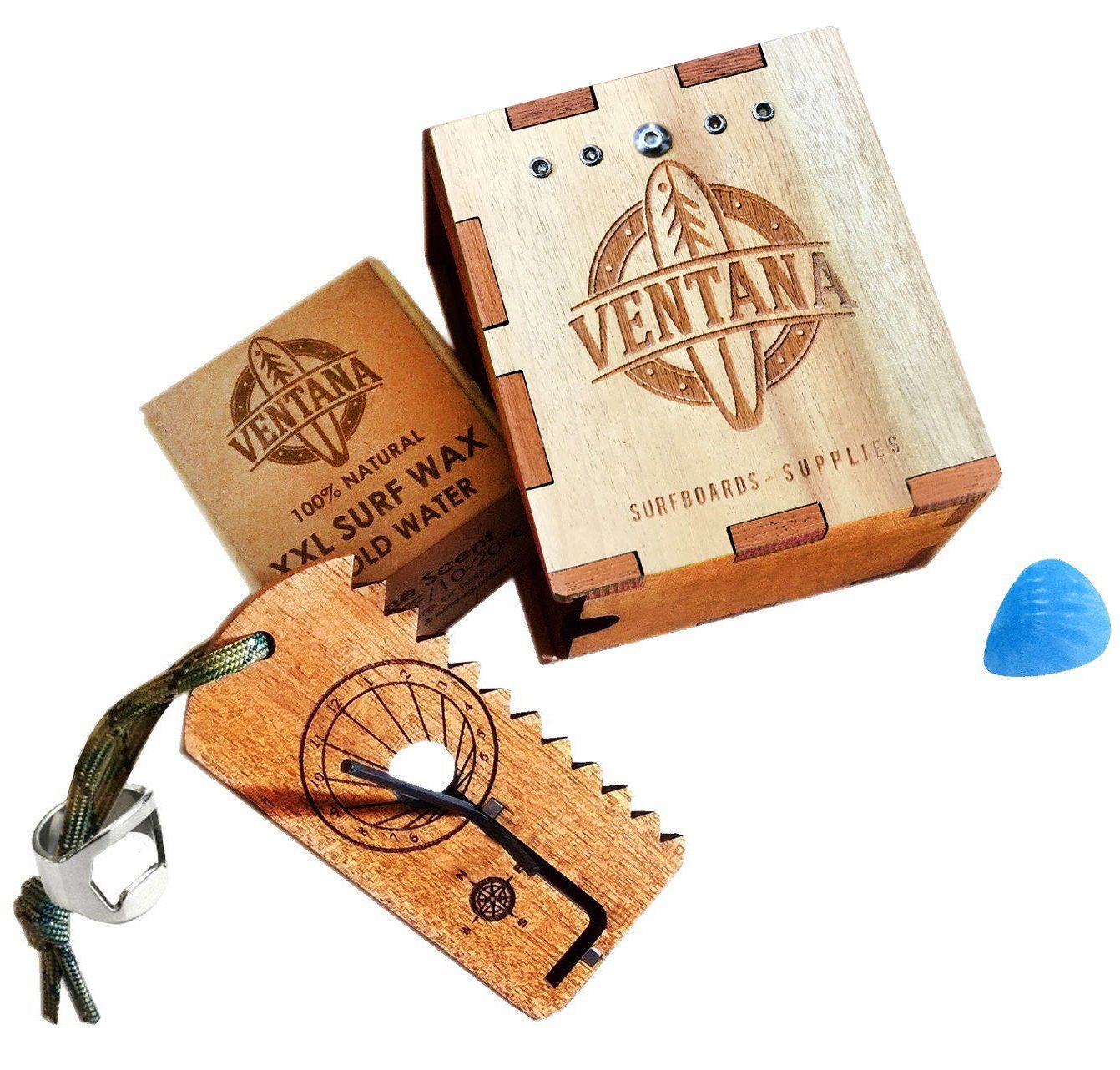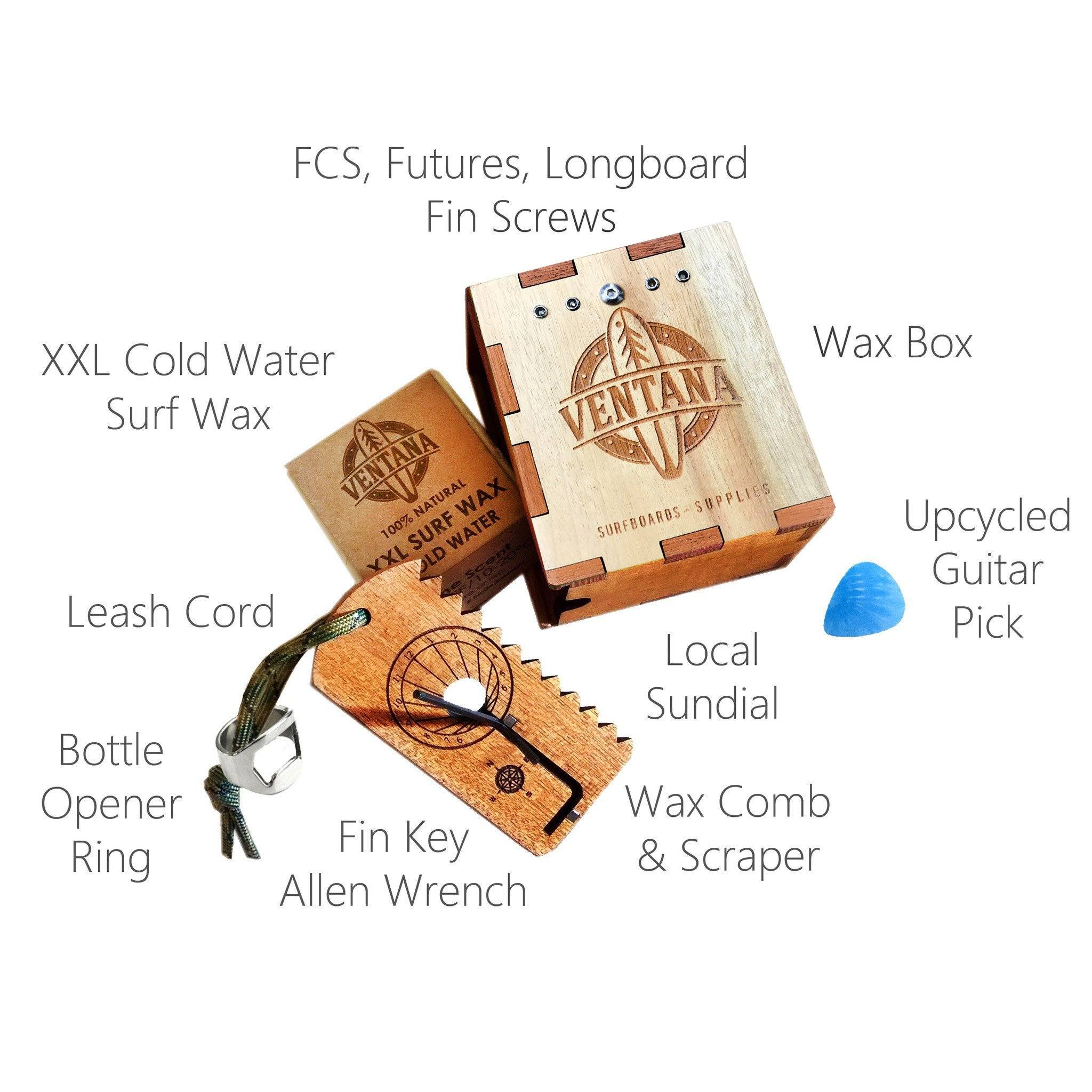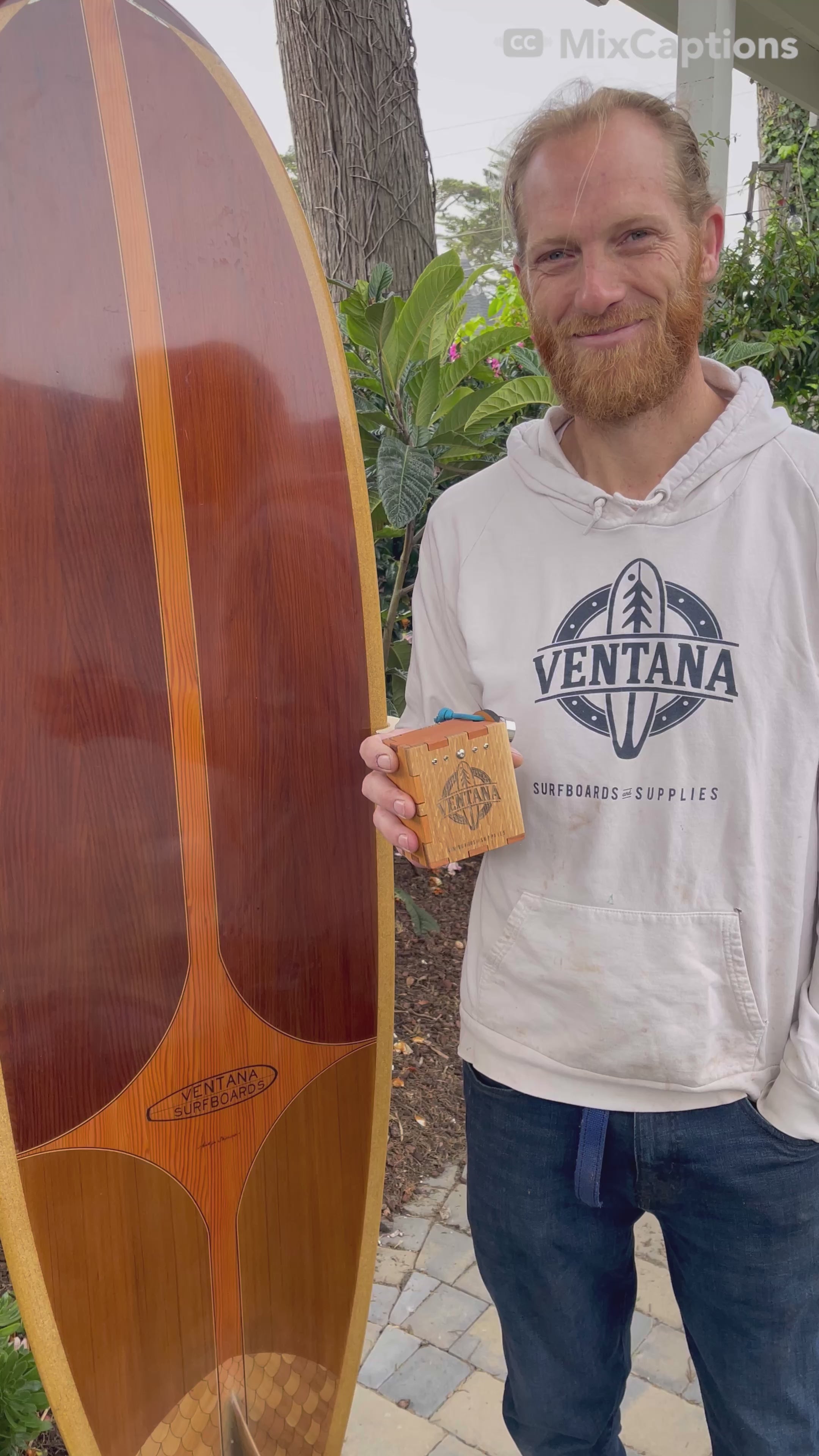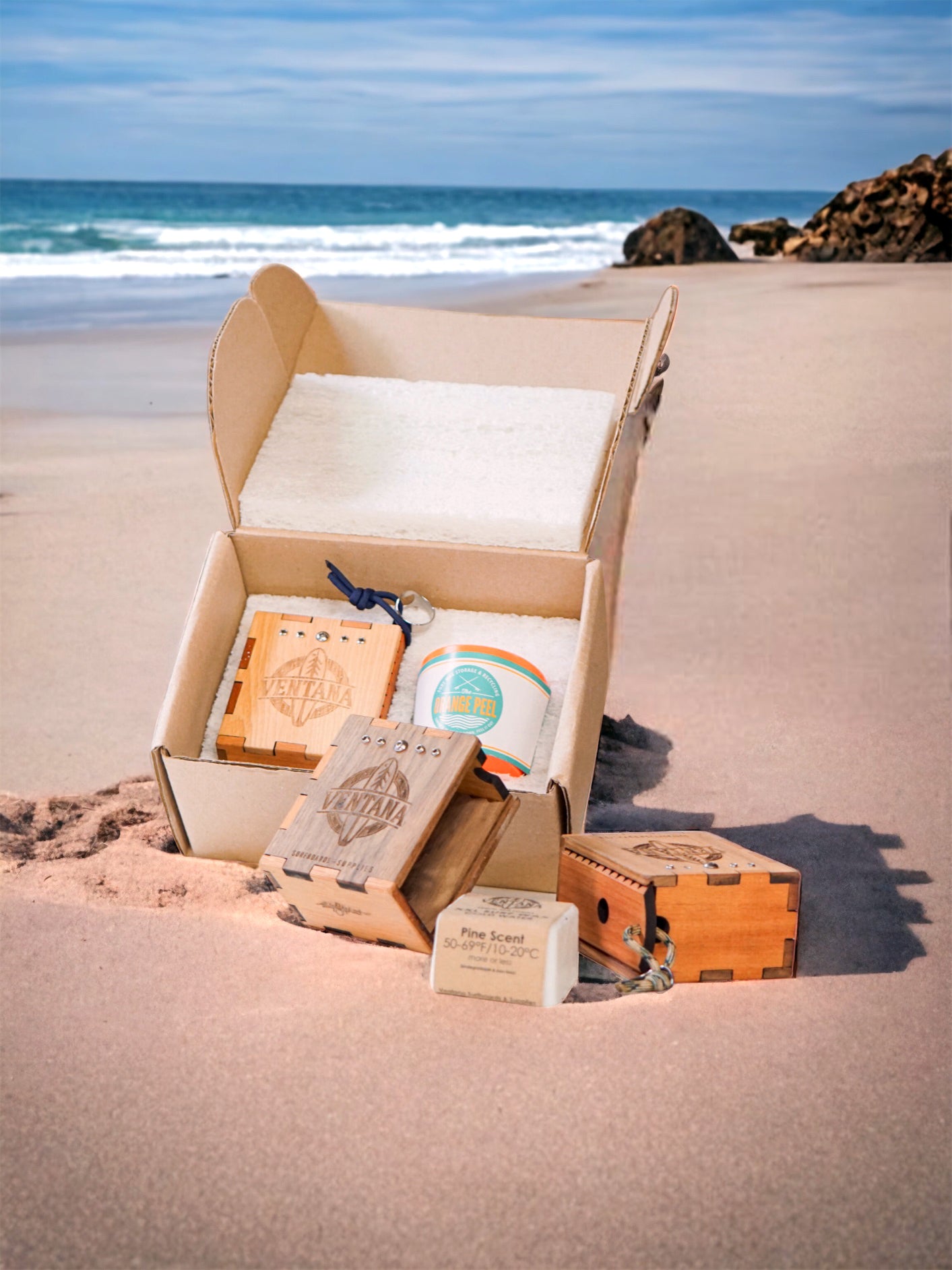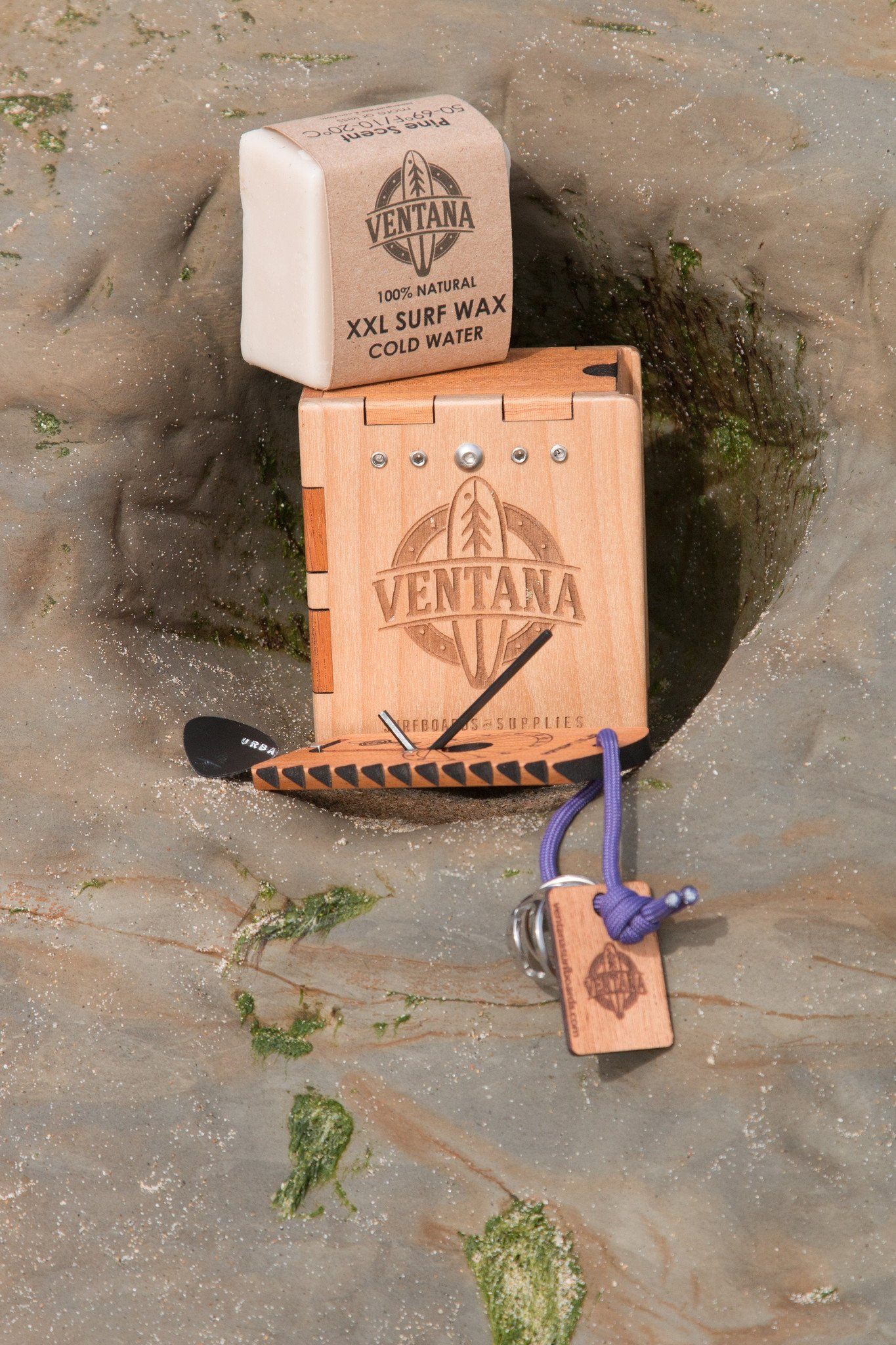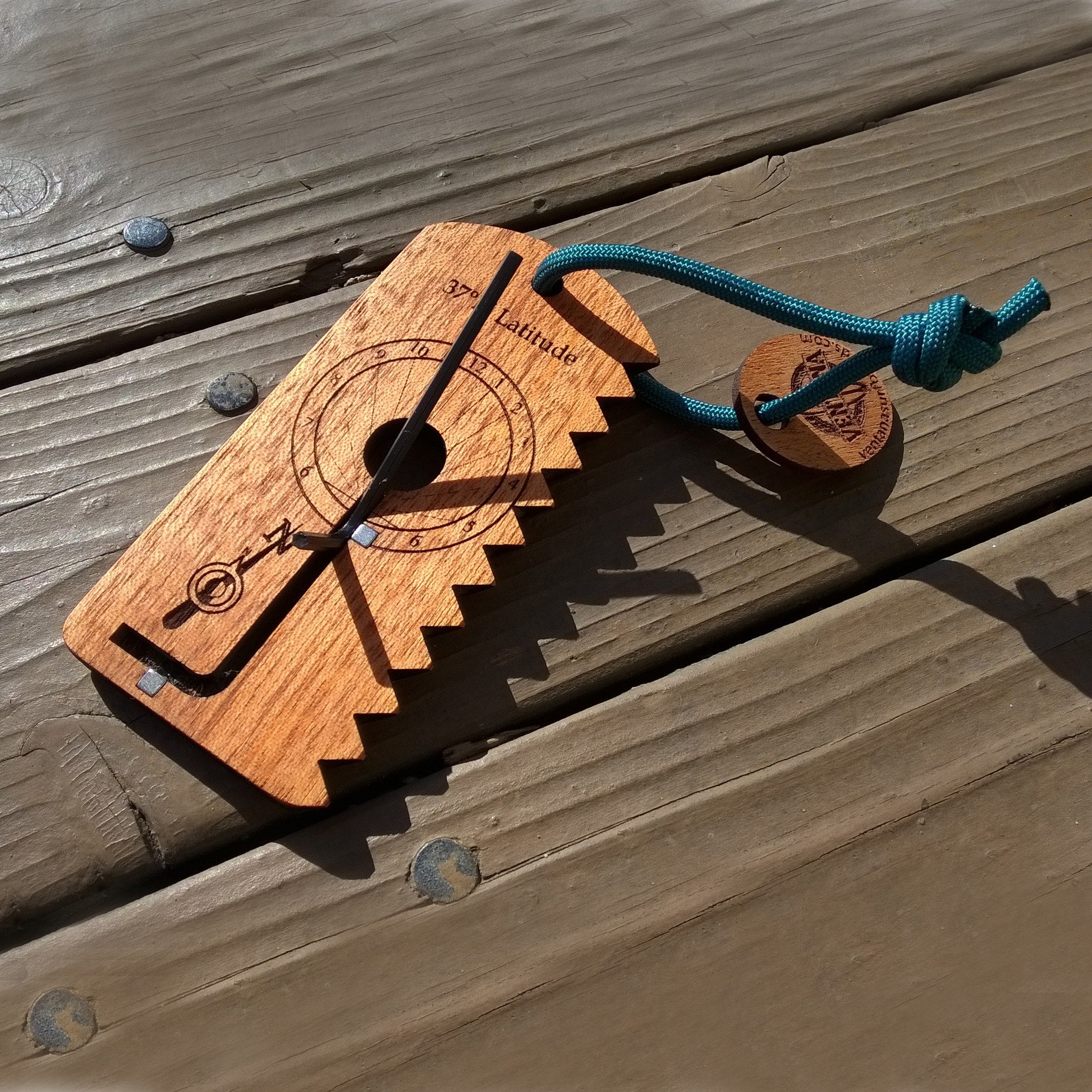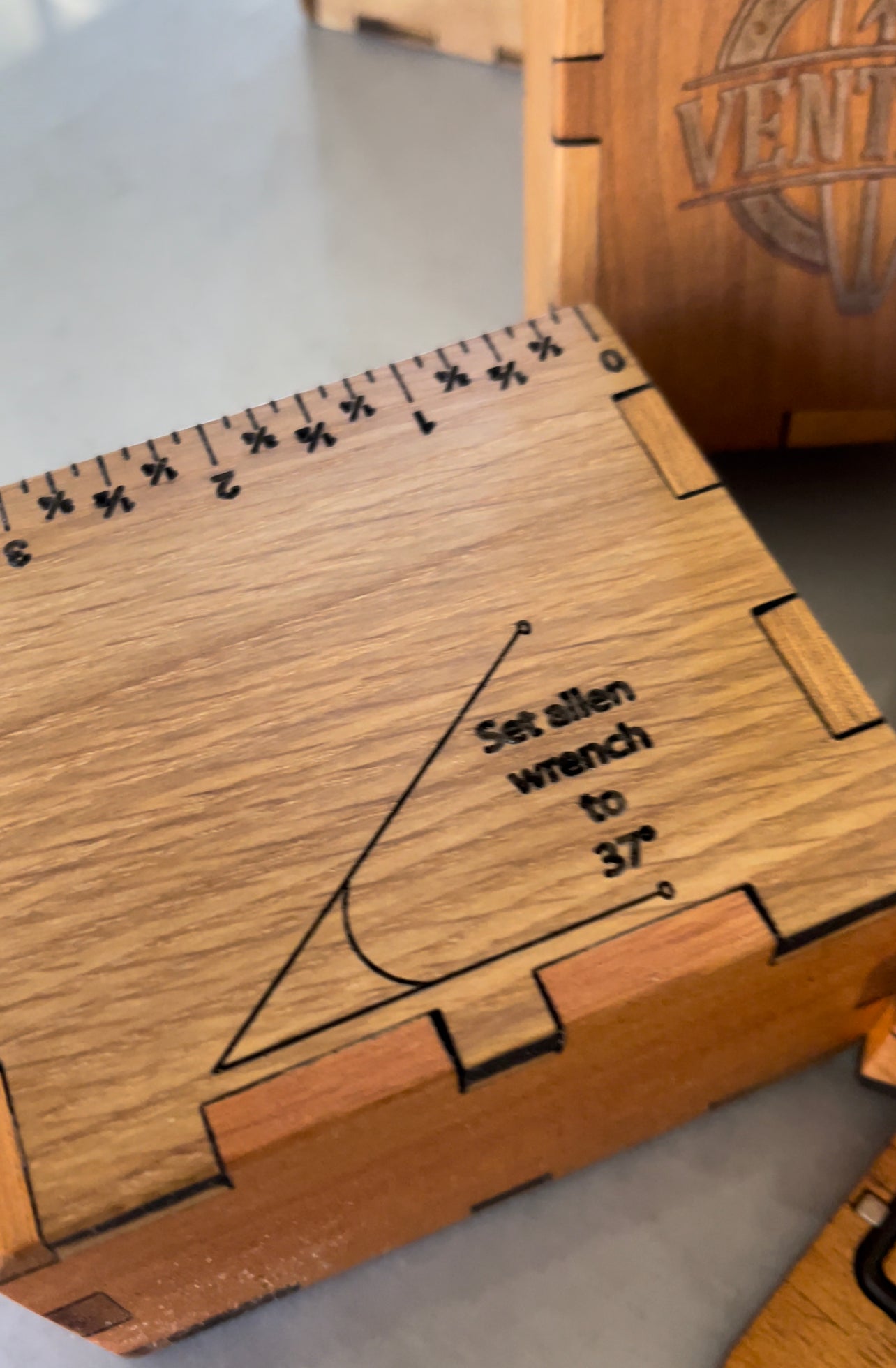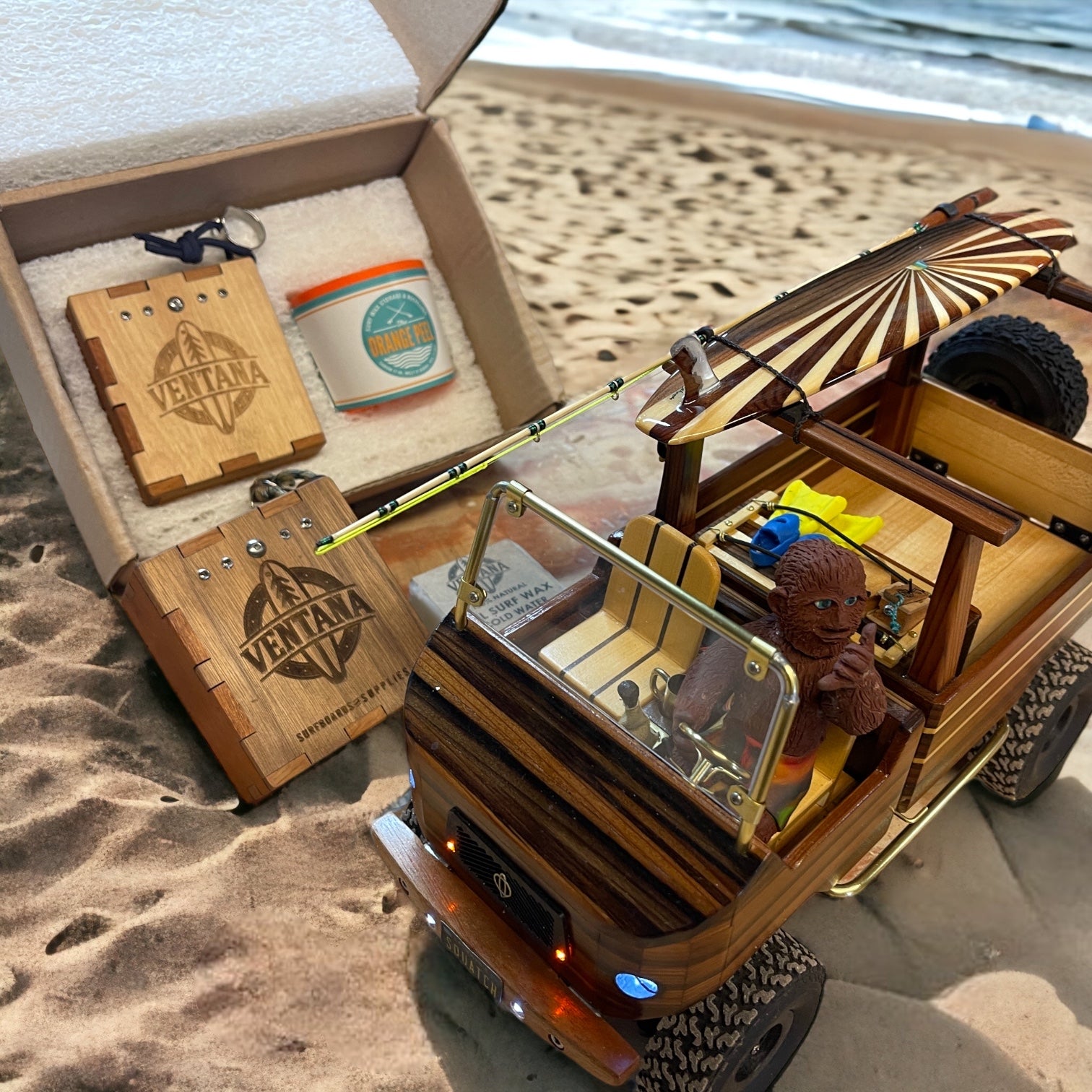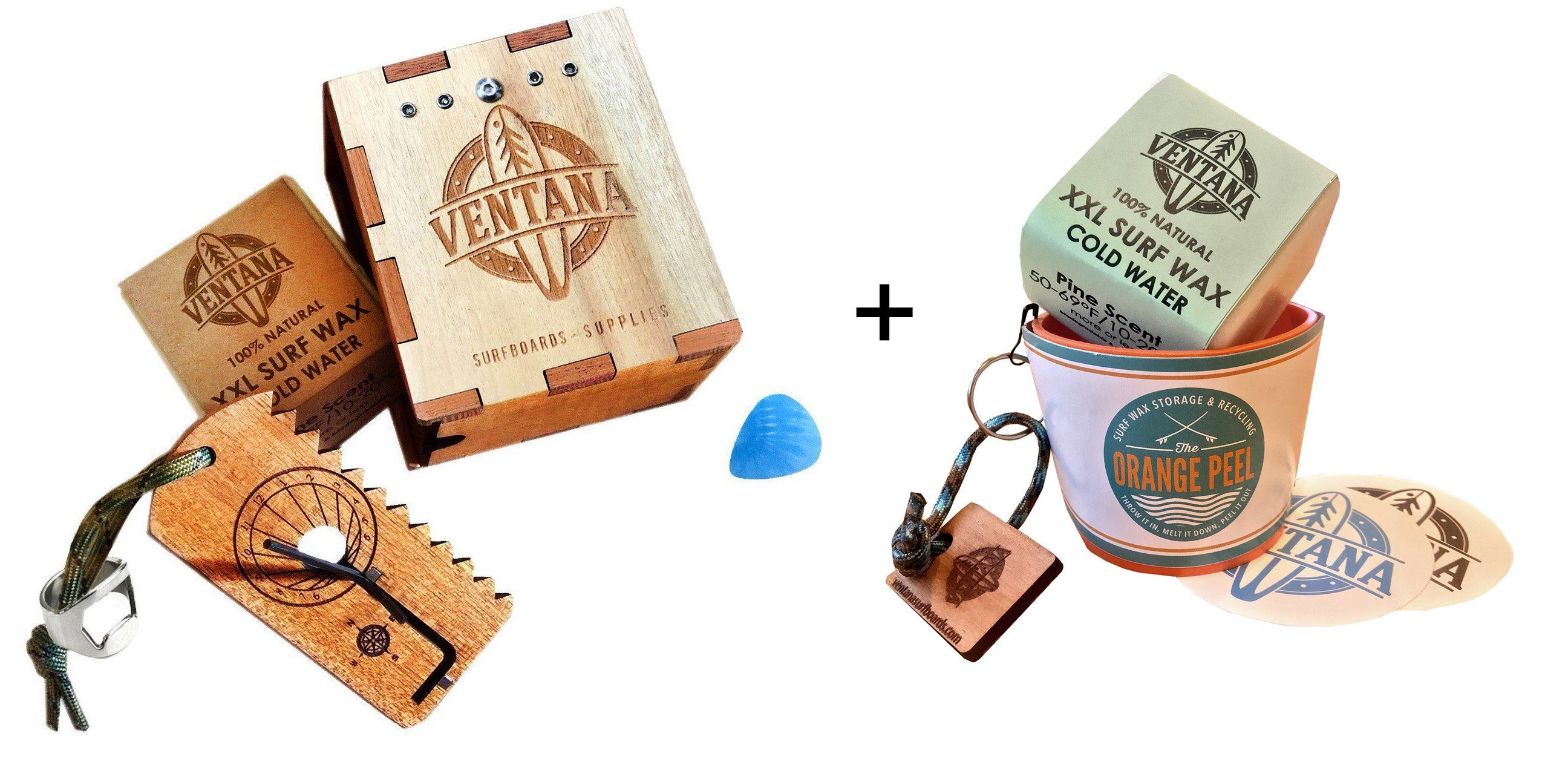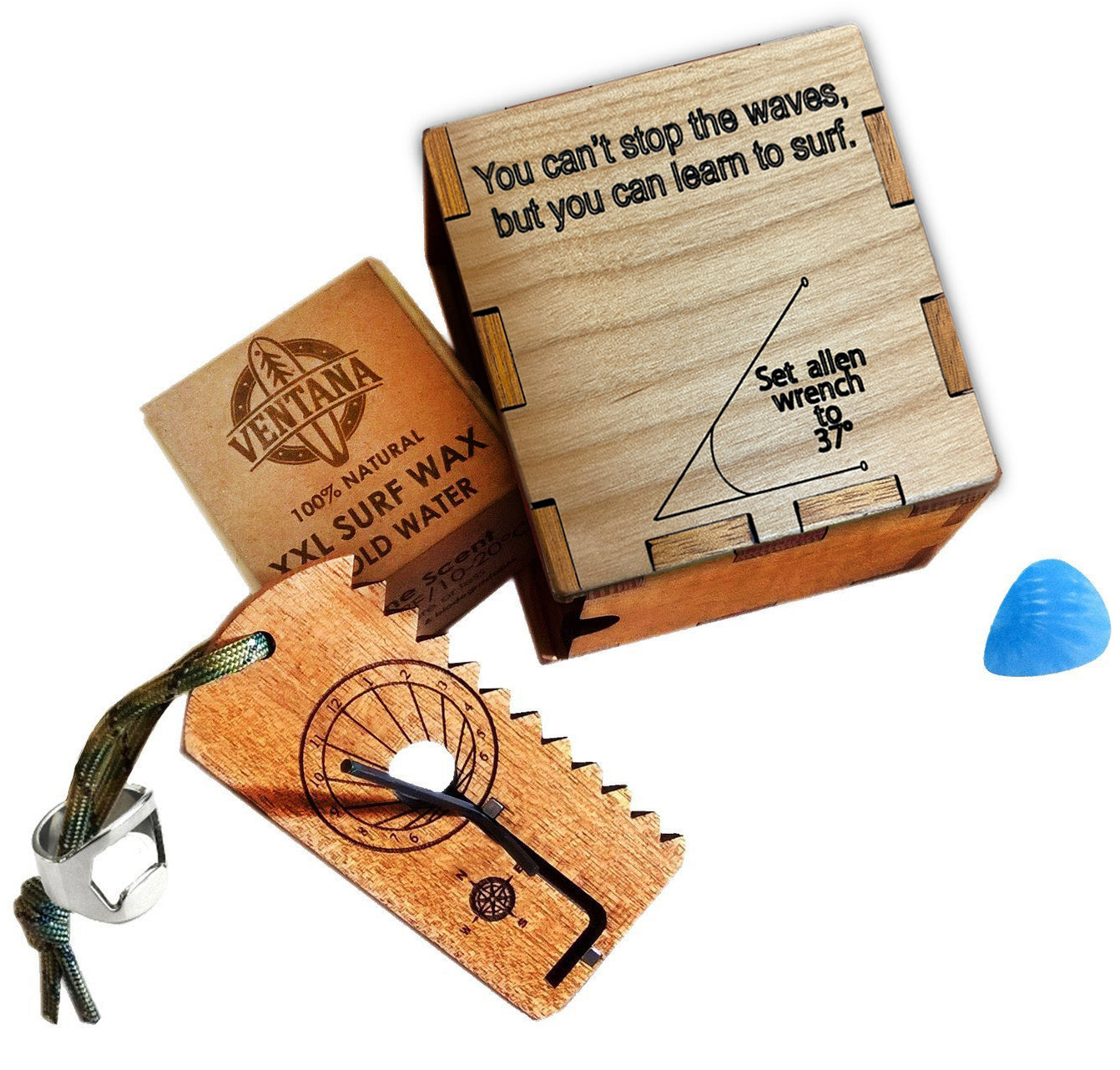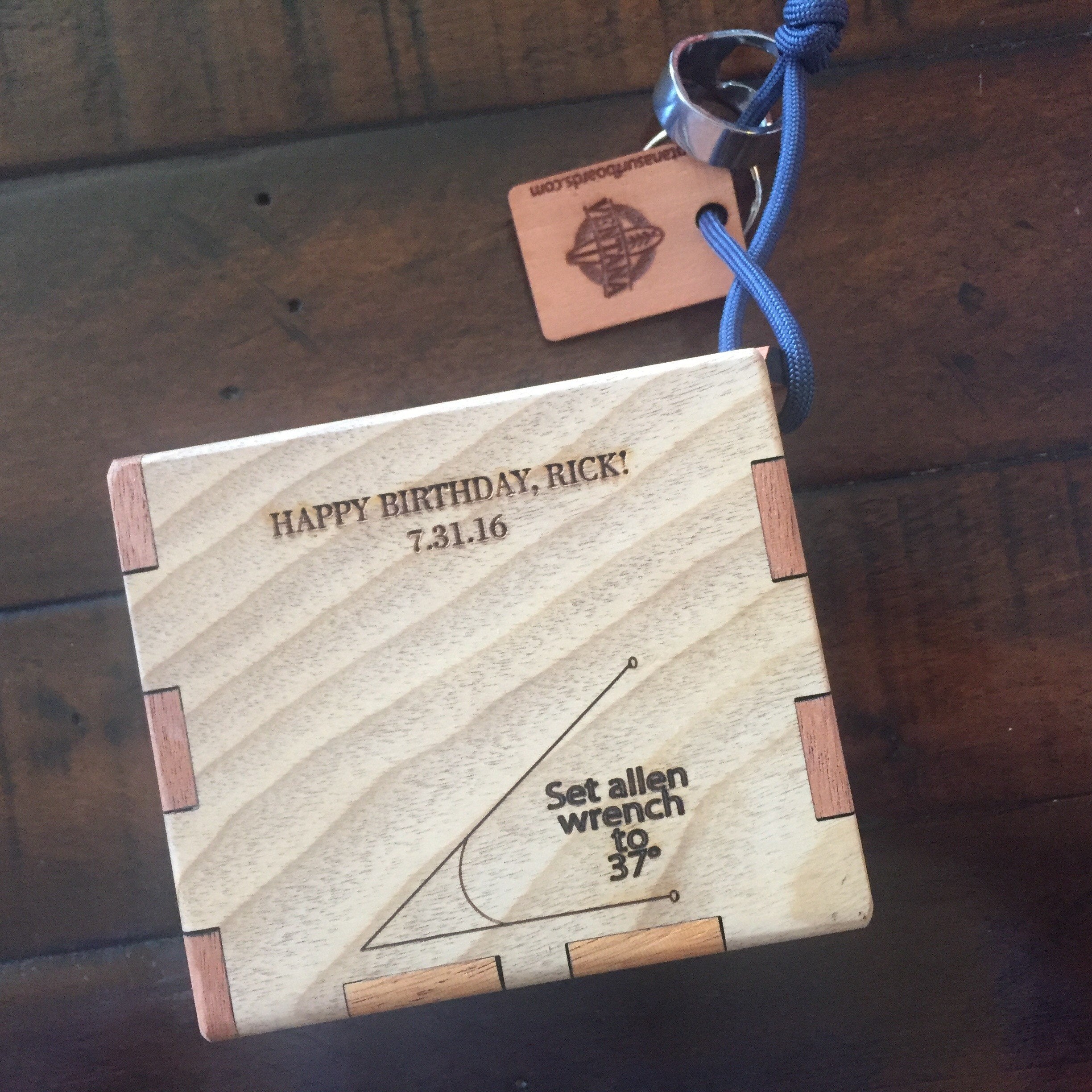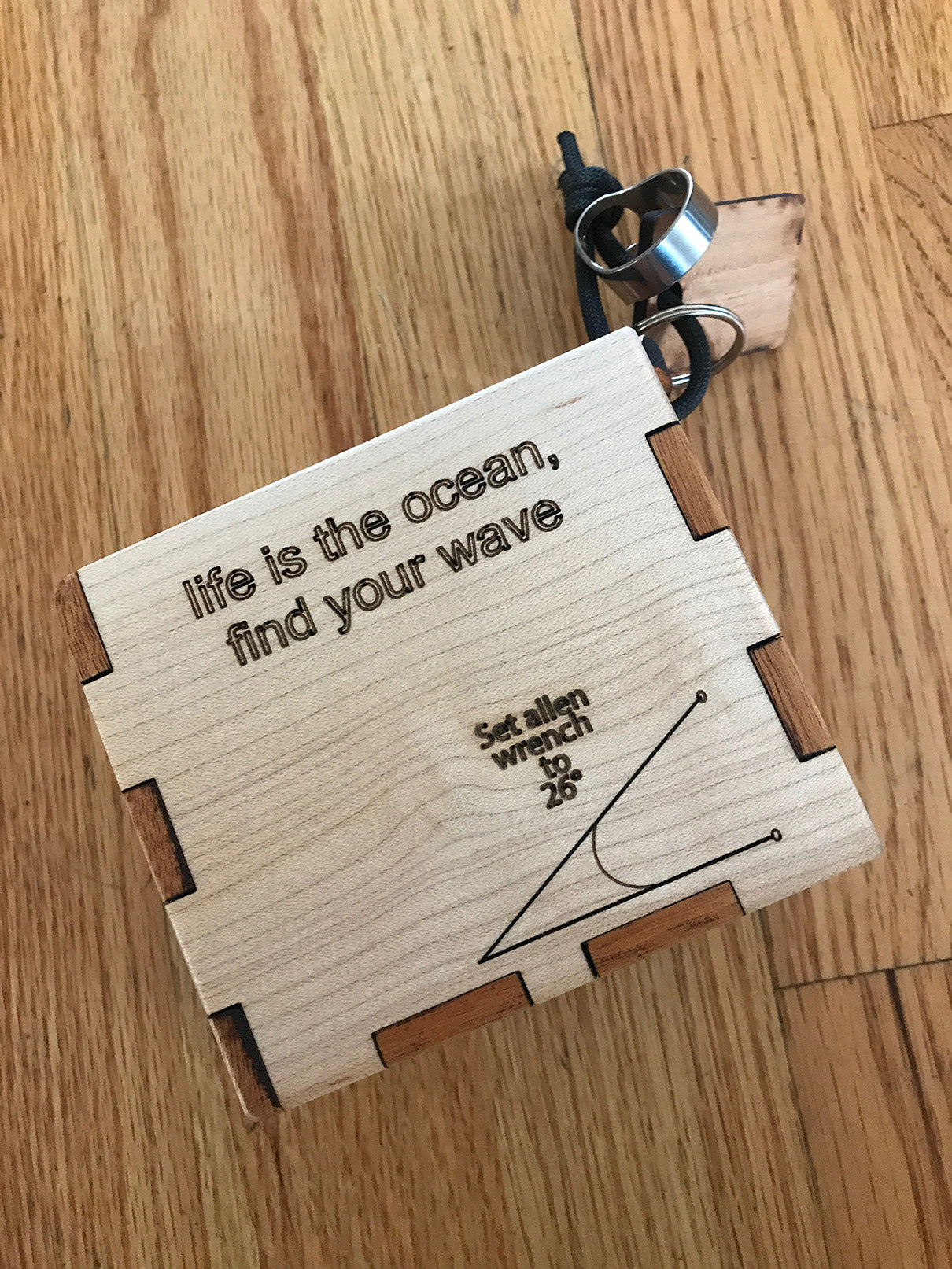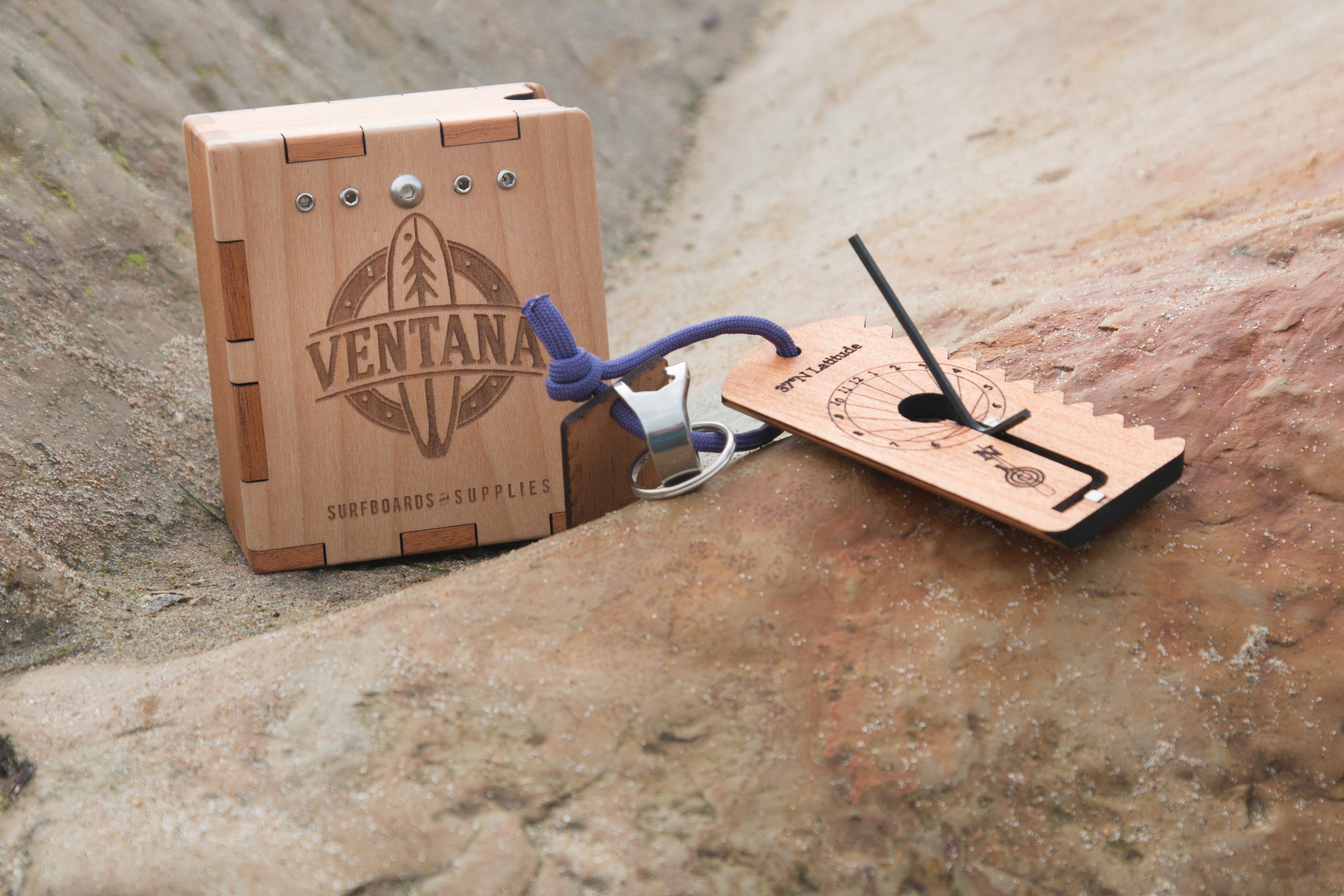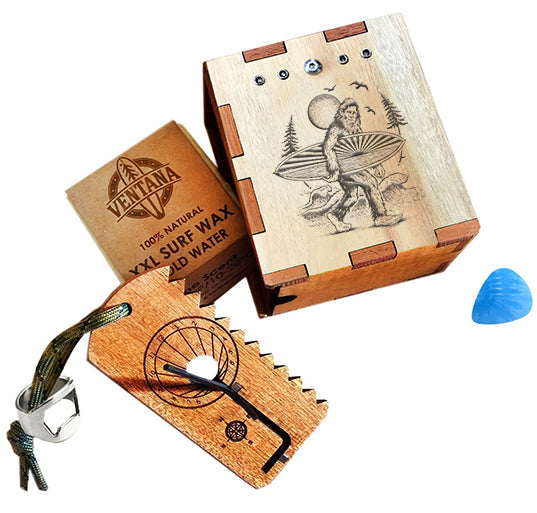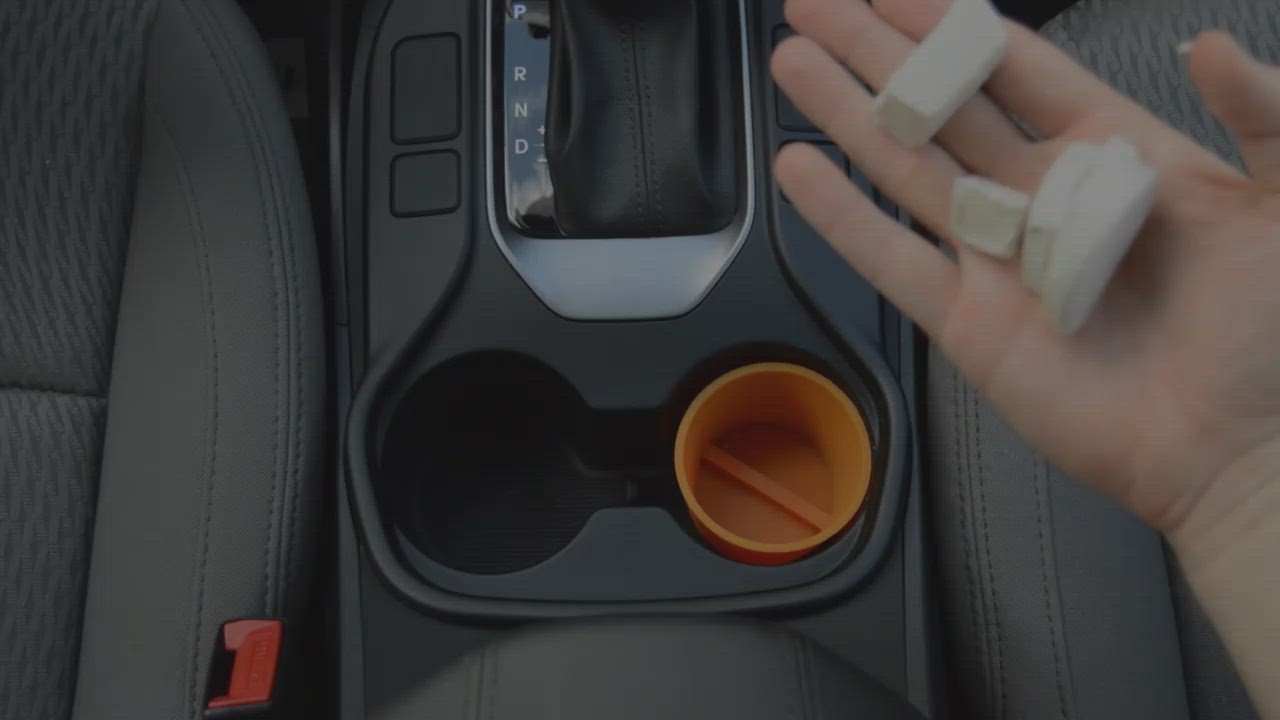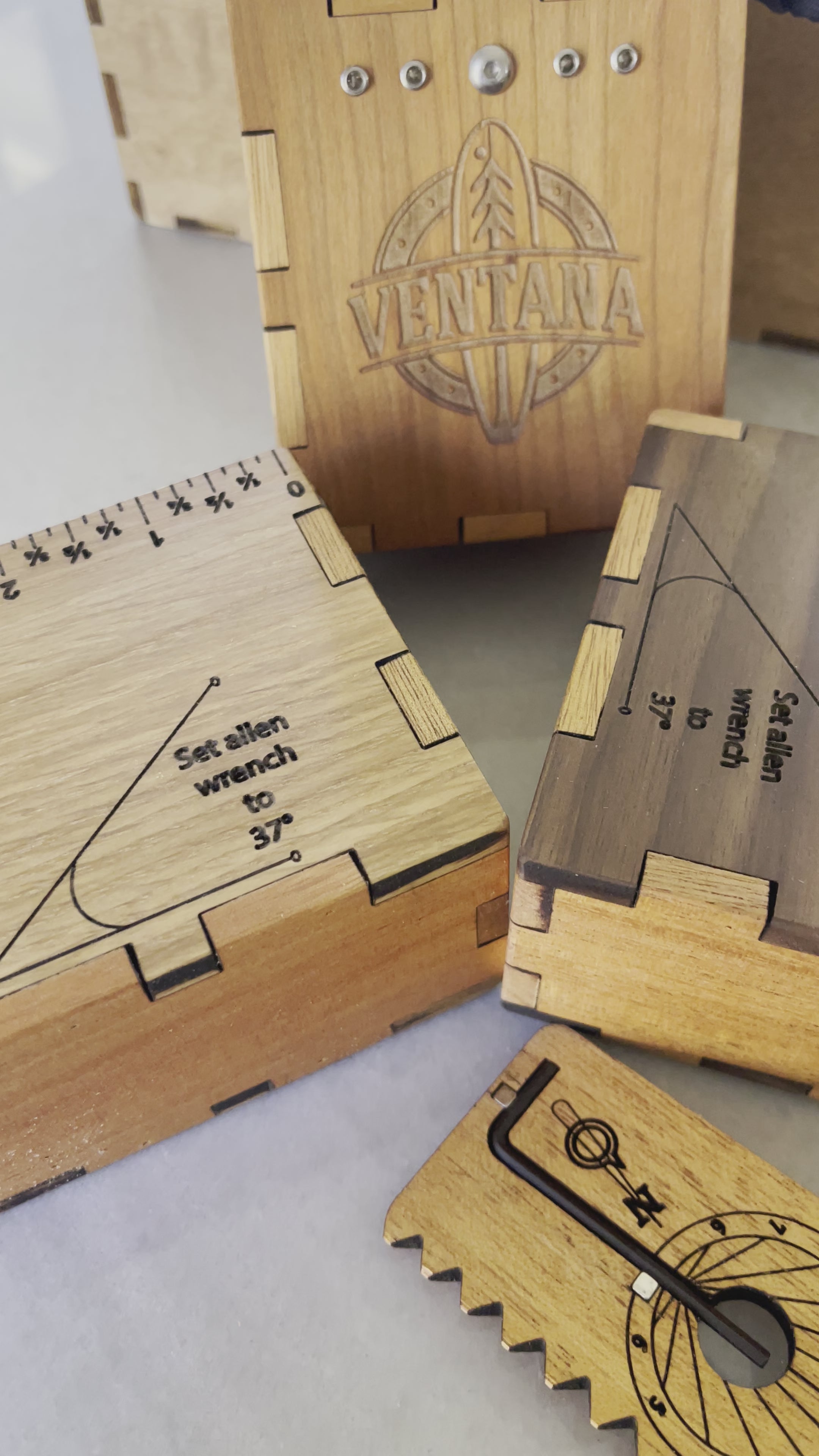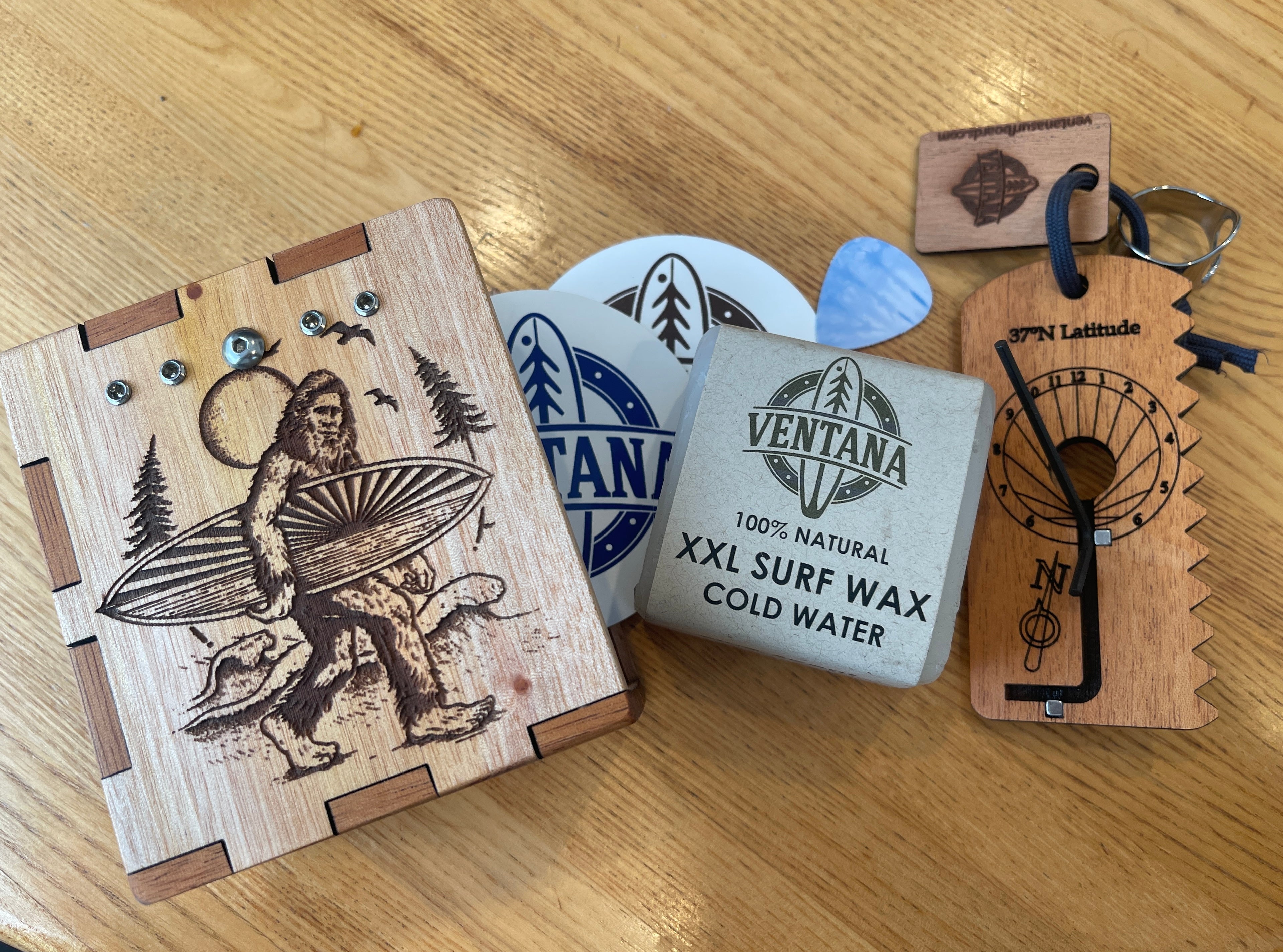 Save a surf box
Amazing craftsmanship and cool idea! Thanks again
A wonderful gift idea
It's everything you need in a tiny, well-crafted box. I received one as a gift a few years back, and since then, I've gifted several others. I suppose there's only one thing left to say: anchors away, matey & enjoy!
Beautiful and useful
I love my Ventana wax box!
I keep it in my surf car just in case, and it has saved the day on at least one occasion (needed to replace my leash loop).
Even if you don't use it to store a bar of wax, it's a beautiful small box that gets lots of compliments. A usable piece of art, and a great way to support the good folks at Ventana Surfboards if you can't afford a hollow wooden board!
A Must-Have
I got my Save-A-Surf box back in June and I have used it every time I've gone surfing. I love that it keeps my wax from melting in my car on warmer days, and even if it melts slightly the box keeps wax from getting everywhere. I've had many instances where I couldn't find a fin key in my car, so it's great to know I always have a back-up in my Save-A-Surf box! The wax comb and scraper combo comes in handy every few weeks when I need to rough up my wax.
The most special part of the box, in my opinion, is that the wood is all donated by Santa Cruz Guitar Co. and other sources that would have otherwise been thrown away.
Fun Insurance
Part of the appeal of surfing is the simplicity of the experience - you don't really need much to get out there. Thus, a missing component in your minimal gear is suuuuuuch a bummer, cuz it's probably firing and you don't have what you need. You're covered, STYLISHLY, with this goodie box. Affordable, functional, high-quality and ideal for gifting. A killer deal for this hand-crafted Swiss Army knife of surfing. Do it.
More Cool Info
Free U.S. Shipping & Shipping Details

Every order includes Free USPS First Class or UPS Ground Shipping. Of course, you can select premimum options, too.

We generally ship products between 12 and 48 hours after we receive your order. In some cases, such as with surfboards, custom orders, or custom engraved products, we will contact you within 24 hours to discuss production and shipping timing.

We can ship anywhere in the world that is legally permitted under U.S. law. Any potential customs payments and processing fees are the responsibility of the customer.
Return Policy

Our Refund Policy is simple. We do the right thing. We trust our customers, and if you have any issues with any of our products, we'll work with you to do what's fair.

Contact craftspeople@ventanasurfboards.com to discuss your return or other issue. We approve returns within 48 hours.

Any refunds will be returned via the method and manner in which they were paid. For instance, a credit card payment will be refunded to the same credit card; a wire transfer or electronic check will be refunded to the same account from which it came, etc. A cash payment may be refunded via Venmo, bank transfer, or PayPal.