Ventana Wave Pocket Amp
Regular price

Sale price

$ 99.00
ORDER BY DEC 17 for CHRISTMAS🎄
FREE U.S. INSURED SHIPPING!
WE CAN ALSO SHIP INTERNATIONALLY!
The Ventana Wave Pocket Amp is a compact, portable amplifier crafted in Santa Cruz, California and designed for musicians on the go!
Whether you're a guitarist, bass player, singer, ukulele player, harmonica virtuoso, violinist, banjo player, or you shred the accordion, the Ventana Wave is perfect for amplifying your sound anytime, anywhere - on your next camping, beach bonfire, surf, or stay-at-home adventure!
Cool Features*
*Small design details are subject to change prior to shipping
True Artisanship: Designed by master artisan Martijn Stiphout in Santa Cruz, California, the Ventana Wave is a testament to meticulous artisanship.

Reclaimed Brazilian cherry hardwood: The Wave is crafted with exquisite, uniquely grained Brazilian cherry wood reclaimed from new floorboard offcuts - the same wood used in several Ventana surfboards.

Adjustable Gain/Amplification: Adjust the volume on your instrument to change the gain to your liking. Lower volume creates a cleaner sound; higher volume produces a more distorted or overdriven punk/metal sound.

Durable and wear resistant: Brazilian cherry is among the hardest woods in the world with a Janka hardness rating of 2350 pounds-force. It is resistant to dents and wear and is also antimicrobial and non-toxic.

Hand-Assembled and Finished: Each amp is lovingly assembled in our workshop and quality checked before shipment, ensuring you receive nothing but the best. Ventana Waves are lightly finished with Osmo 

Polyx®-Oil that has a base of natural vegetable oils and waxes.

Exacting Specifications: Created individually using a CNC router and laser, every Ventana Wave meets precise standards. 

Embedded On/Off Power Switch: Plug in the included cable, and you're ready to play. Unplug the cable, and the amp turns off automatically to conserve the battery. 

Custom Speaker Grill: Add an artistic flair to your amp with a speaker grill designed by talented, Atlanta-based line-art illustrator Drew Graves (AKA Werd). Purchase the amp with the matching organic cotton pocket tee and save!

1/4-inch Amp Cable Port: Connect any electric instrument easily with the standard 1/4-inch (6.3mm) cable port.

German-made Visaton Speaker: 8 Ohm metal basket speaker with mylar diaphragm for durability - 2-Watt rated power; 3-Watt maximum power

Replaceable Battery: Never miss a beat with an easily replaceable standard 9V battery (Duracell

®

Procell battery included).

Free Bonus Items
FREE Custom Engraving: Make it yours with free, custom name or gift message engraving. Or send us a graphic using the upload above, and we can engrave it for you. Text engraving is FREE, graphic engraving is $15.

FREE 1/4-inch Amp Cable: Each amp comes with a free 6-foot cable for easy connectivity. Keep it organized with the free VELCRO® brand cable tie.

FREE Organic Cotton Cinch Sack: Use the organic cotton cinch sack silkscreened with the Ventana Treefish logo to protect your Wave in style.

FREE Ventana Key Chain: This little beauty is made from Ventana Khordz Mugs offcuts and Honduras mahogany from Santa Cruz Guitar Company. It's a testament to upcycling and a great leash cord if you're a surfer.

FREE Guitar Picks: Strum away with three free picks cut from expired credit cards, hotel key cards, and other sources diverted from the landfill.

FREE Speaker Grill and Logo Stickers: We'll include a 3" sticker that matches the Drew Graves speaker grill and one that sports the Ventana Treefish logo.


Add-On Options
Ventana Wave Organic Cotton Pocket Tee: Your Ventana Wave Amp fits right in the pocket! This navy-blue t-shirt is soft, pre-shrunk, and manufactured in the USA. It features the Ventana Treefish logo on the sleeve and the Drew Graves speaker grill art on the pocket. On sale for $28 ($10 discount) with amp purchase!
Multi-Instrument Clip-On Tuner: This digital tuner has tuning modes for 12 equal temperament, guitar, bass, ukulele, and violin. It features a 360-degree rotation, LED display, and pads to protect your instrument. Only $10 with amp purchase!


Experience the unique blend of classic sound, modern technology, and meticulous artisanship with the Ventana Wave Pocket Amp. 
Amplify your music anytime, anywhere. Make it yours today 🎵!
 
Contact us with questions or special requests. And be sure to tag @ventanasurfboards and #ventanawaveamp in your photos and jam session posts so we can share them, too!
Learn about the Ventana Wave Pocket Amp Artist Project!
Technical Details
Dimensions: 4.25" x 2.25" x 1.0" (10.8 cm x 5.7 cm x 2.5 cm) 
Weight: 5 ounces
Speaker specs:
Nominal impedance Z: 8 Ohm
Basket: metal
Diaphragm: mylar (2-inch / 5cm)
UV-resistant
Frequency response: 250-10000 Hz
Mean sound pressure level: 

83 dB (1 W/1 m)

Rated power: 2-Watt
Maximum power: 3-Watt
Resonance frequency fs: 400 Hz
Temperature rating: -40

°

F - 176

°

F (-40

°C - 80°C)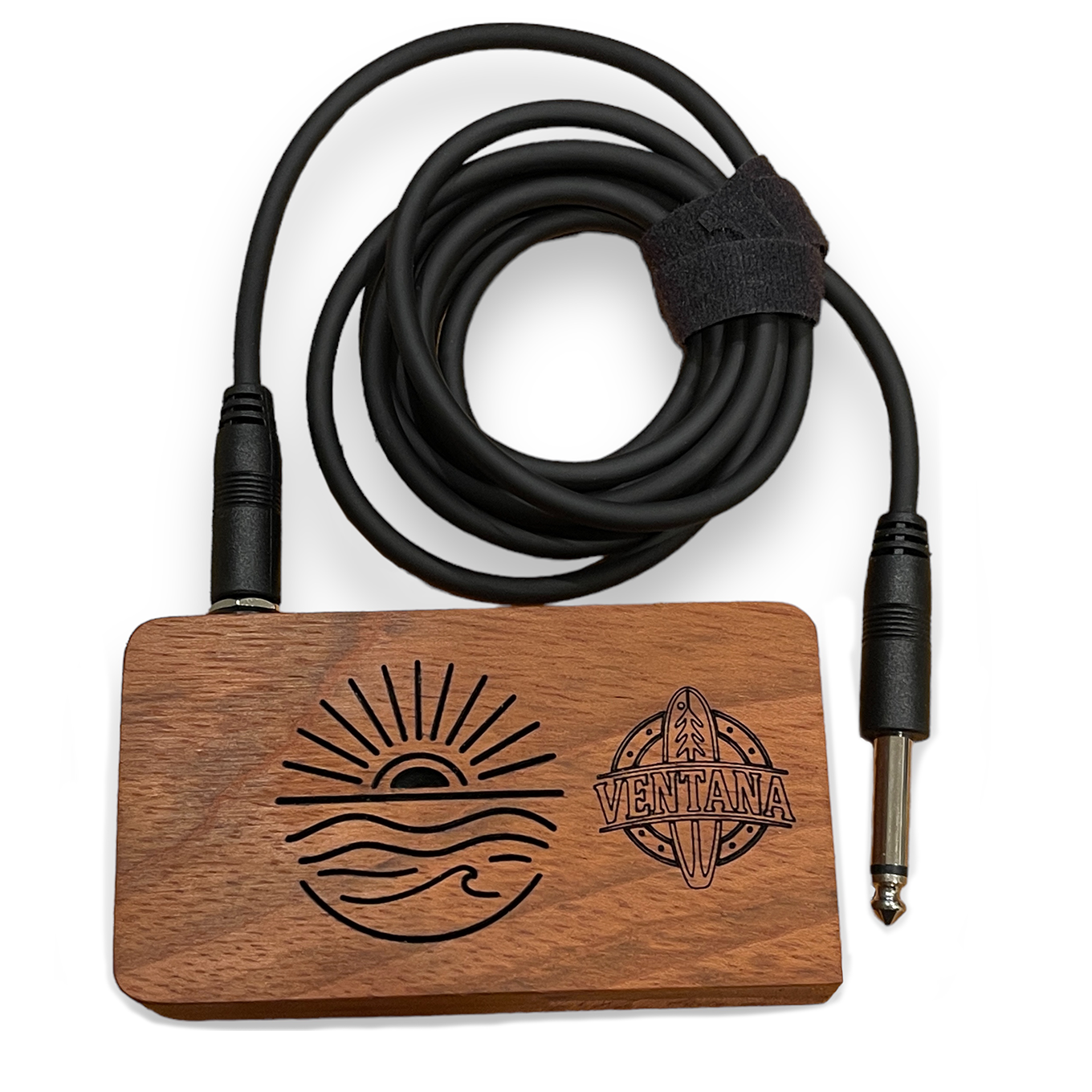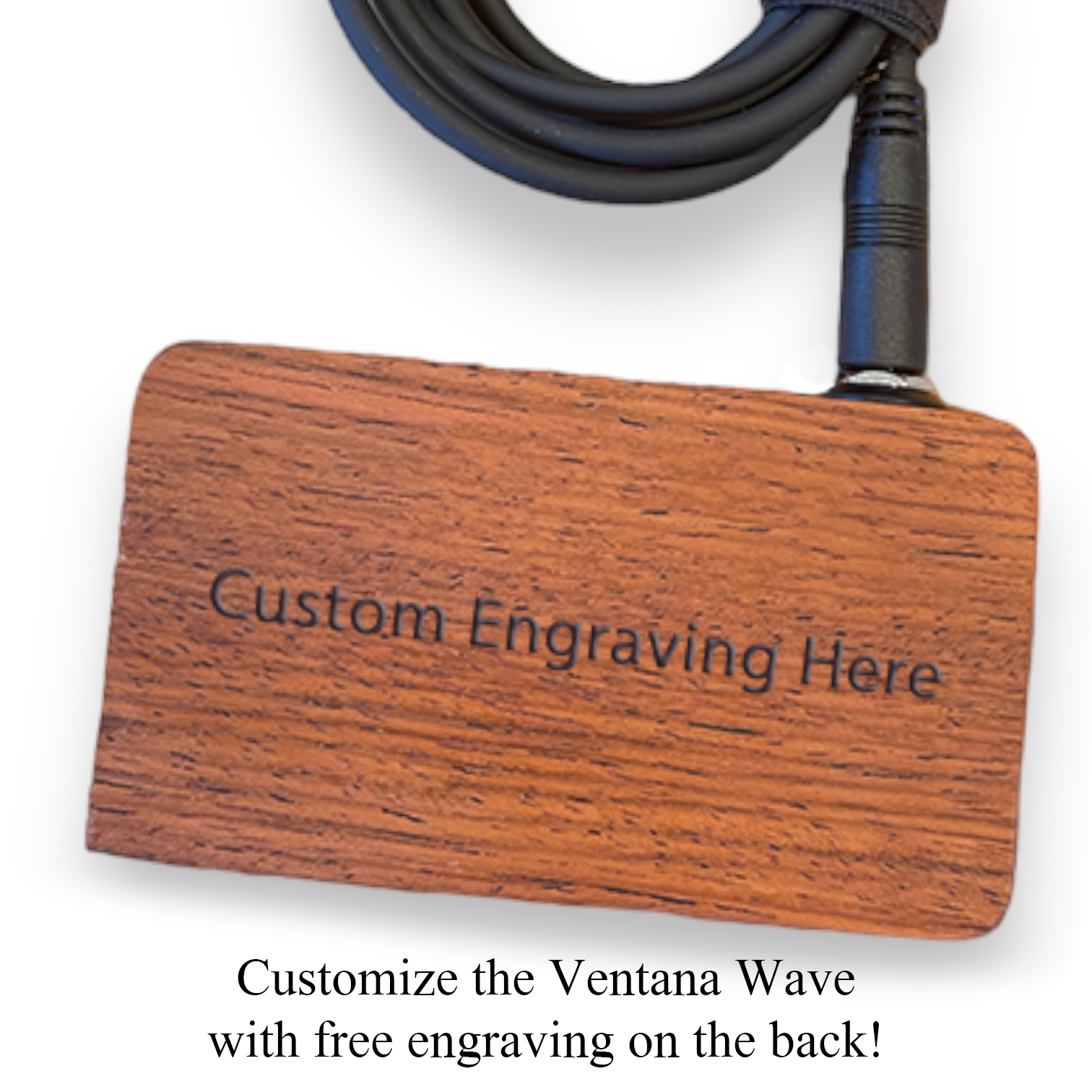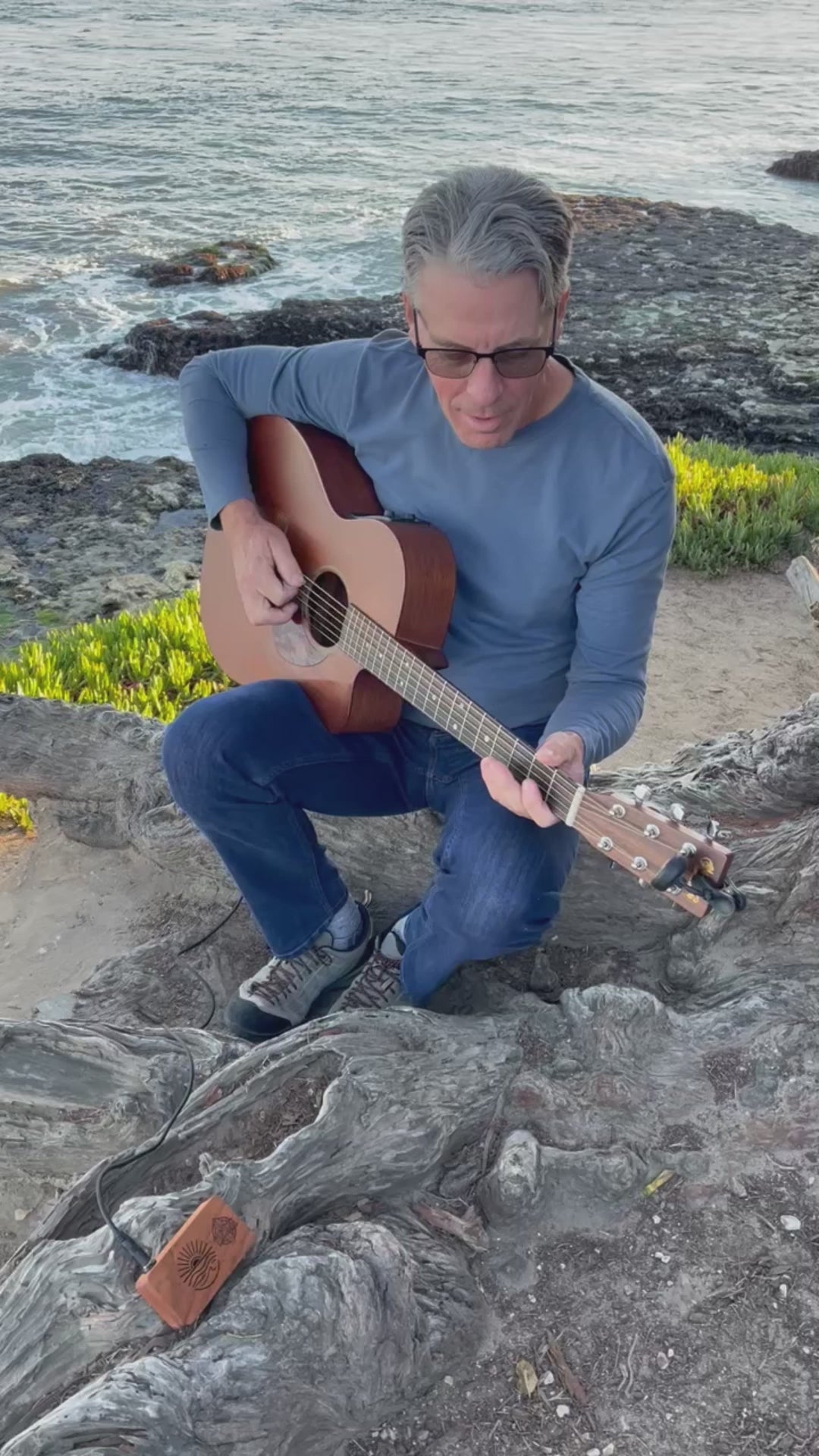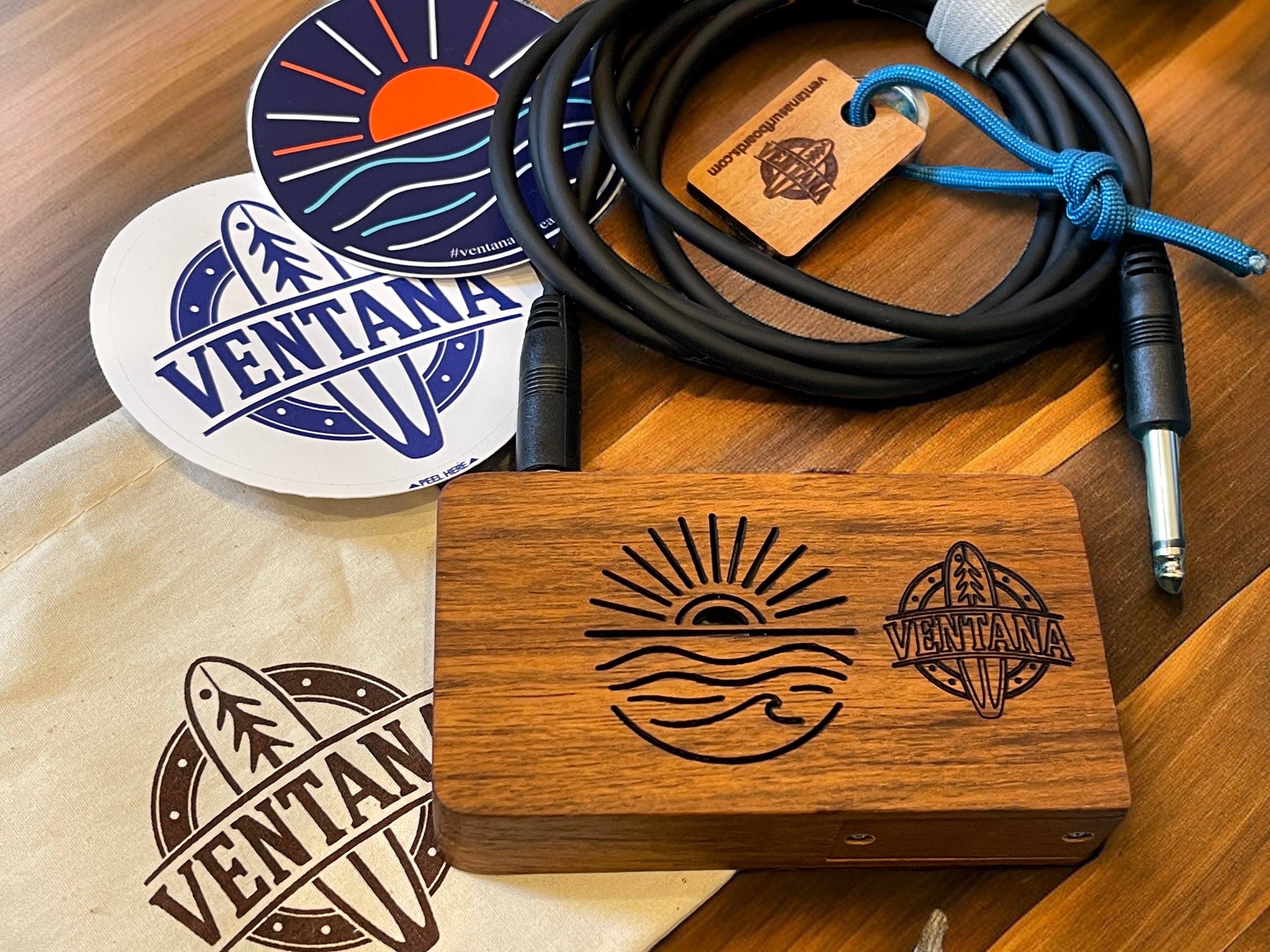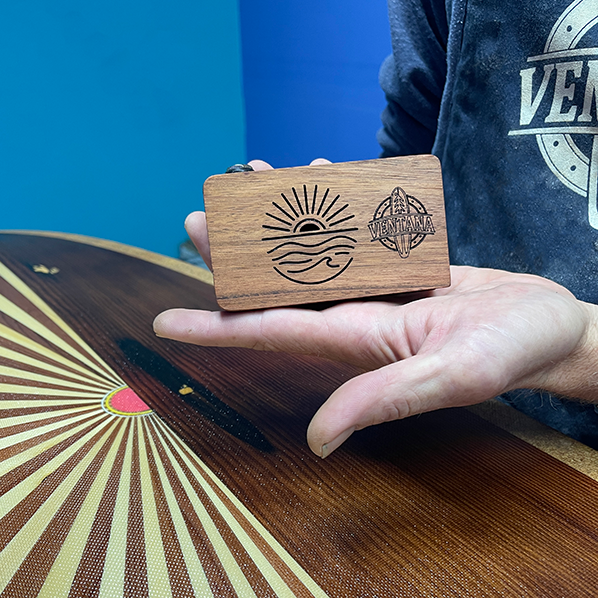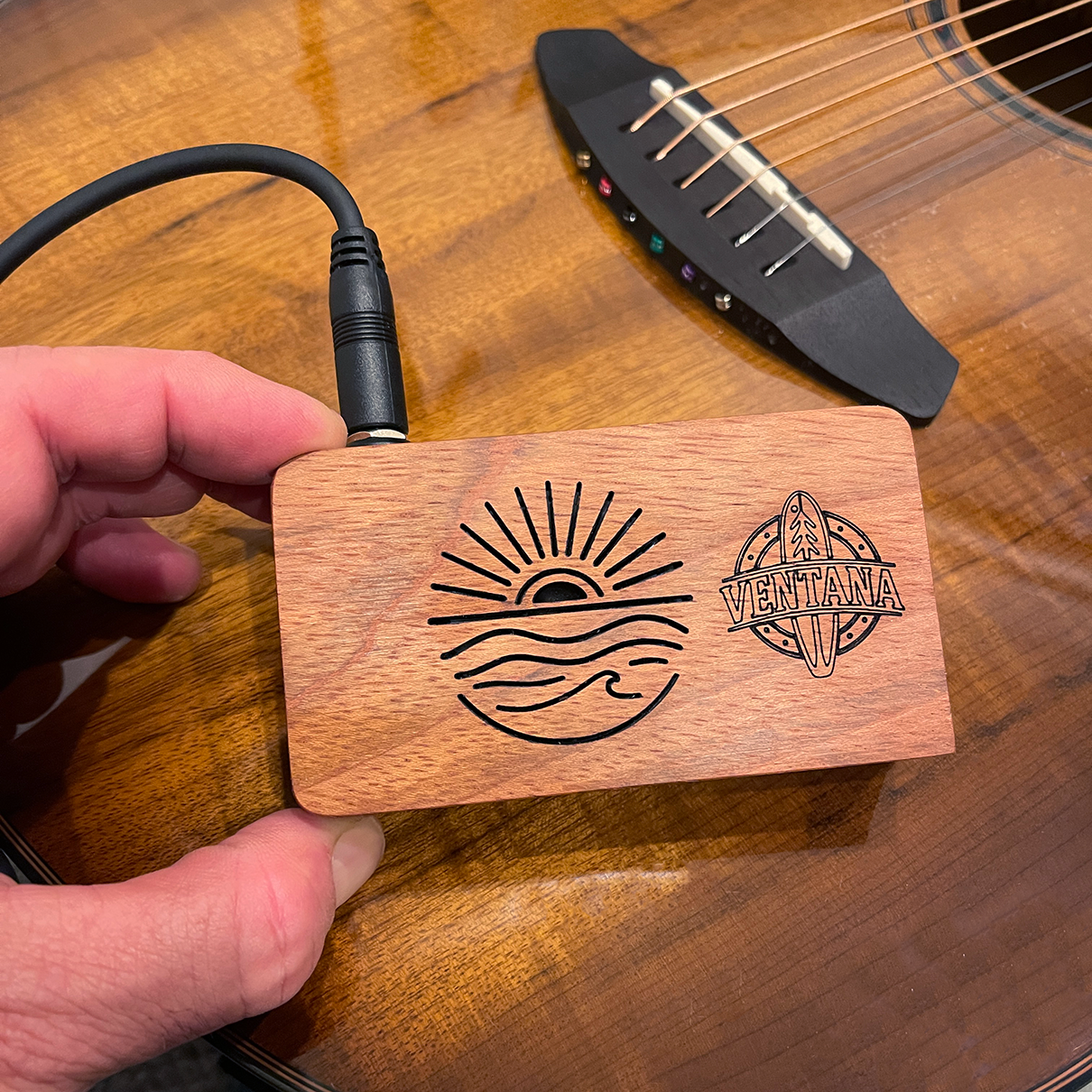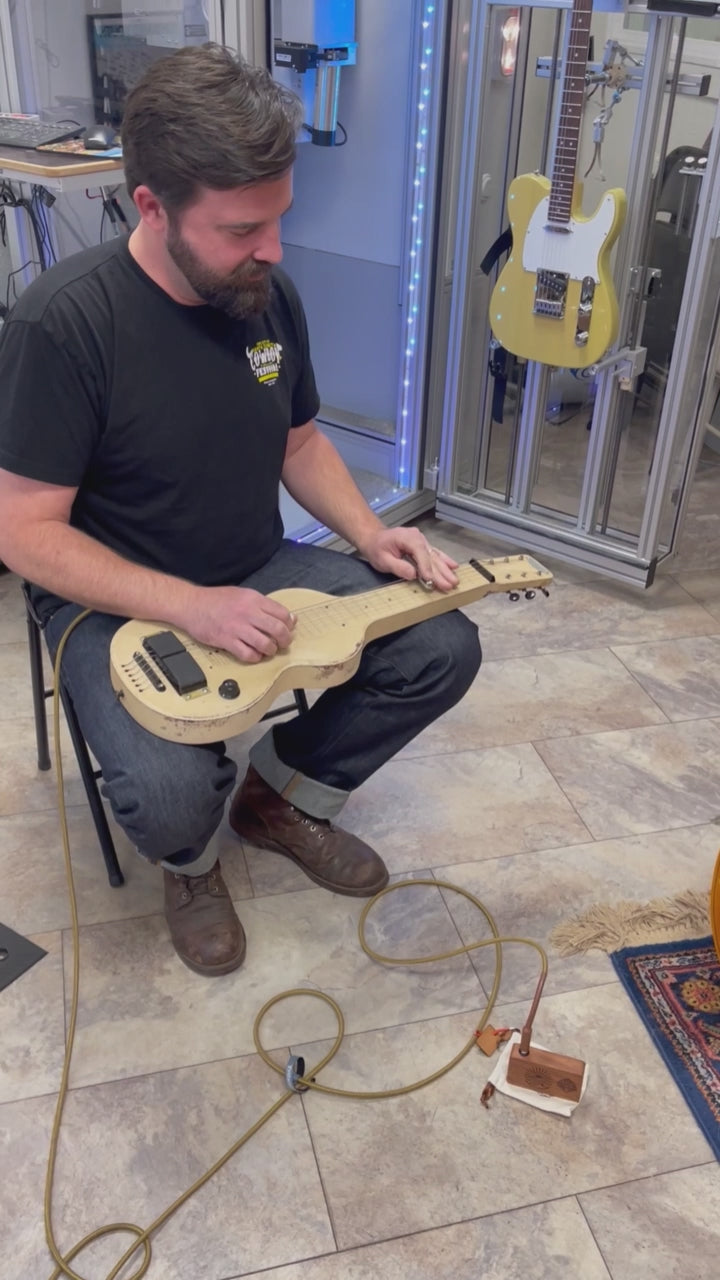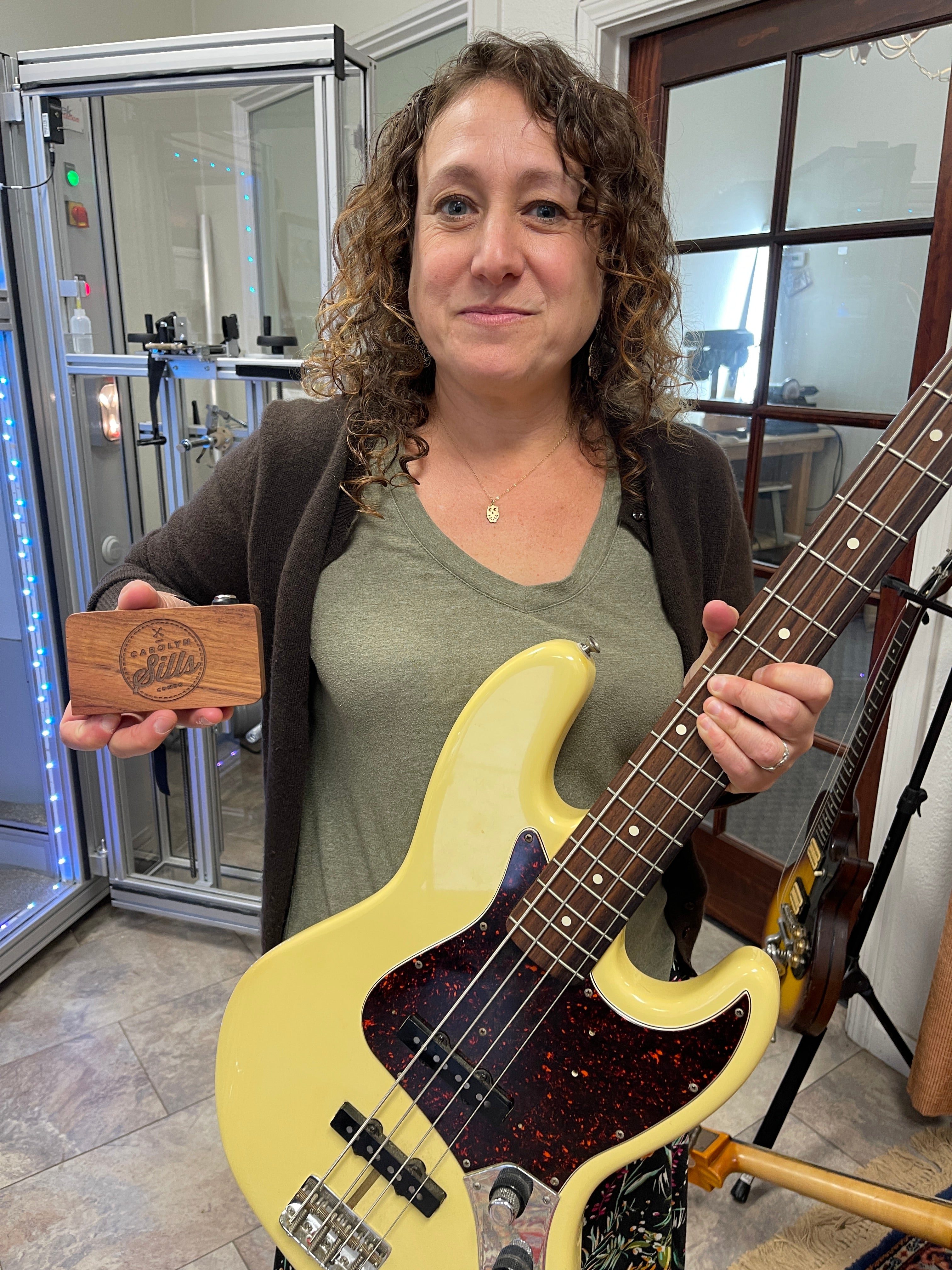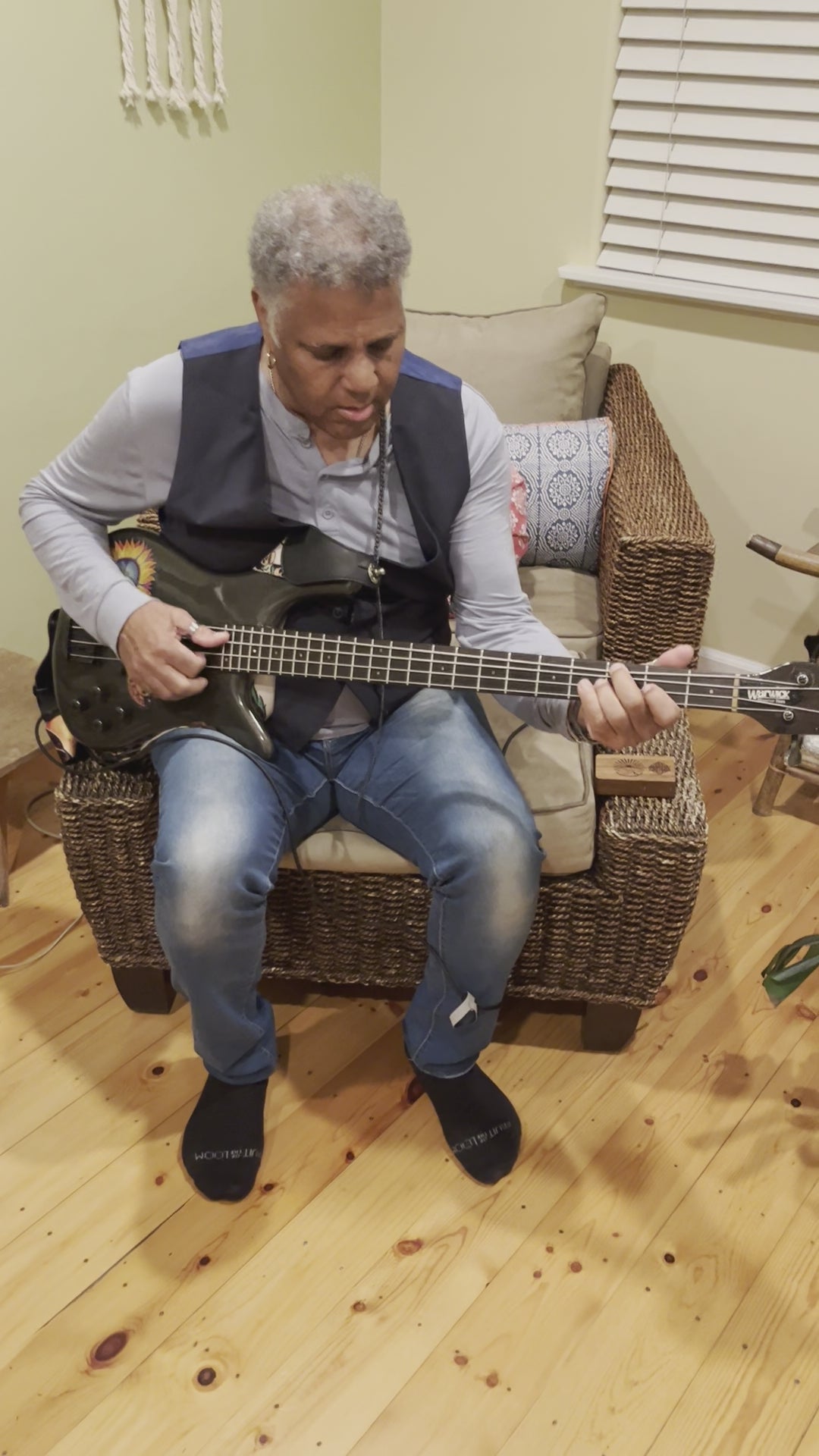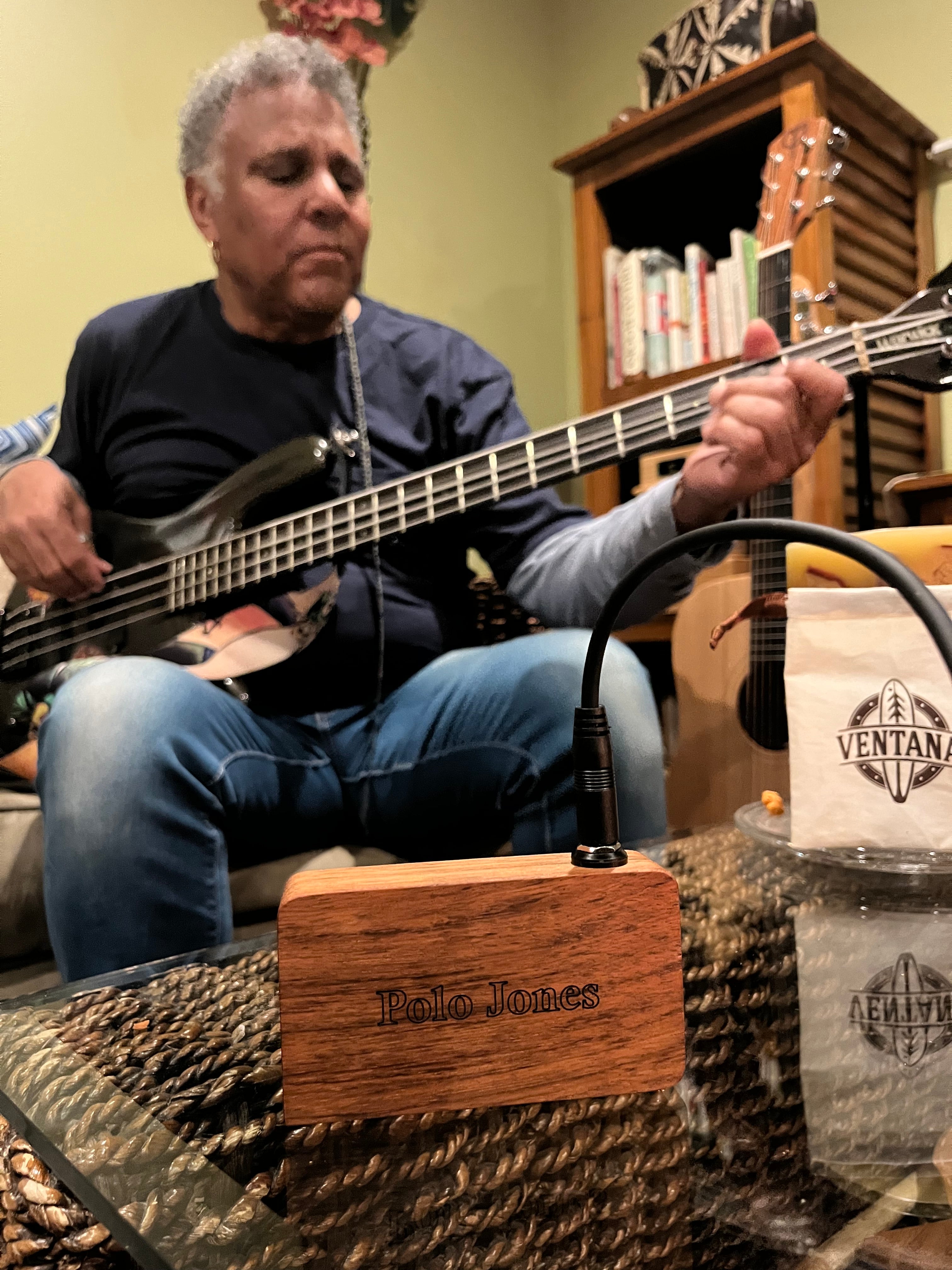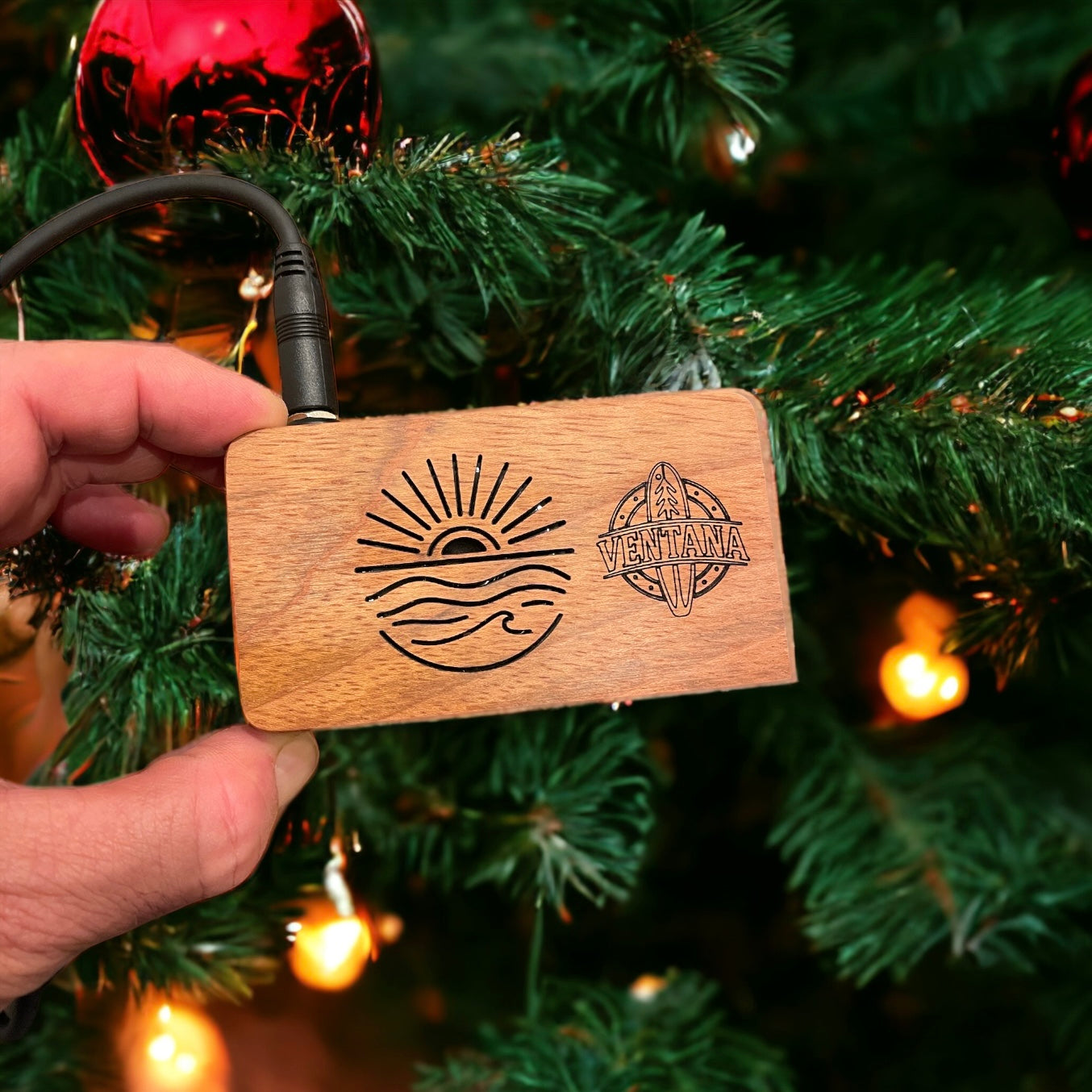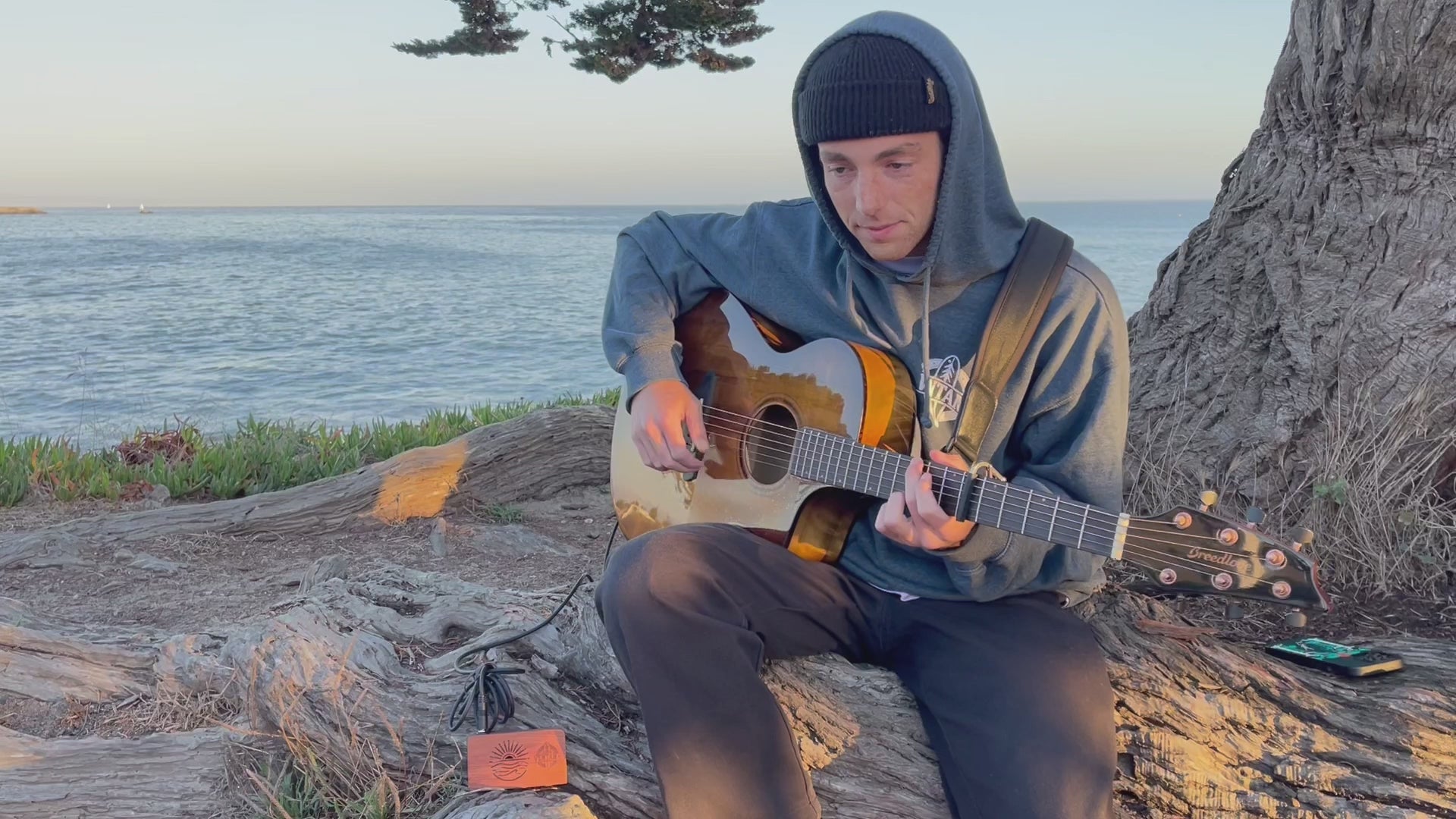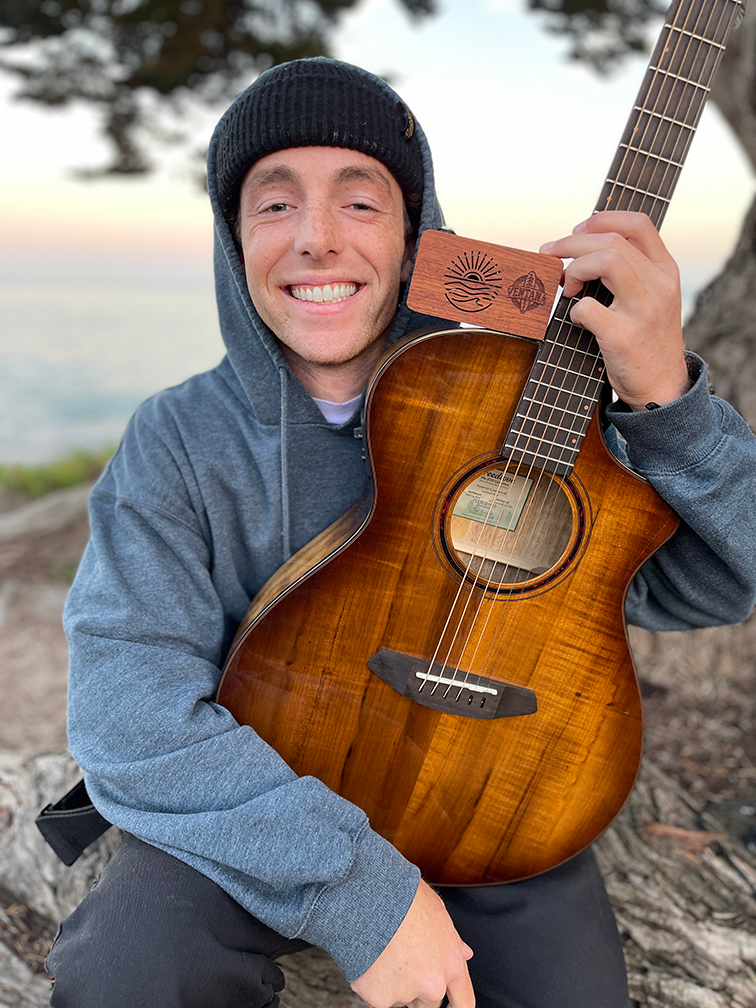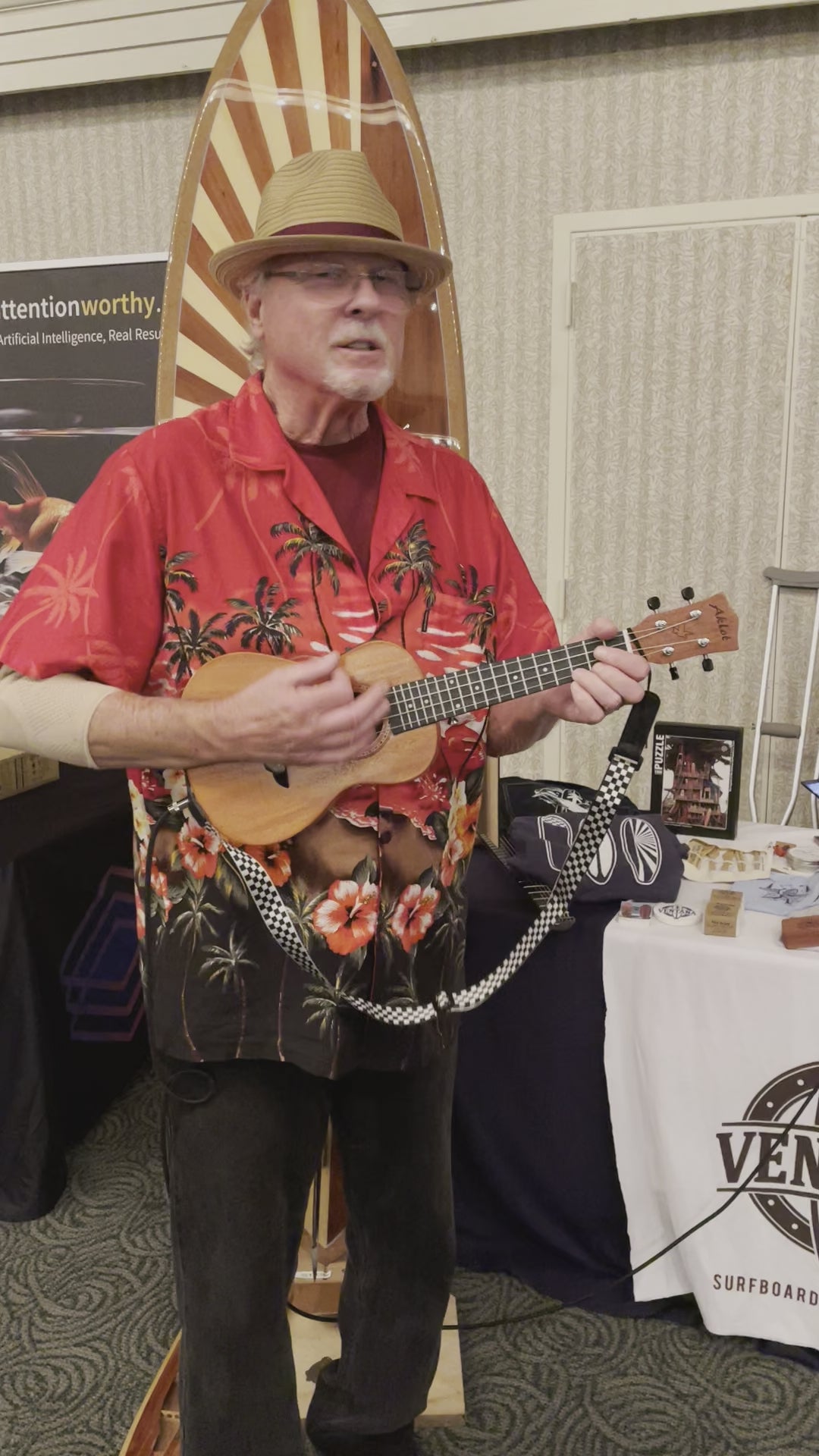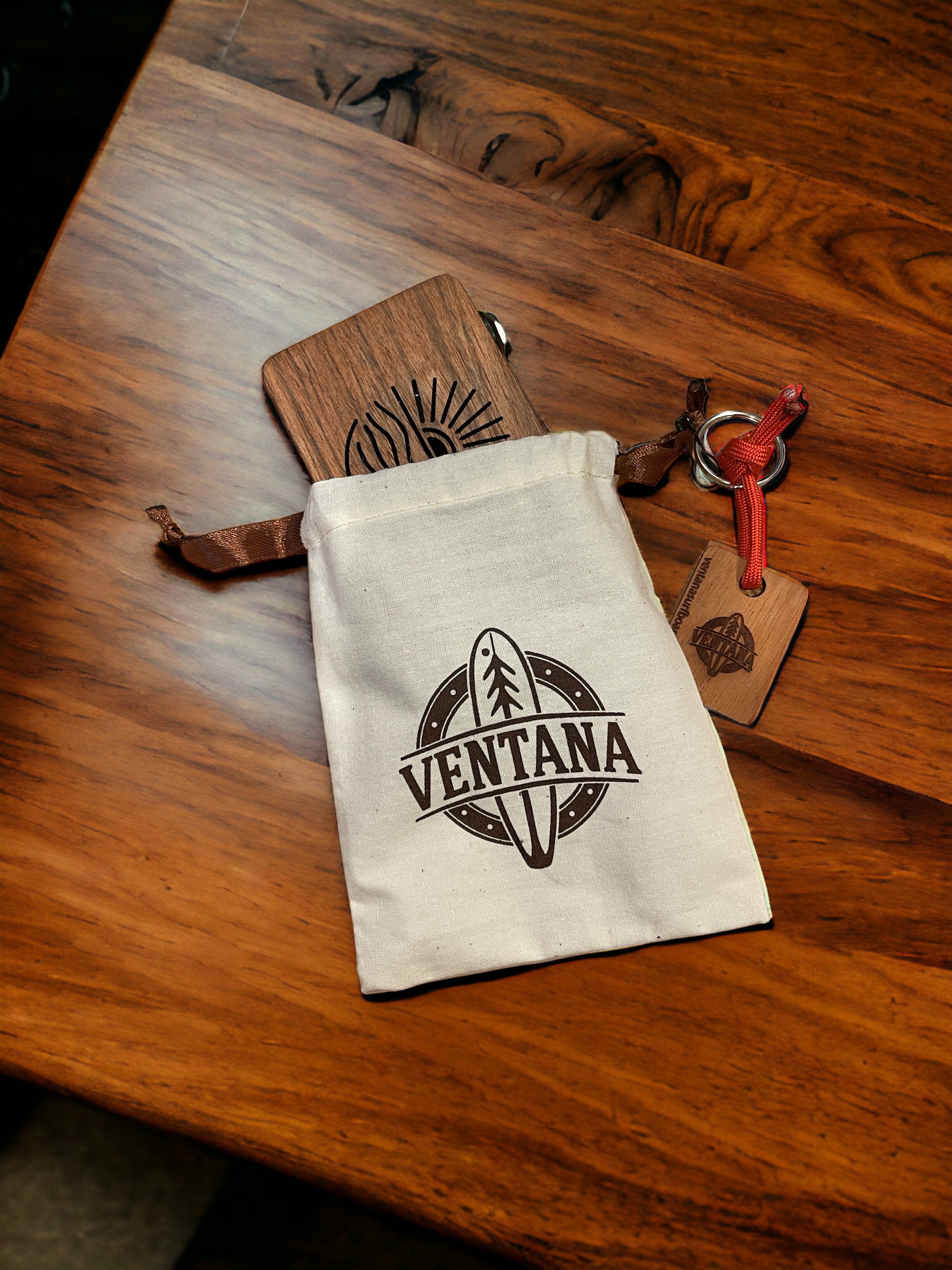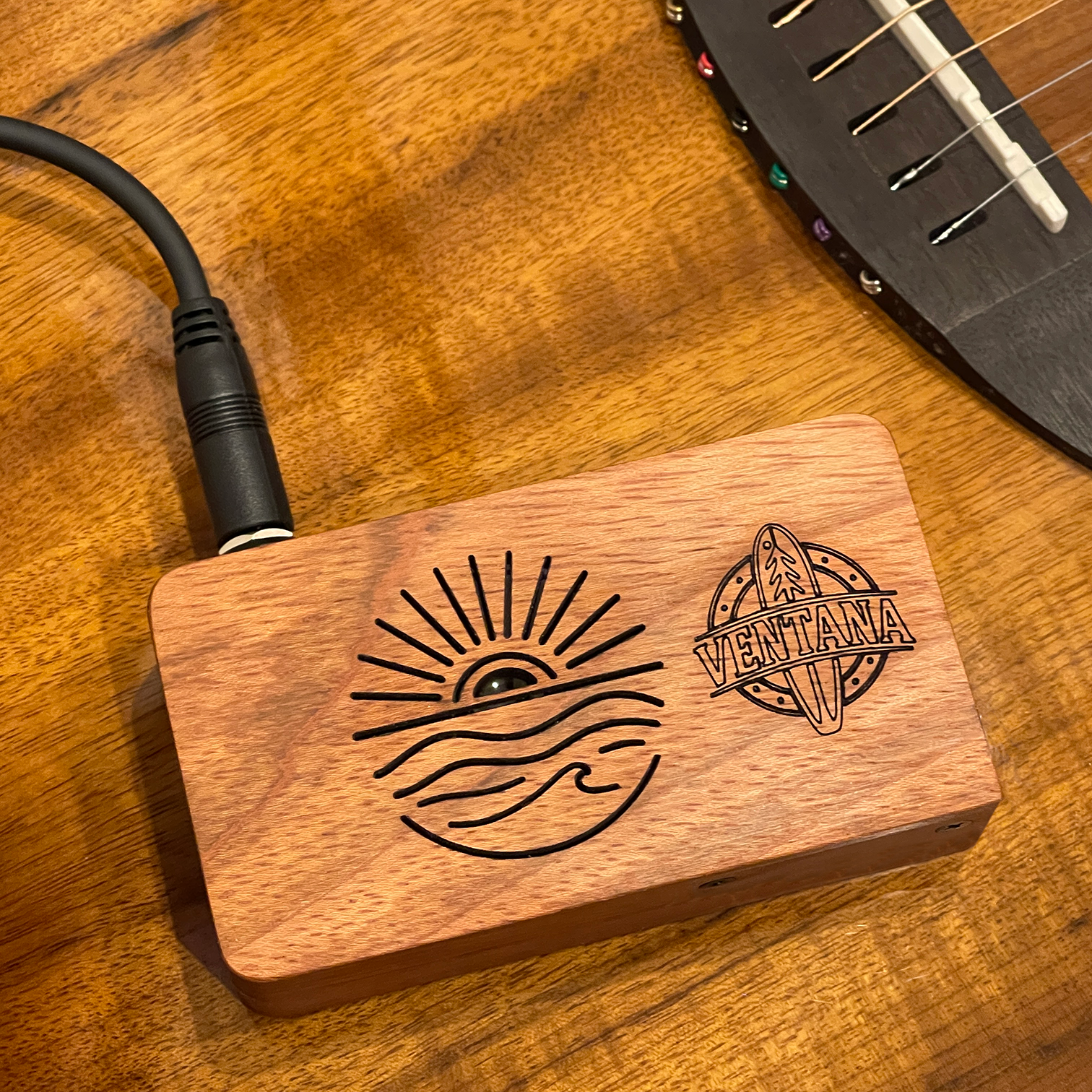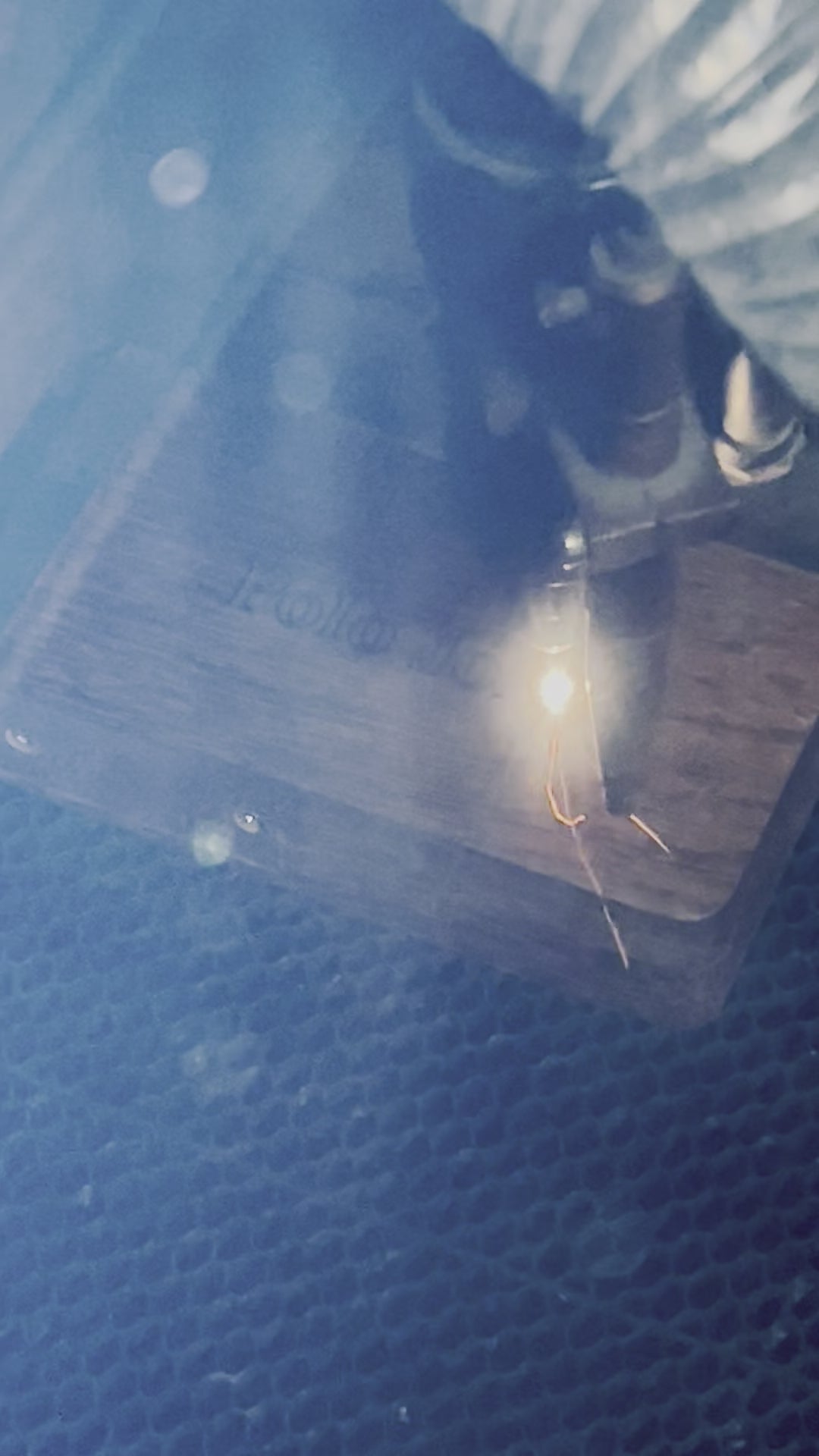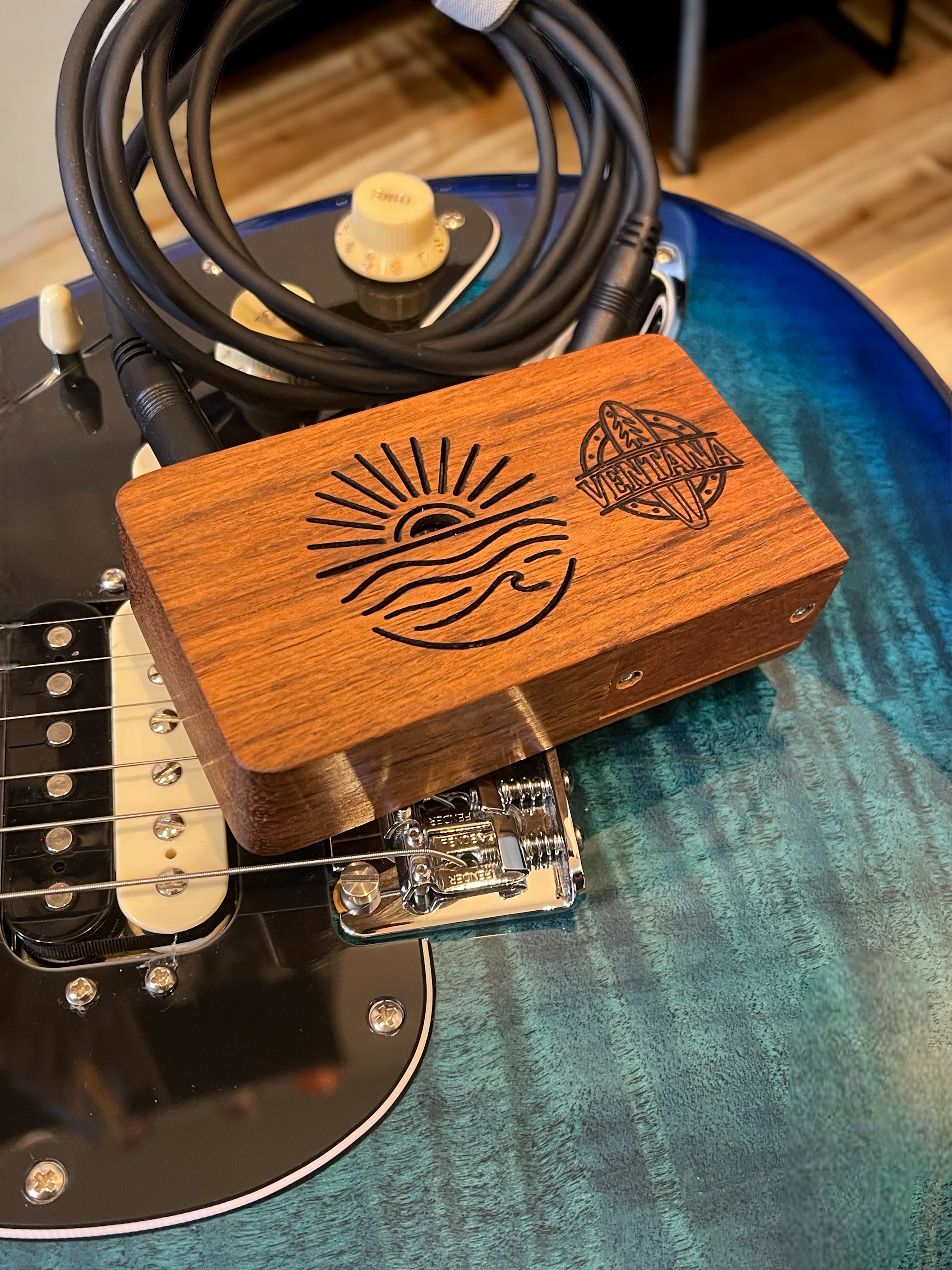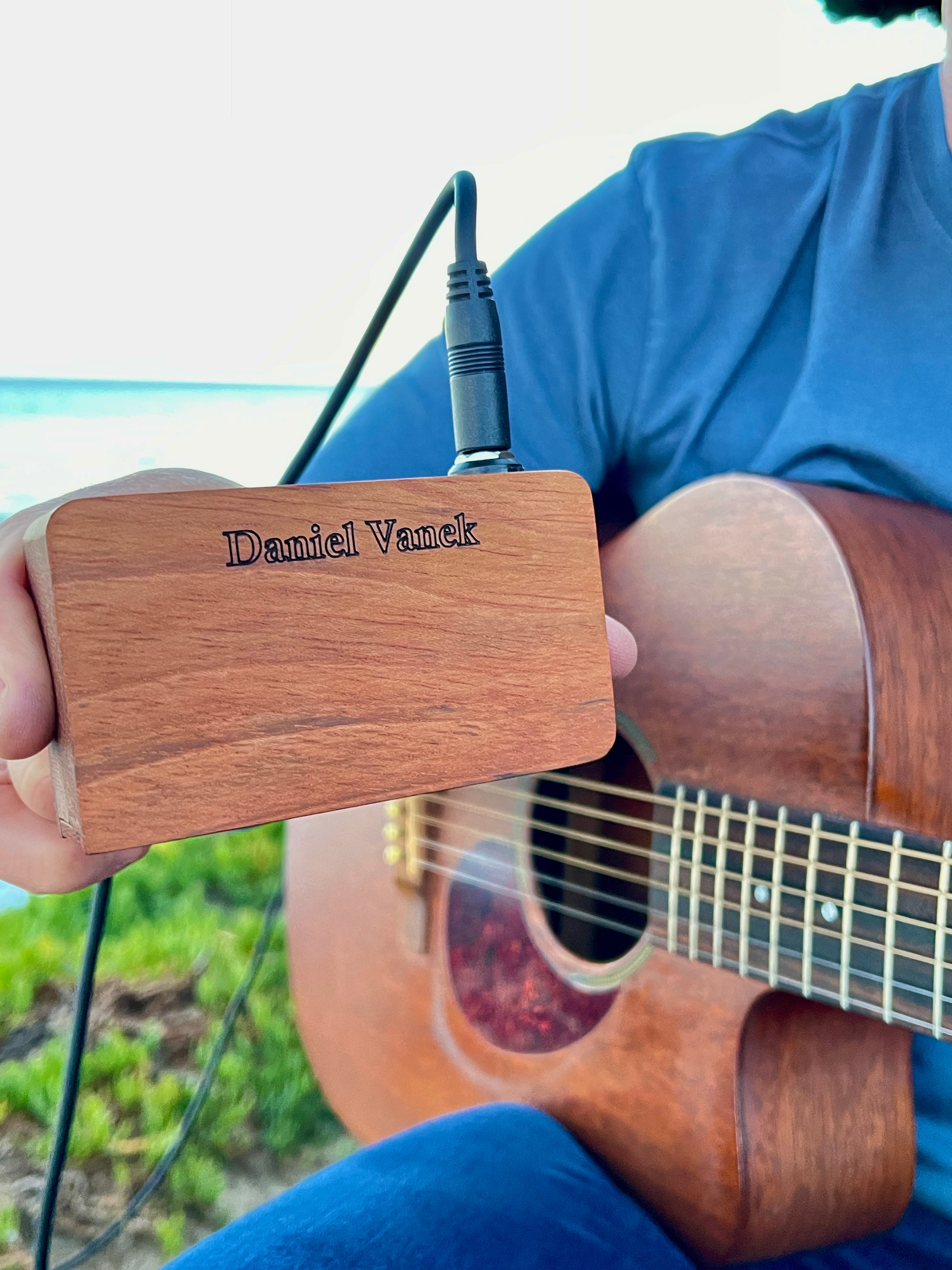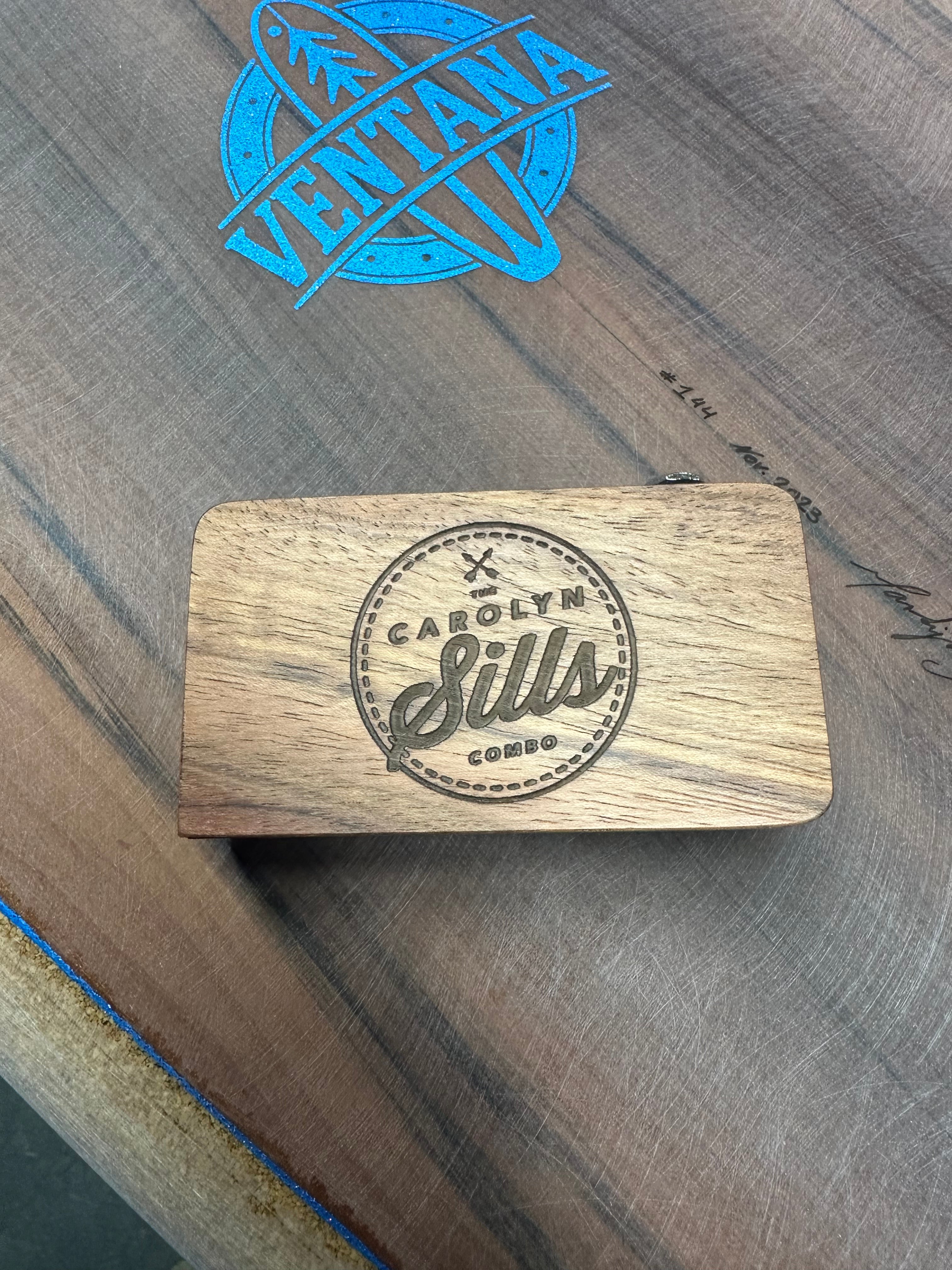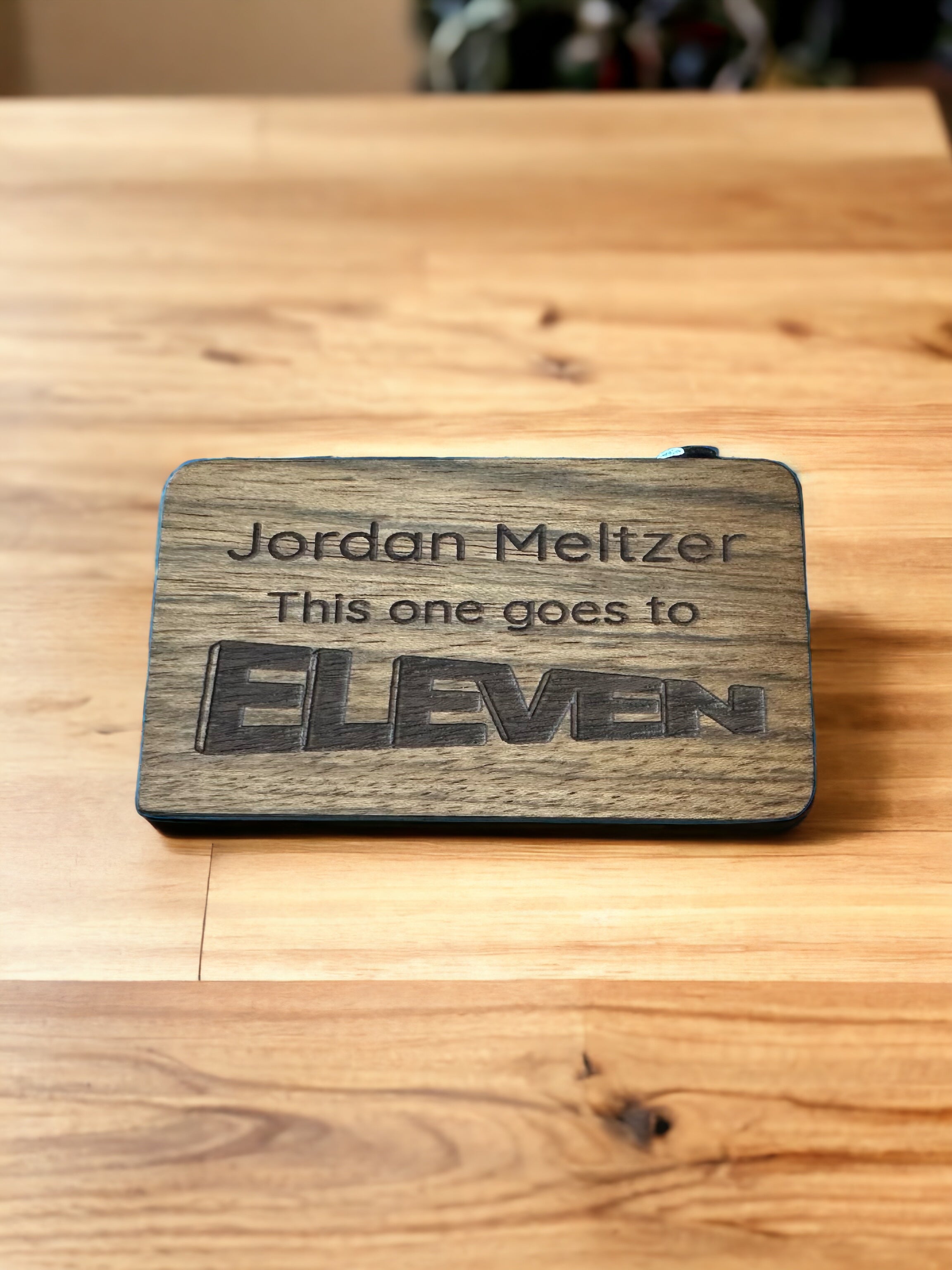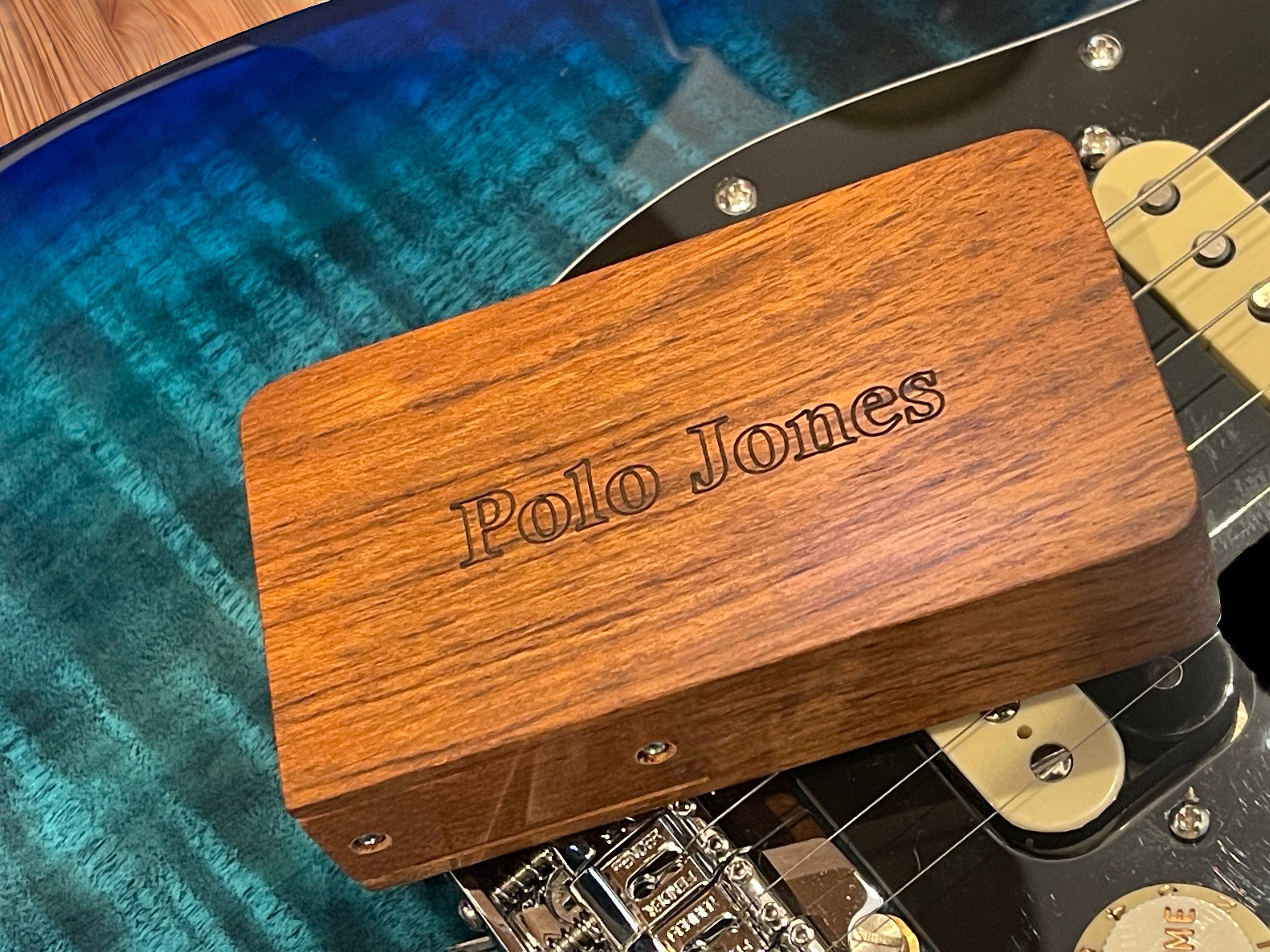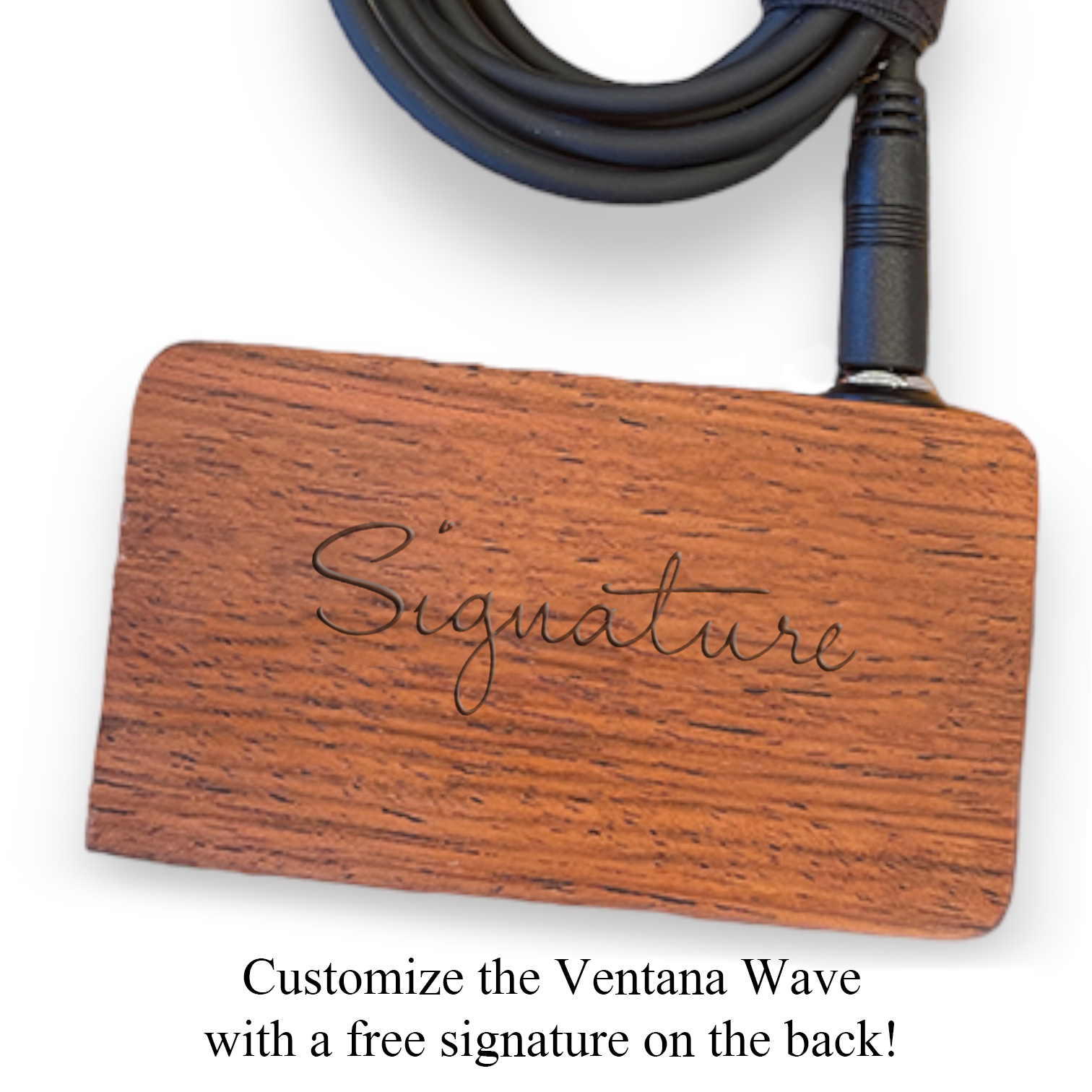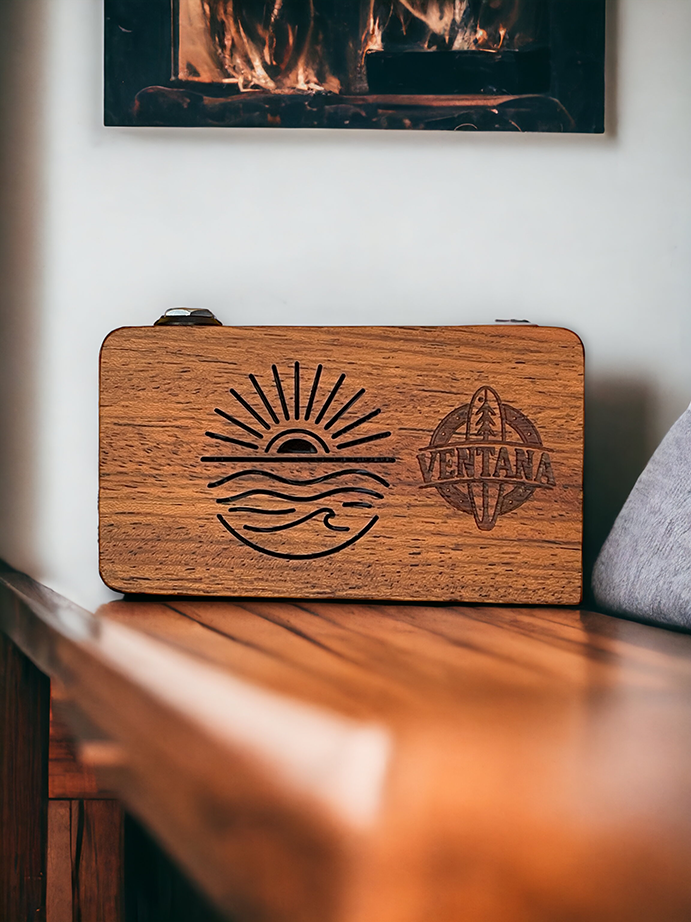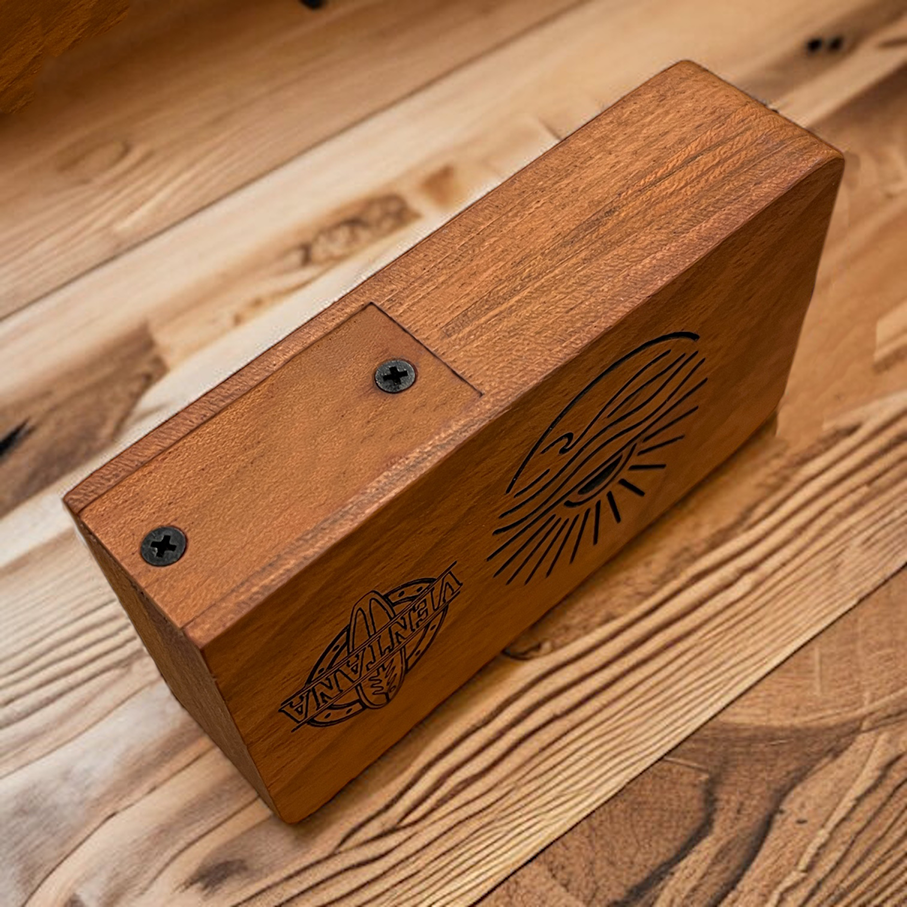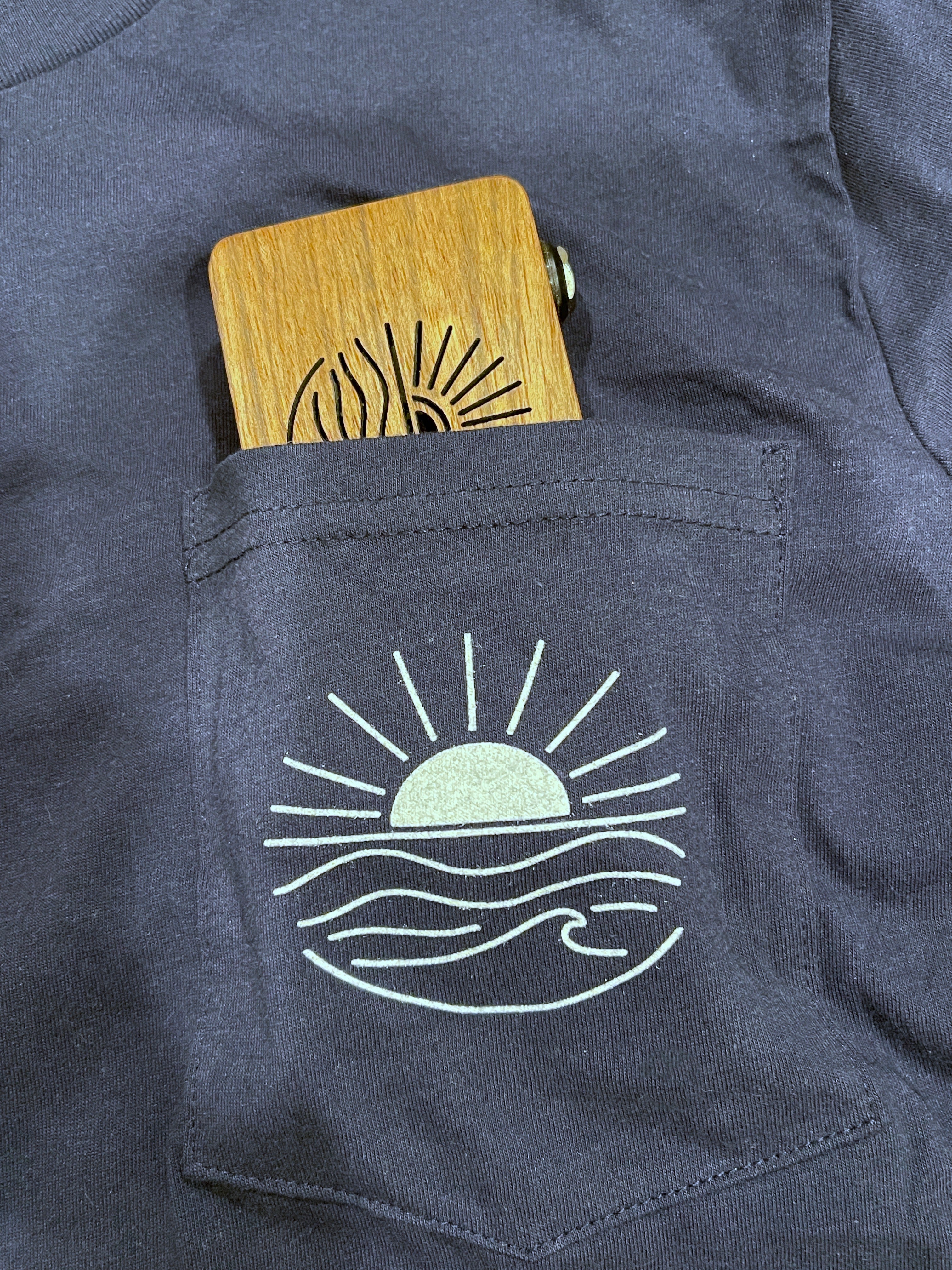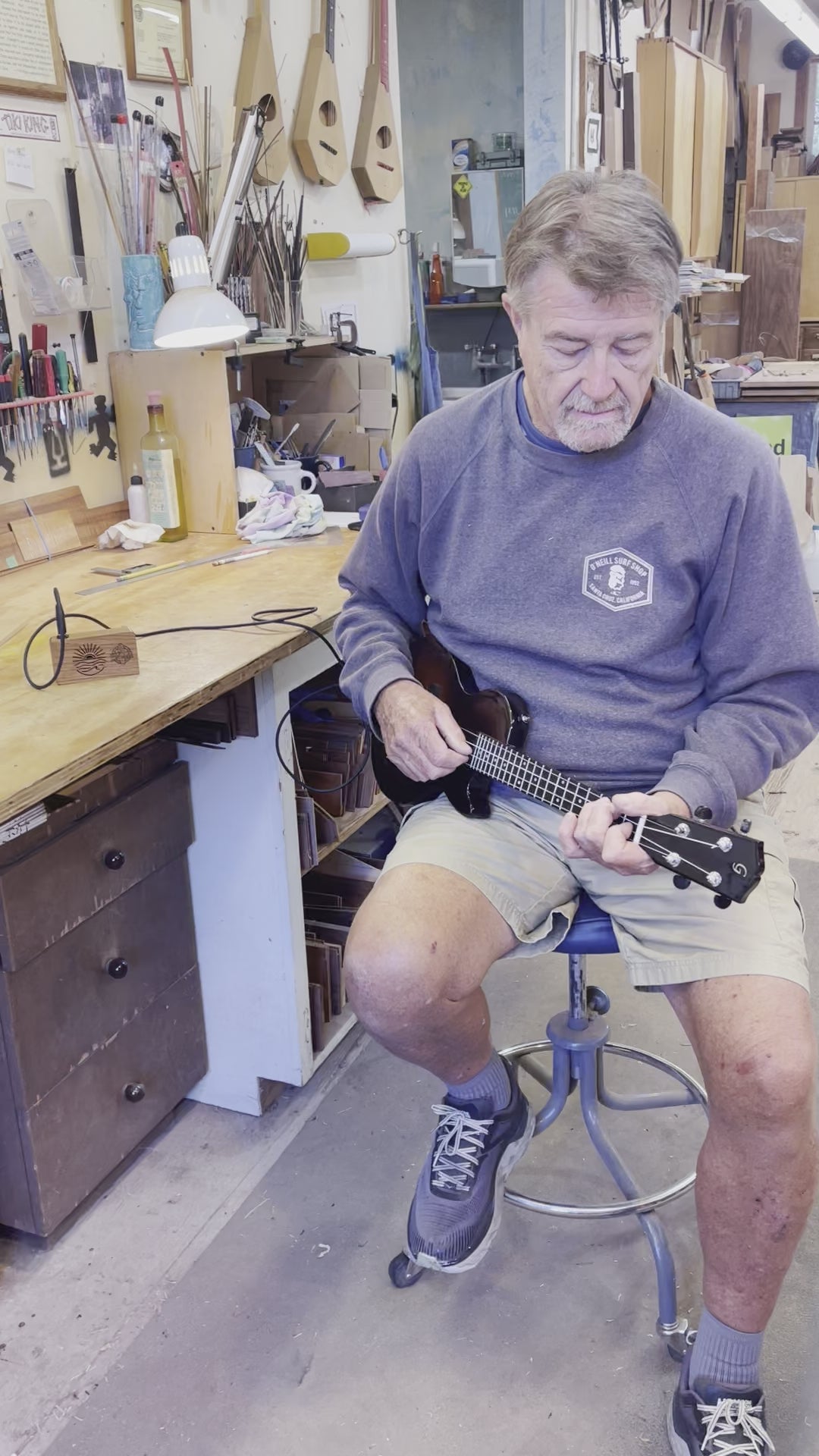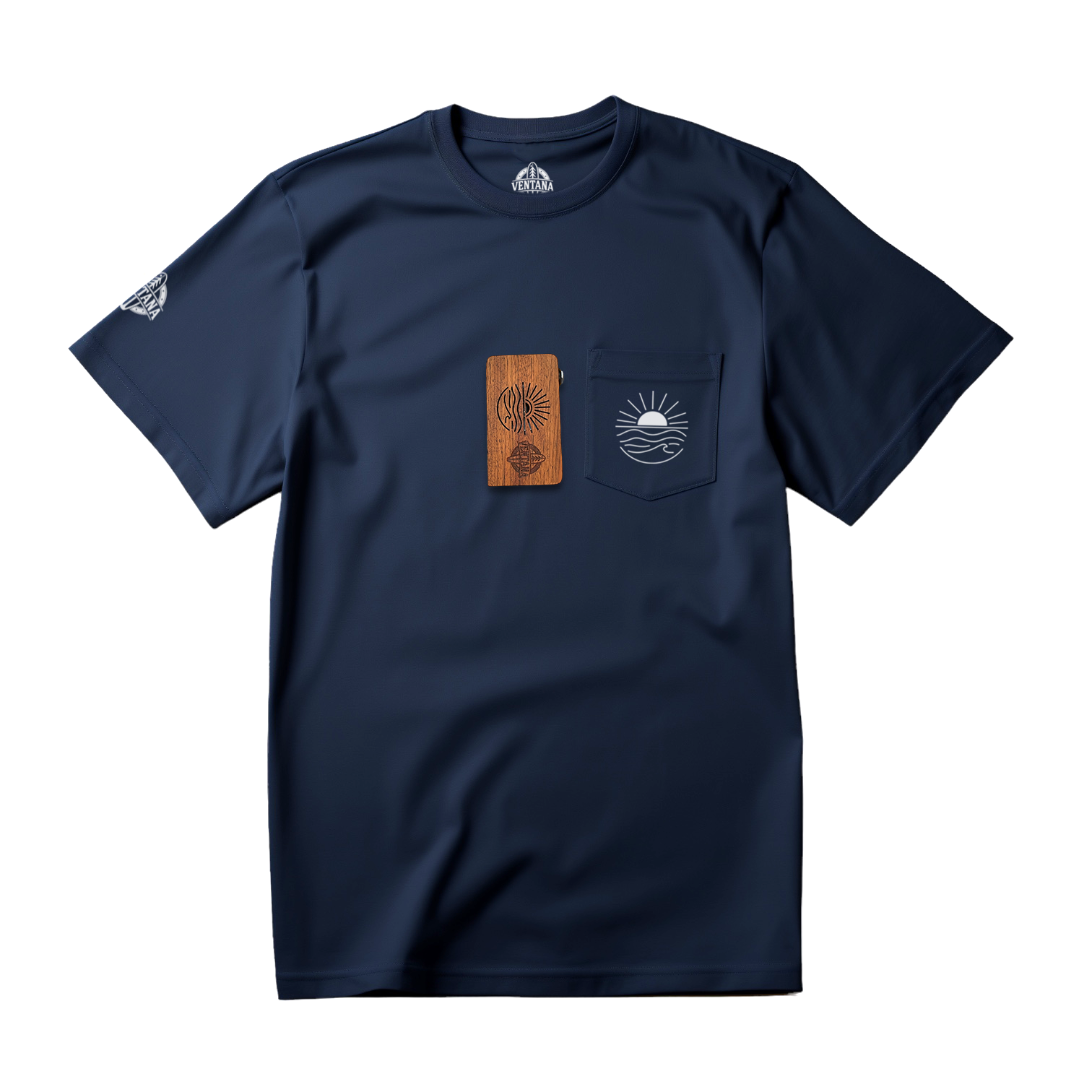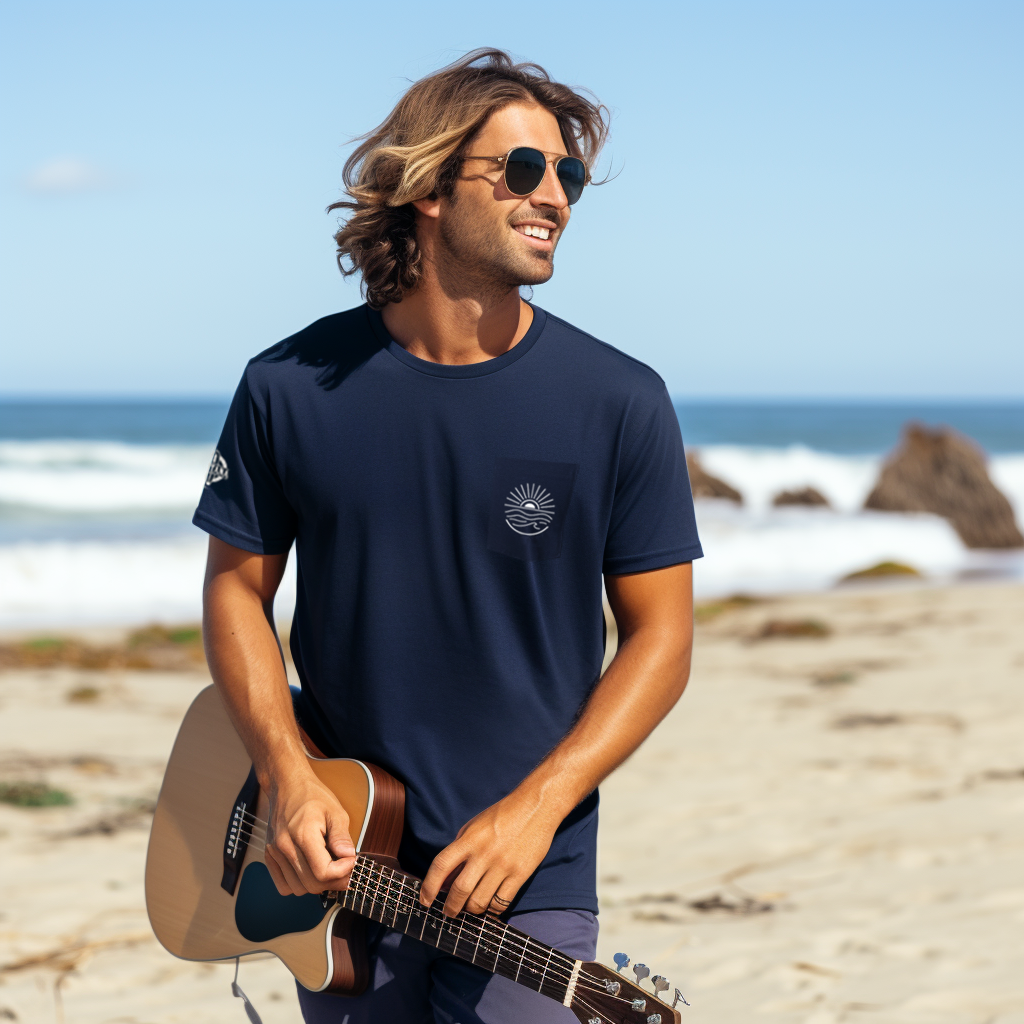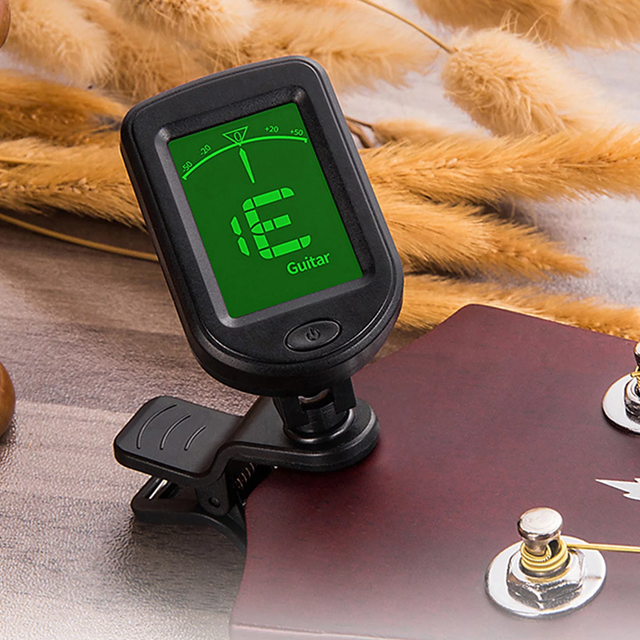 Packs a punch!
What a fun little amp! Perfect for campfires, on the beach, road trips, busking... all those places you've once said to yourself 'I wish I could plug in right now.' It fits right in my pocket, is even smaller than most phones these days, and is great for when you need a bit of amplification on the go. The fact that they could customize it with my band's logo just made it that much sweeter. Everything Ventana does is classy, and this amp is no exception.
So glad you like it! Your music is terrific, and we're glad we could "play" a part!
A little amp with a big heart
I got this amp because I wanted to be able to play guitar at the beach and hear it over the sound of waves without actually having to play intentionally loud. The sound quality of this amp is impressive for how little it is, and it carries a crisp tone that sounds vintage at higher volumes. The personalized engraving is a very nice touch. Super stoked on this and highly recommend to anyone looking for something simple, low-cost, and aesthetically pleasing.
So glad you like it! Thanks for the love and support
beautiful and fun
This little amp is a work of art (like all Ventana products) and is great for travel and practice. Nice little clean sound that breaks up as you move up in volume--really fun.
Glad you like it! We loved making it for you.
More Cool Info
Free U.S. Shipping & Shipping Details

Every order includes Free USPS First Class or UPS Ground Shipping. Of course, you can select premimum options, too.

We generally ship products between 12 and 48 hours after we receive your order. In some cases, such as with surfboards, custom orders, or custom engraved products, we will contact you within 24 hours to discuss production and shipping timing.

We can ship anywhere in the world that is legally permitted under U.S. law. Any potential customs payments and processing fees are the responsibility of the customer.
Return Policy

Our Refund Policy is simple. We do the right thing. We trust our customers, and if you have any issues with any of our products, we'll work with you to do what's fair.

Contact craftspeople@ventanasurfboards.com to discuss your return or other issue. We approve returns within 48 hours.

Any refunds will be returned via the method and manner in which they were paid. For instance, a credit card payment will be refunded to the same credit card; a wire transfer or electronic check will be refunded to the same account from which it came, etc. A cash payment may be refunded via Venmo, bank transfer, or PayPal.