Ventana Surfboards Art Pieces
Regular price

Sale price

$ 1,200.00
Free U.S. Shipping ... like everything from Ventana!
Artisanship
These 18-inch (46 cm) tall surfboards are replicas of some of our most popular designs. They are framed behind high quality acrylic in three sizes:
Three boards in a 24in x 24in (60cm x 60cm) frame = $1050
Two boards in a 16in x 24in (20cm x 61cm) frame = $850
One board in a 12in x 24in (30cm x 60cm) frame = $550
Each board is hand-crafted with the same reclaimed and salvaged wood we use in our full-sized boards. The frame is also handmade using various reclaimed woods. The boards are slightly lifted from the canvas background to create a shadow effect, and each art piece includes a French cleat hanging system. Each one is signed and dated by Ventana master artisan, Martijn Stiphout.
We can also craft custom shapes, designs, sizes, and frames or create unframed mini boards. Contact us for more detail on custom options and pricing.
Responsibility
Each board is made entirely from reclaimed and salvaged wood and finished with soy based EcoPoxy. We have different options for the frame wood. We'll collaborate with you to help you choose.
☀️ Sunburst Surfboard
The "water" under the sunburst is made of Douglas fir from the original Western Flyer boat.
The yellow sunburst rays are Alaskan yellow cedar offcuts from the Western Flyer boat restoration project.
The redwood rays are from a secret, local source
The sun itself is made of a sliced golf ball salvaged off the coast of Pebble Beach by Alex Weber of The Plastic Pick-Up. 
🌲 Treefish Surfboard
The tree and sun/moon are made from a salvaged, redwood hot tub.
The yellow wood is Alaskan yellow cedar offcuts from the Western Flyer boat restoration project.
🏄 Stripes Surfboard
This board includes redwood from Cabernet Sauvignon wine tanks by way of Alibi Interiors, Douglas fir from the original Santa Cruz Beach Boardwalk, claro walnut from Mission Bell Mfg., and Douglas fir from the hull of the original Western Flyer boat.
Adventure
Every time you see these boards on your wall, let yourself be transported to a clean, empty wave for a quick "mind surfing" session.


Martijn Stiphout signing the first three board art piece display...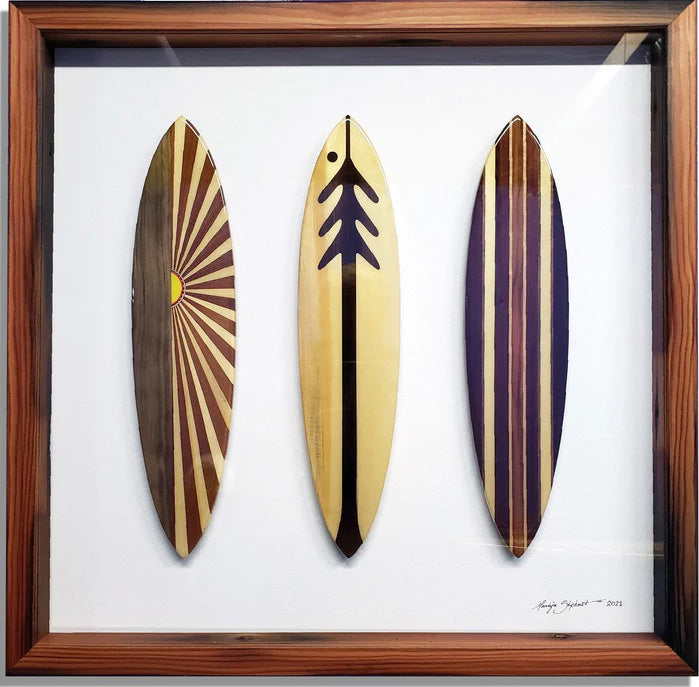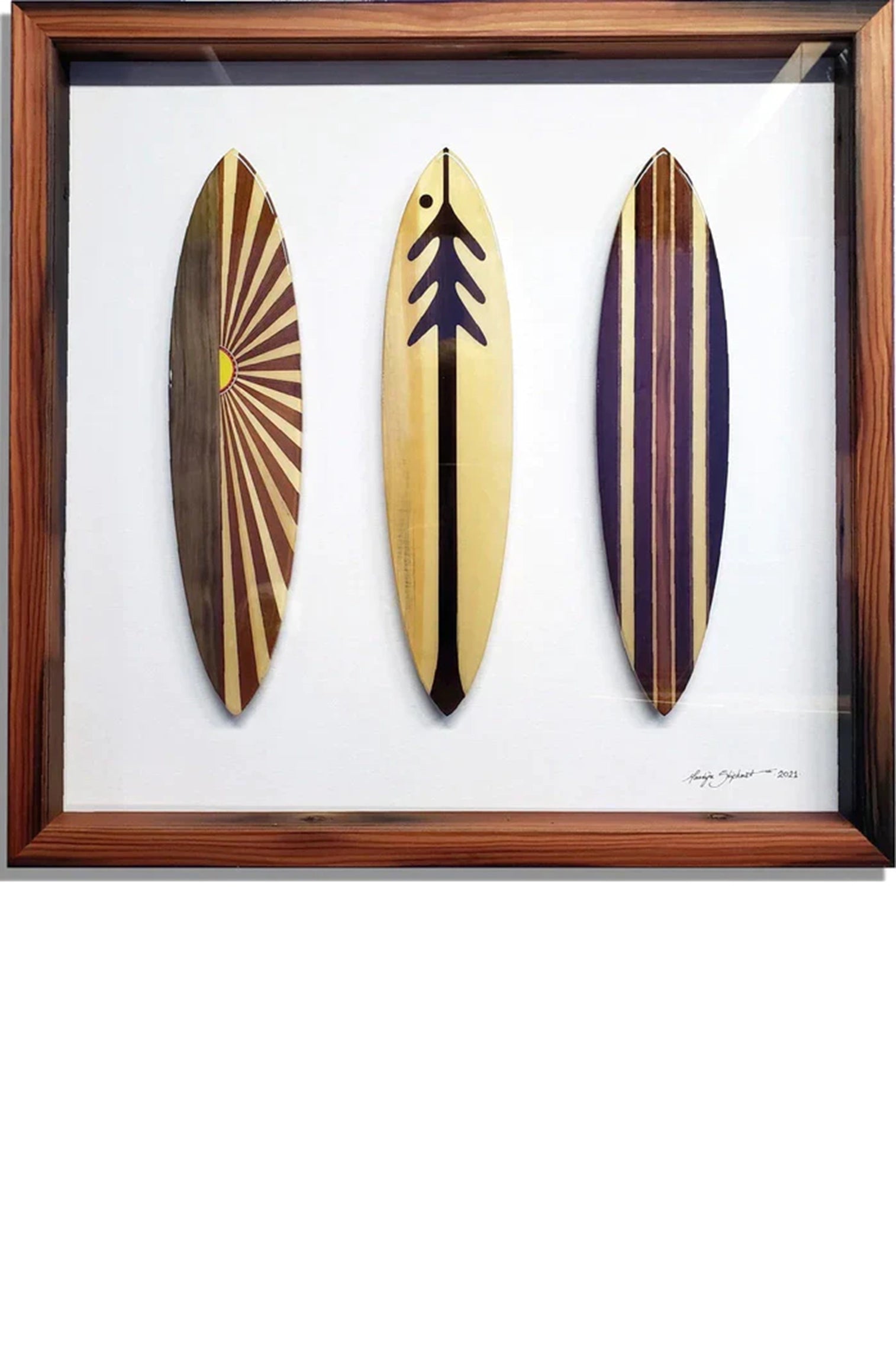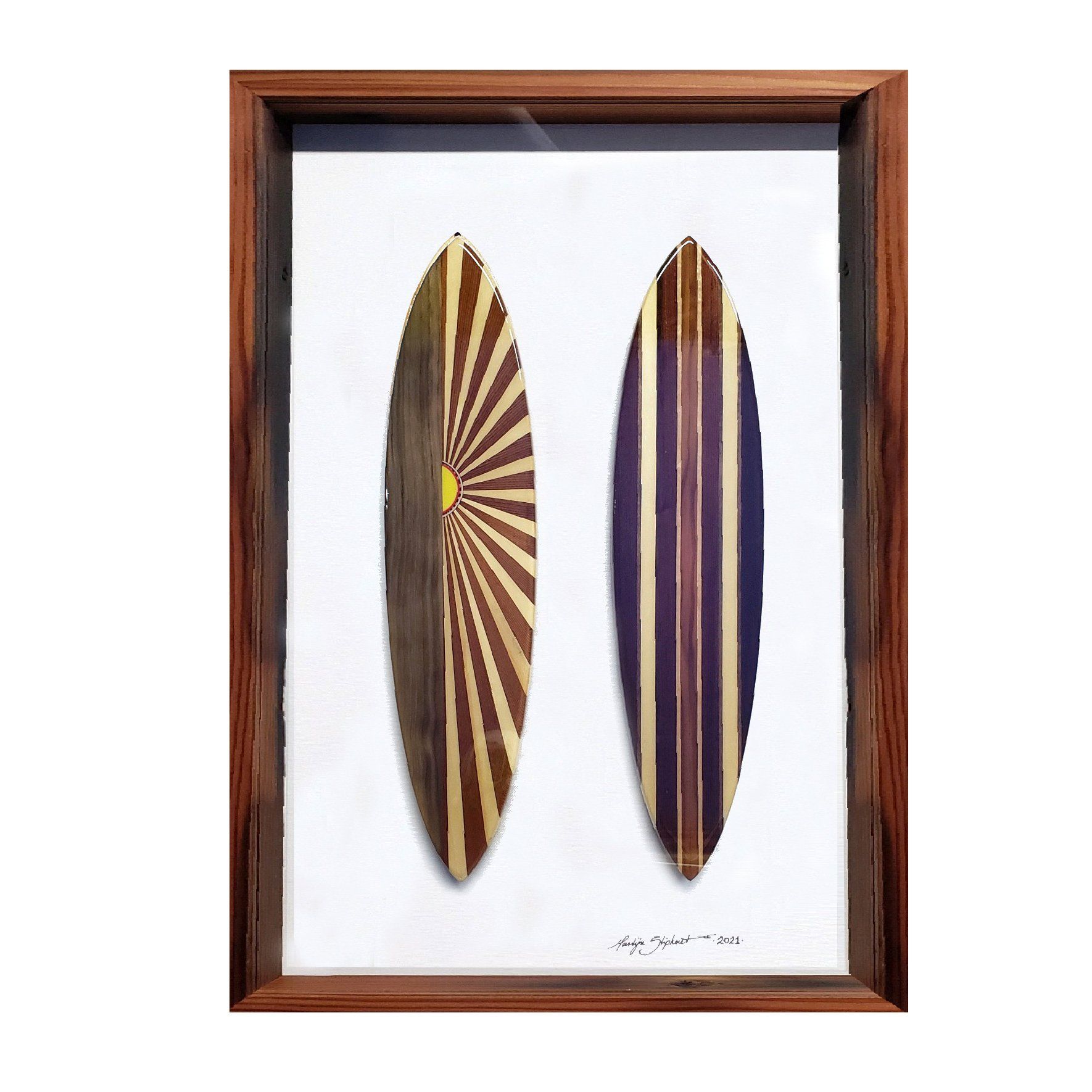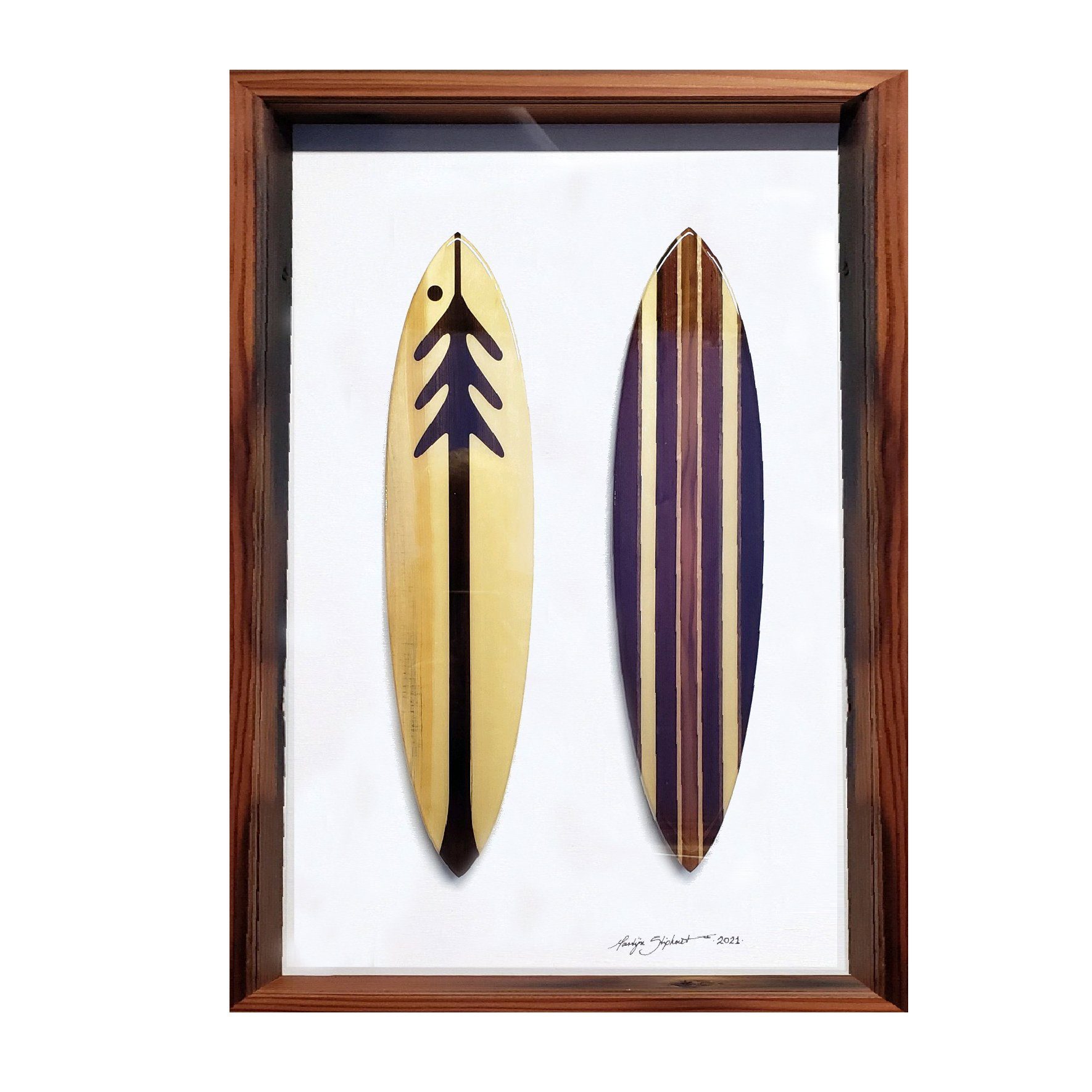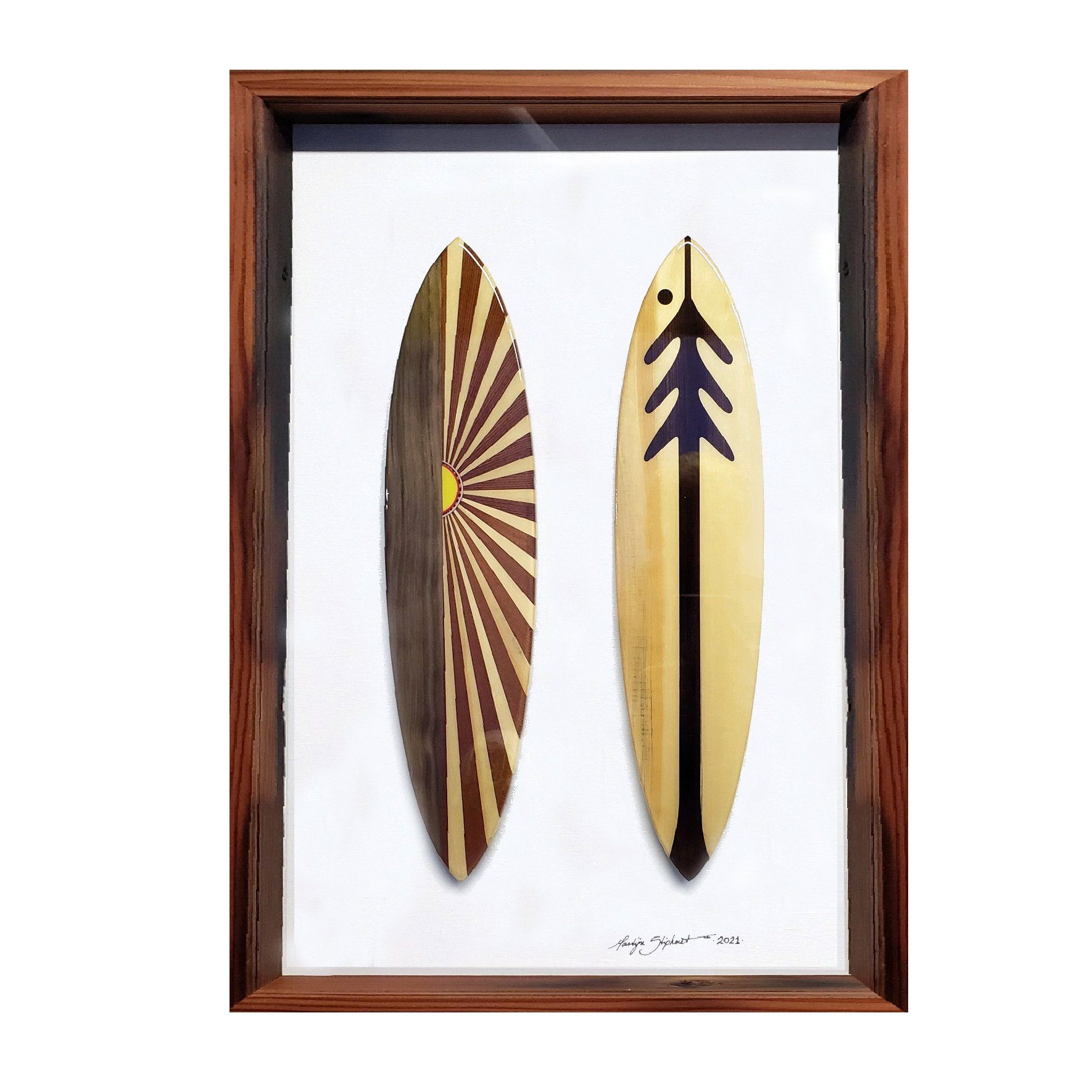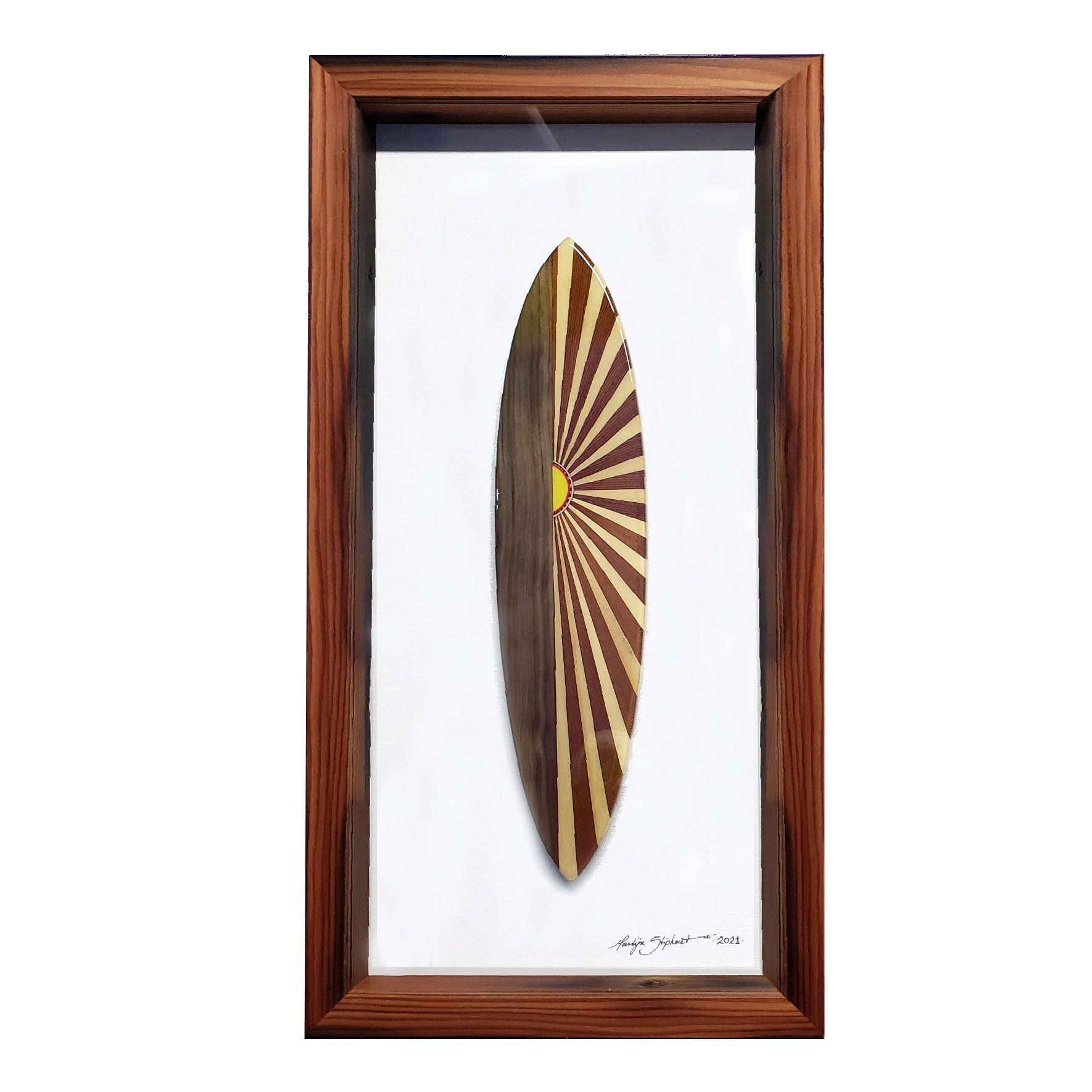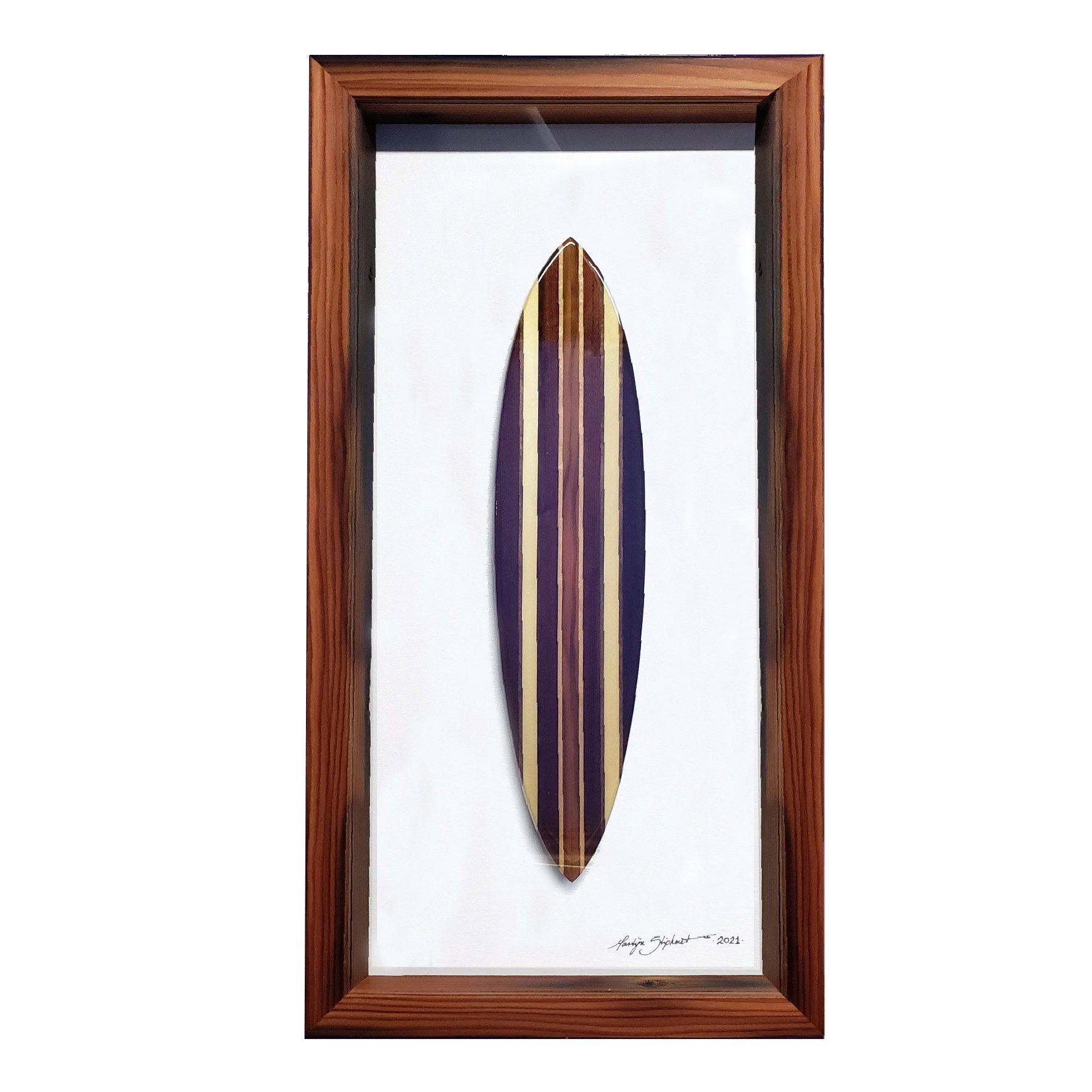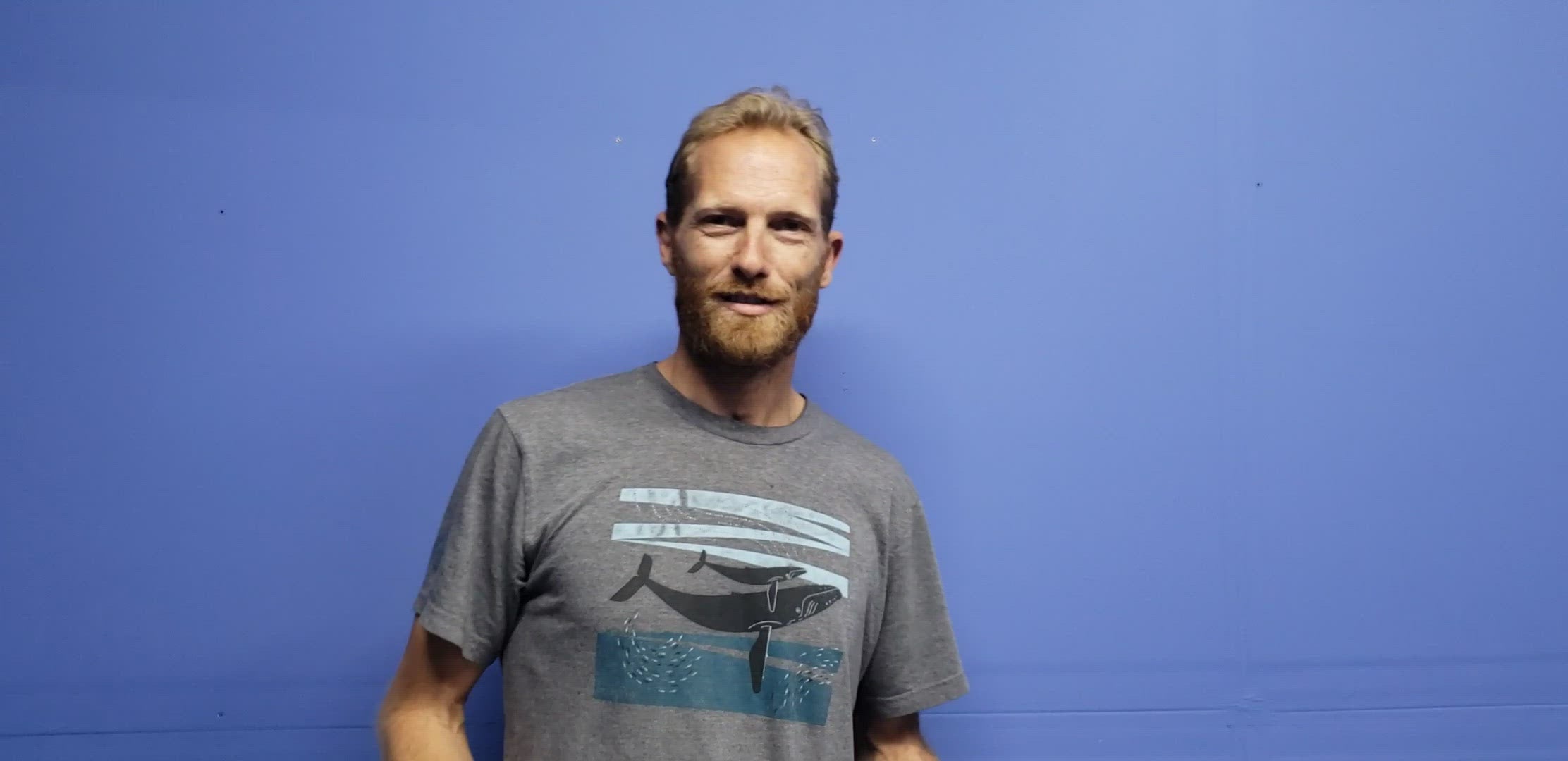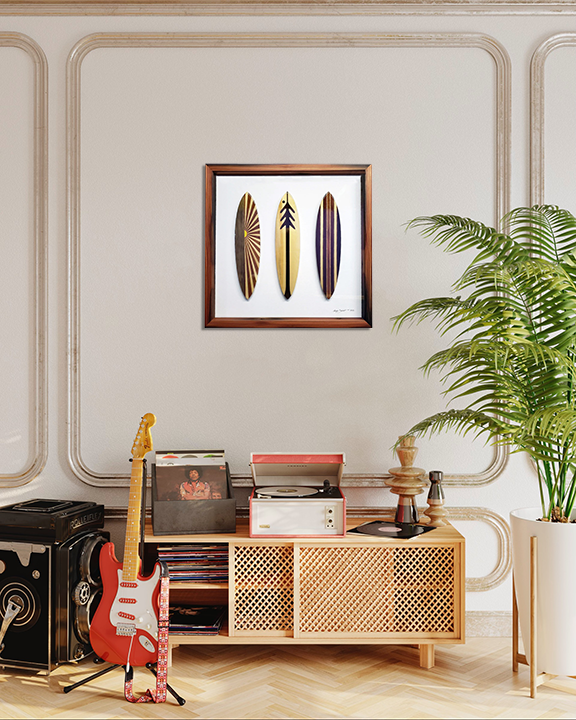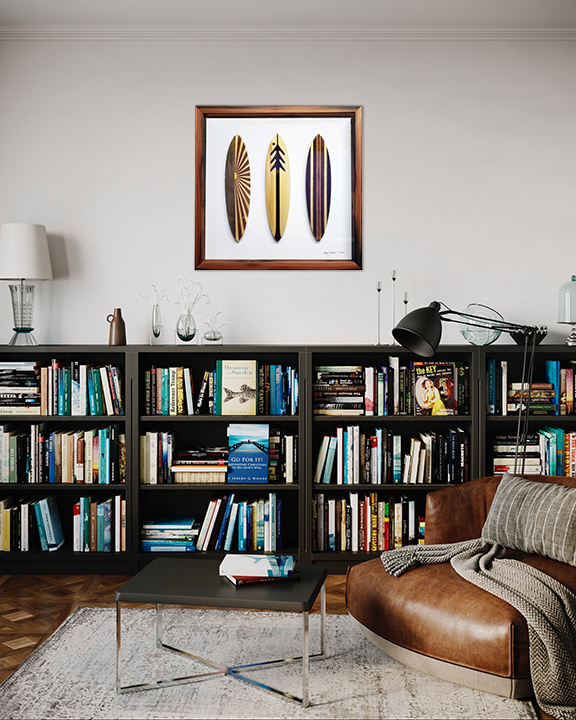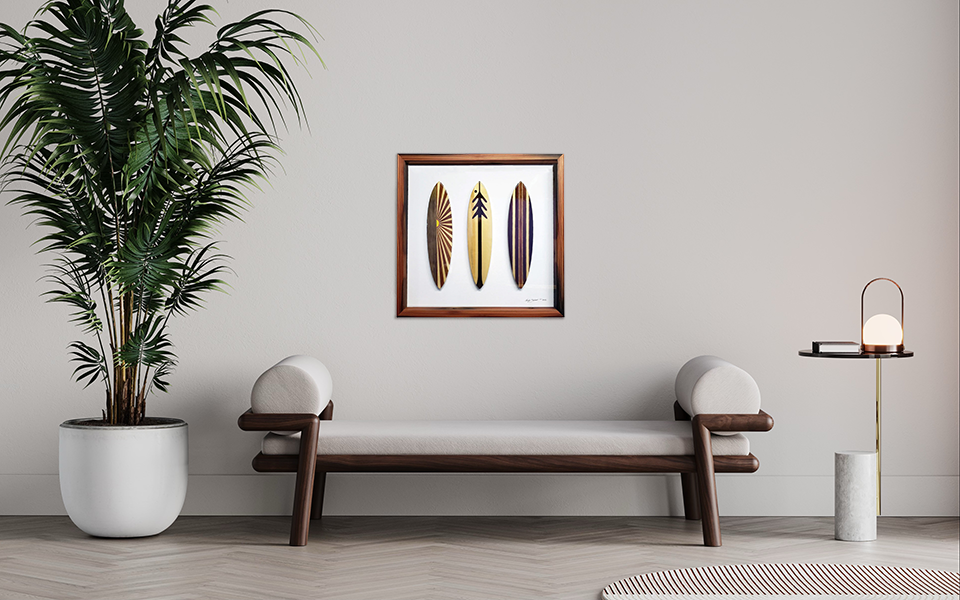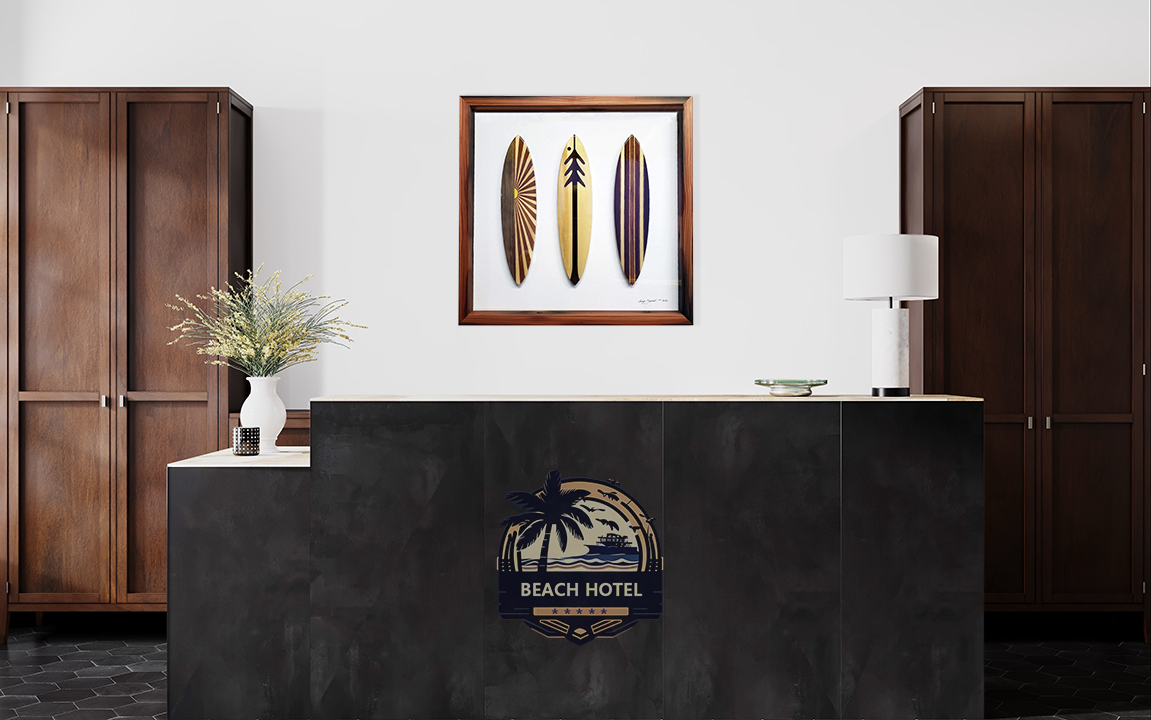 Excellent Craftsmanship
After a long journey over land and ocean , this beautiful craftsmanship of art has finally arrived home to this small island of Jersey. Its here in one piece and looks spectacular, thank you both for creating a beautiful piece of joy.
All the best success for the future.
Nejdet
Thank you! We're so glad it made it to Jersey! Great to hear that it made it across the globe safe and sound. Thinking we'll need to visit the island soon. If you have any pictures of the art piece on your wall, we'd love to see them! Best, your friends at Ventana.
Unique surfboard art piece
They've done it again! The attention to detail and the quality of the workmanship is excellent. It is perfect piece for my living/playing area of the house. It is subtle yet sophisticated especially with stories behind all the materials used in each of the mini surfboards. It has been a great talking point when people visiting the space.
Amazing art
We purchased the Ventana Mini Surfboards for our condo in Hawaii. We loved it so much we hung it in the entry, so it is the first piece of art you see when you enter our home. We are constantly getting compliments from friends and relatives who visit not only about the beautiful mini surfboards but the story around each one.
More Cool Info
Free U.S. Shipping & Shipping Details

Every order includes Free USPS First Class or UPS Ground Shipping. Of course, you can select premimum options, too.

We generally ship products between 12 and 48 hours after we receive your order. In some cases, such as with surfboards, custom orders, or custom engraved products, we will contact you within 24 hours to discuss production and shipping timing.

We can ship anywhere in the world that is legally permitted under U.S. law. Any potential customs payments and processing fees are the responsibility of the customer.
Return Policy

Our Refund Policy is simple. We do the right thing. We trust our customers, and if you have any issues with any of our products, we'll work with you to do what's fair.

Contact craftspeople@ventanasurfboards.com to discuss your return or other issue. We approve returns within 48 hours.

Any refunds will be returned via the method and manner in which they were paid. For instance, a credit card payment will be refunded to the same credit card; a wire transfer or electronic check will be refunded to the same account from which it came, etc. A cash payment may be refunded via Venmo, bank transfer, or PayPal.