Poke House Octopus 7'2"
Regular price

Sale price

$ 0.00
This sleek, hollow-framed, wooden surfboard created for the Poke House headquarters pays homage to an original Lightning Bolt shape created by Jack Shipley and Gerry Lopez. It was created in collaboration with Jessica Kendall-Bar who wood-burned incredible detail into the salvaged redwood octopus.
The bottom deck's octopus is made of redwood salvaged after a fire in Big Sur, California in 2008. It's inlayed into mahogany from an old, conference room table that was at the Poke House Headquarters in San Jose, California. The glassed-on single fin is made of Doug fir from the hull of the Western Flyer boat with a translucent sunburst pattern made of tinted, soy-based EcoPoxy.
The Western Flyer is considered by many to be the most famous fishing boat in the world. John Steinbeck, Ed "Doc" Ricketts and crew chartered this 77-foot sardine boat into the Sea of Cortez in Baja 
California, Mexico in 1940. The following year, Steinbeck published his book, The Log from the Sea of Cortez about the adventure. Learn more about this amazing boat and Ventana's use of its wood.
The top deck is made of mahogany from the Poke House table, redwood from from the original Santa Cruz Beach Boardwalk, Alaskan yellow cedar from the the Western Flyer reconstruction project, spruce and Indian rosewood offcuts from Santa Cruz Guitar Company production. It includes an integrated leash and vent plug with abalone inlays made of white oak from the frame ribs of the Western Flyer. The white oak was oxidized to a black color from the square nails used to affix the hull to the ribs. 
The rails are made of cork which is more resistant to dings. There are two sheets of Aerialite 4 ounce fiberglass on top and one on bottom. The epoxy is Entropy Super Sap 100 bio-resin which is up to 40% tree sap and is very strong and light.
As with all Ventana surfboards, the interior is glassed and sealed, as well.
This board is hollow, lightweight and will ride as great as it looks. Given the uniqueness of each side, it's two art pieces in one.
Made in Santa Cruz, California by master artisan Martijn Stiphout in collaboration with Jessica Kendall-Bar
Includes an aluminum, museum-quality 4"x6" display sign and a handmade bag by Sagebrush Board Bags created using coffee bean sacks and unique, remnant fabrics.
See videos and photos of the build process!
Dimensions: 7'2" x 20" x 2.75"
Approx. 15 pounds 
All Ventana Surfboards are ECOBOARD Project Gold Level Verified by SustainableSurf.org!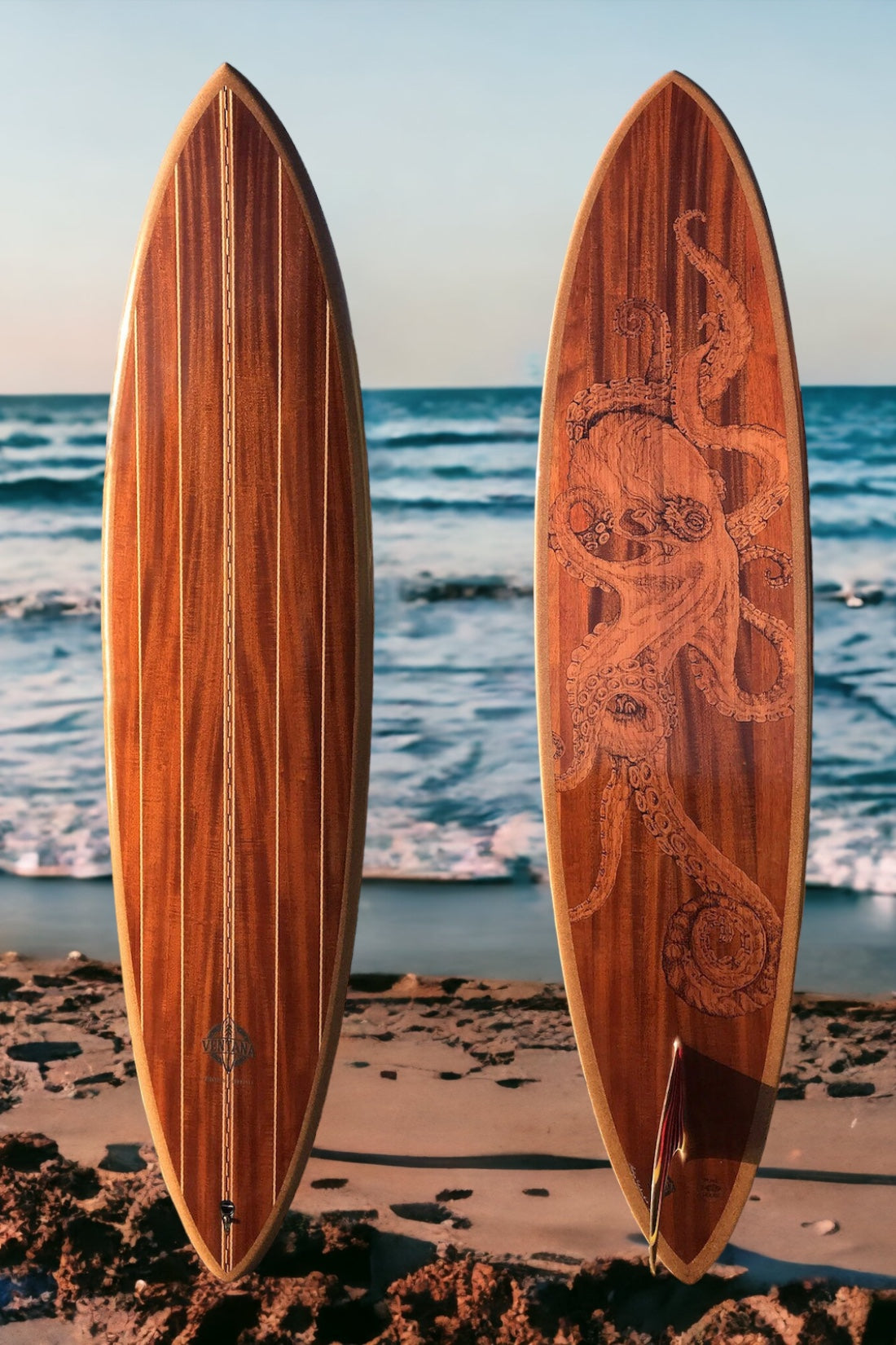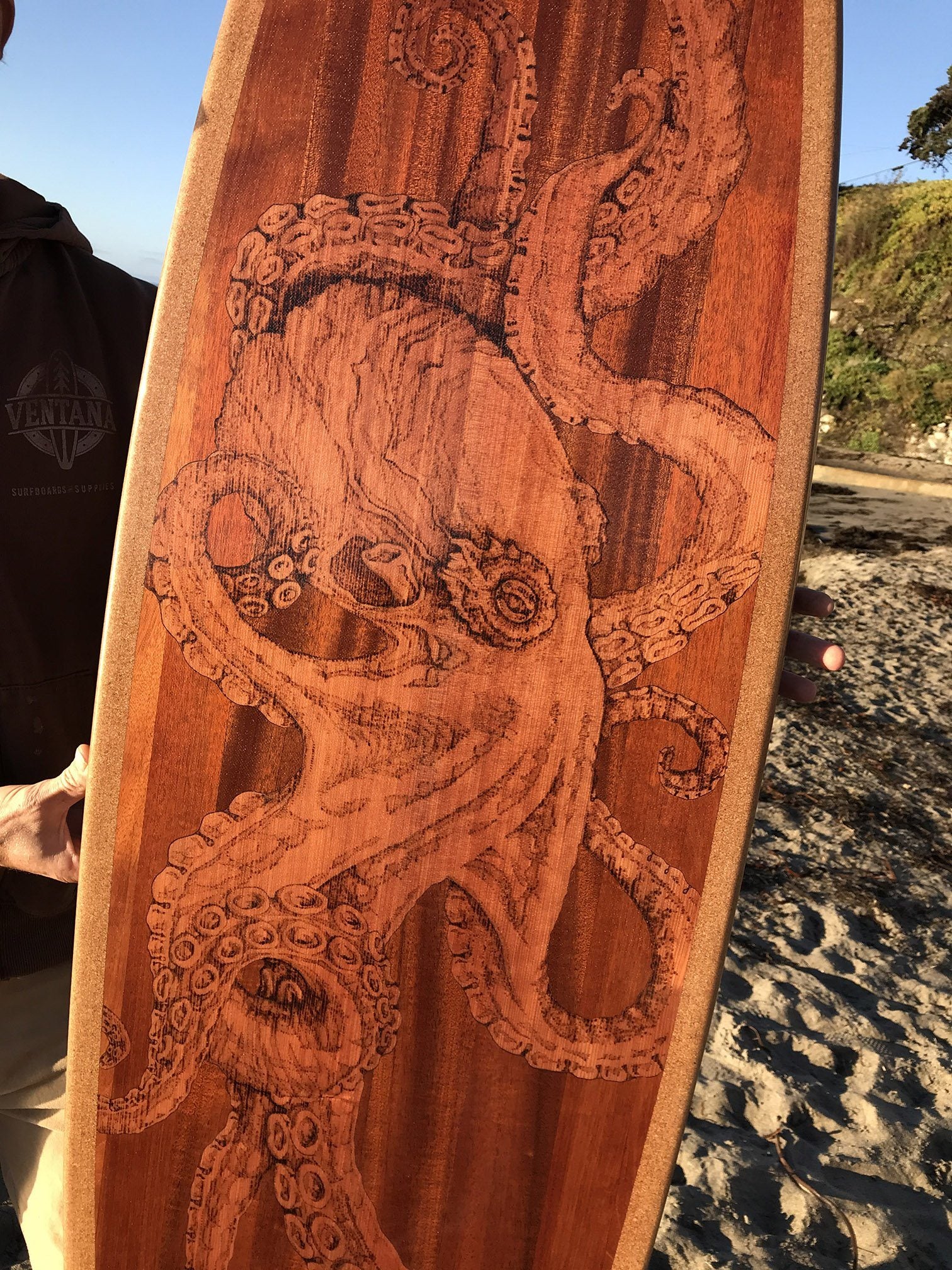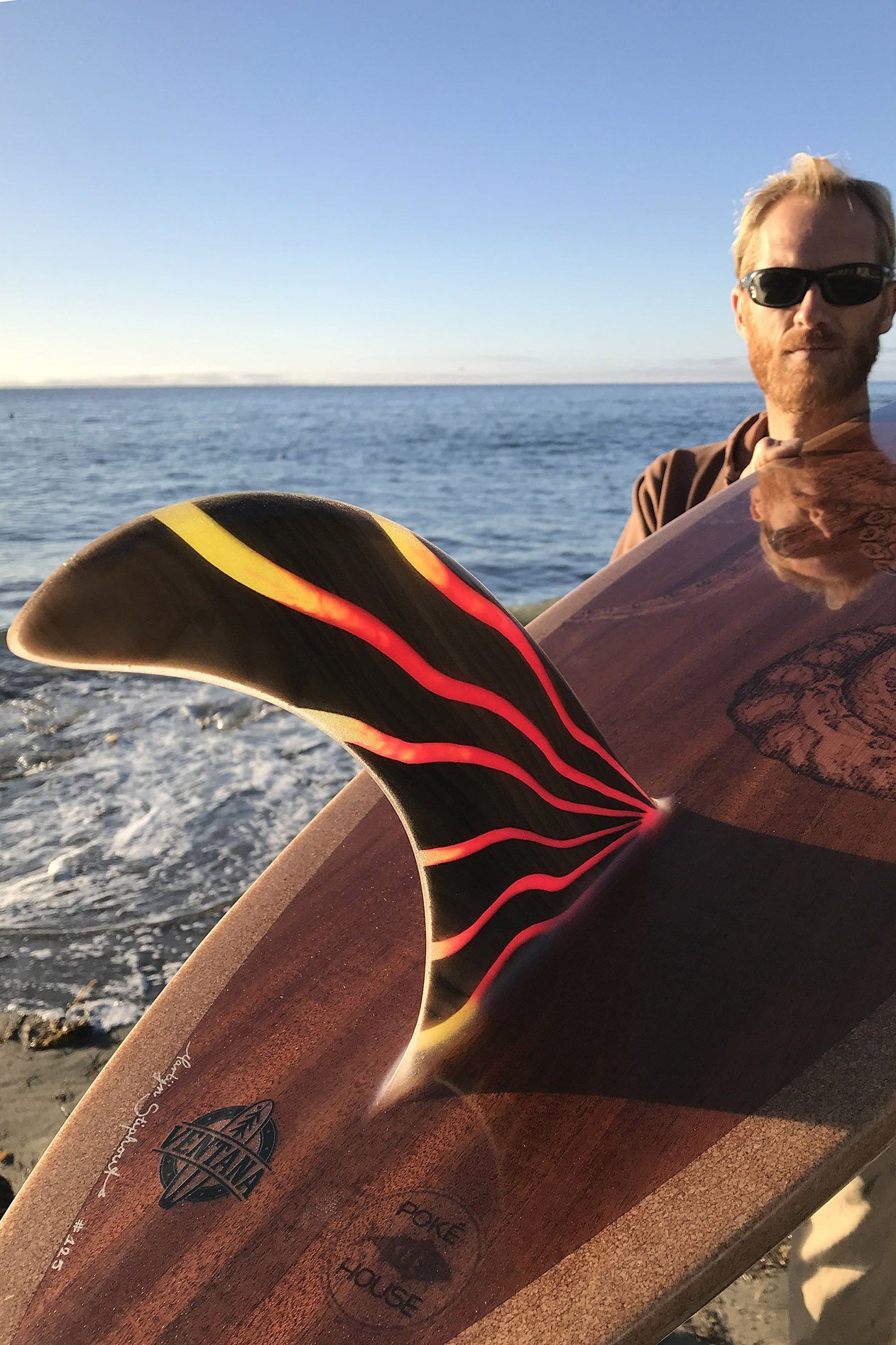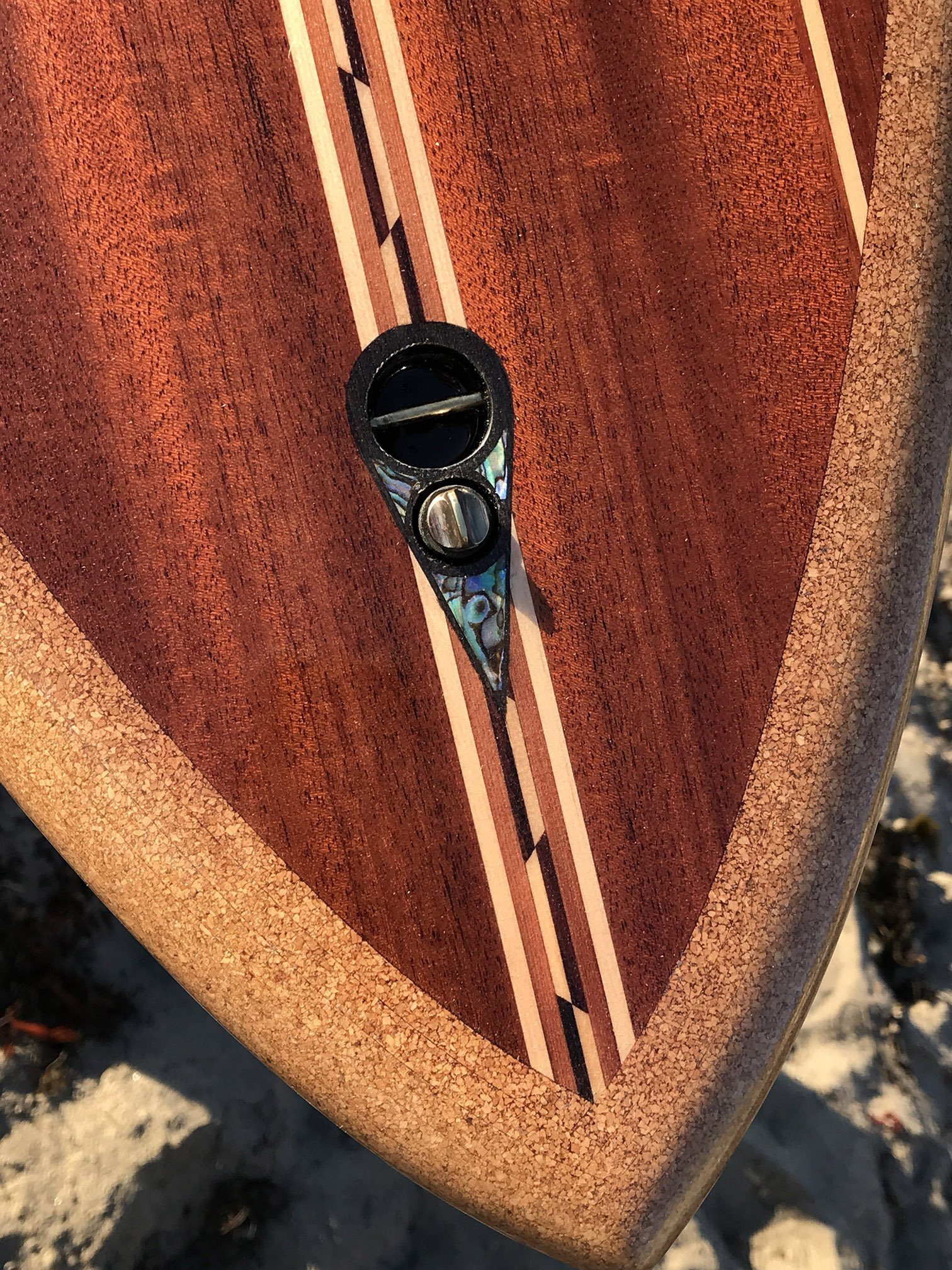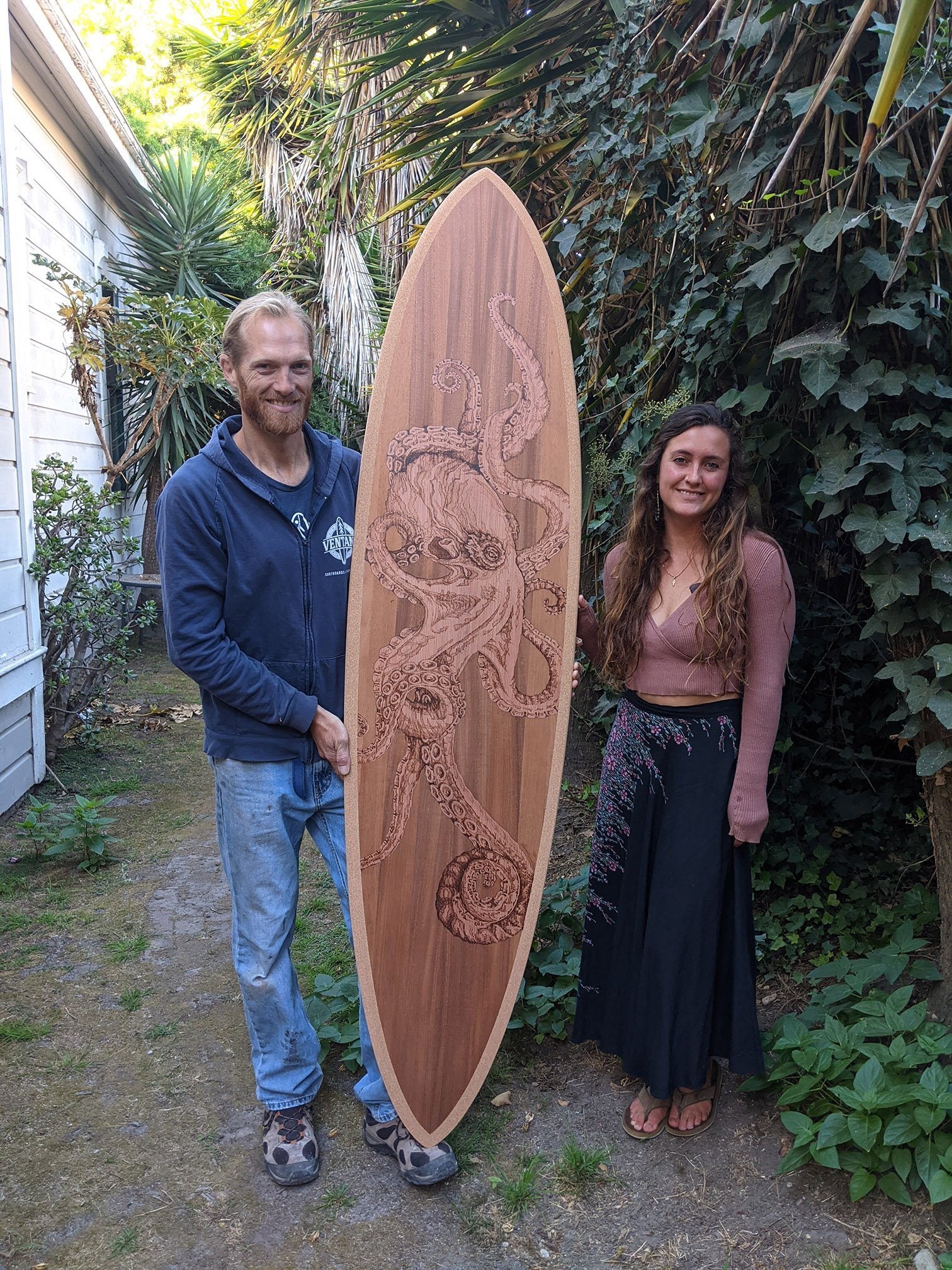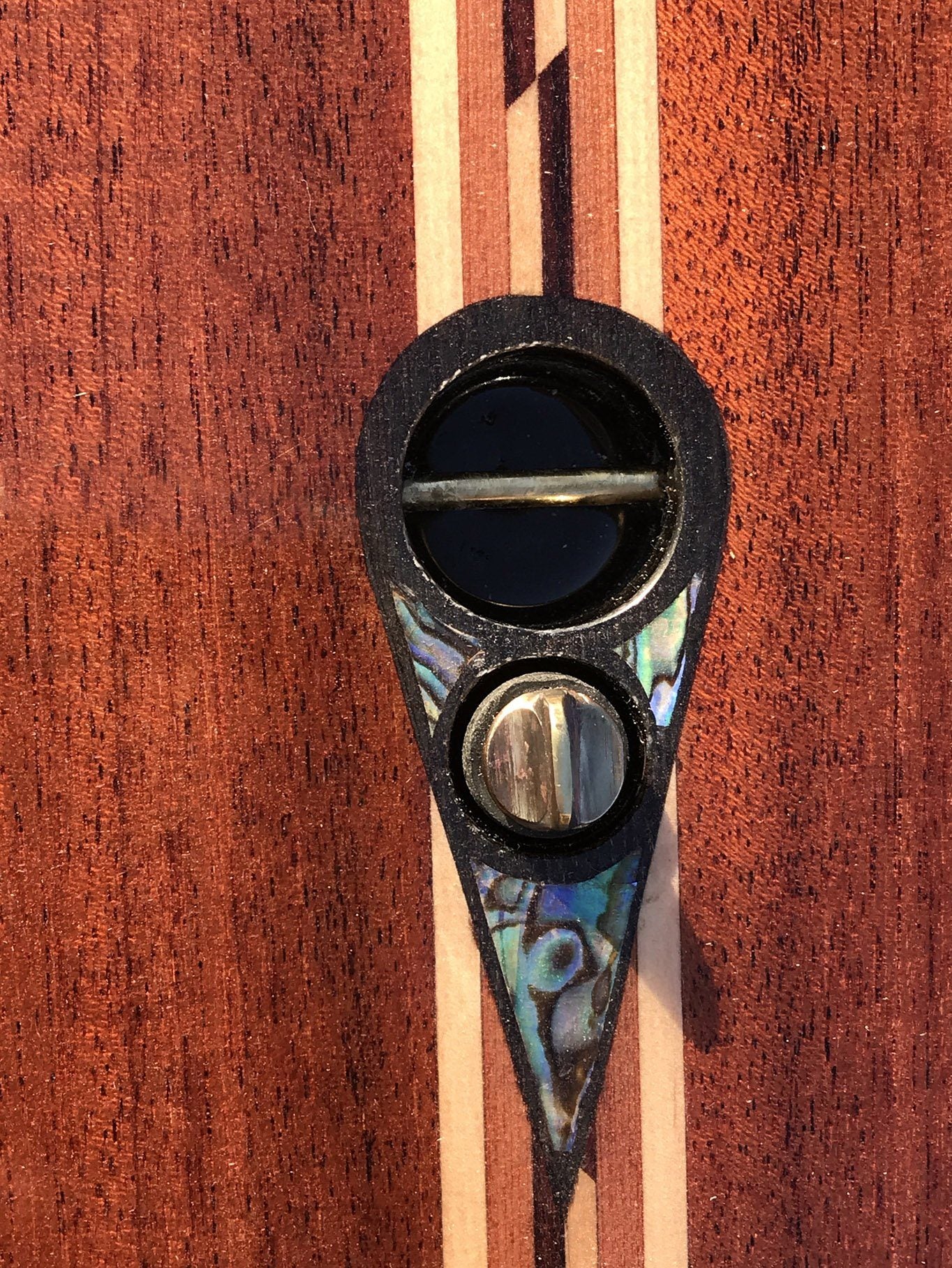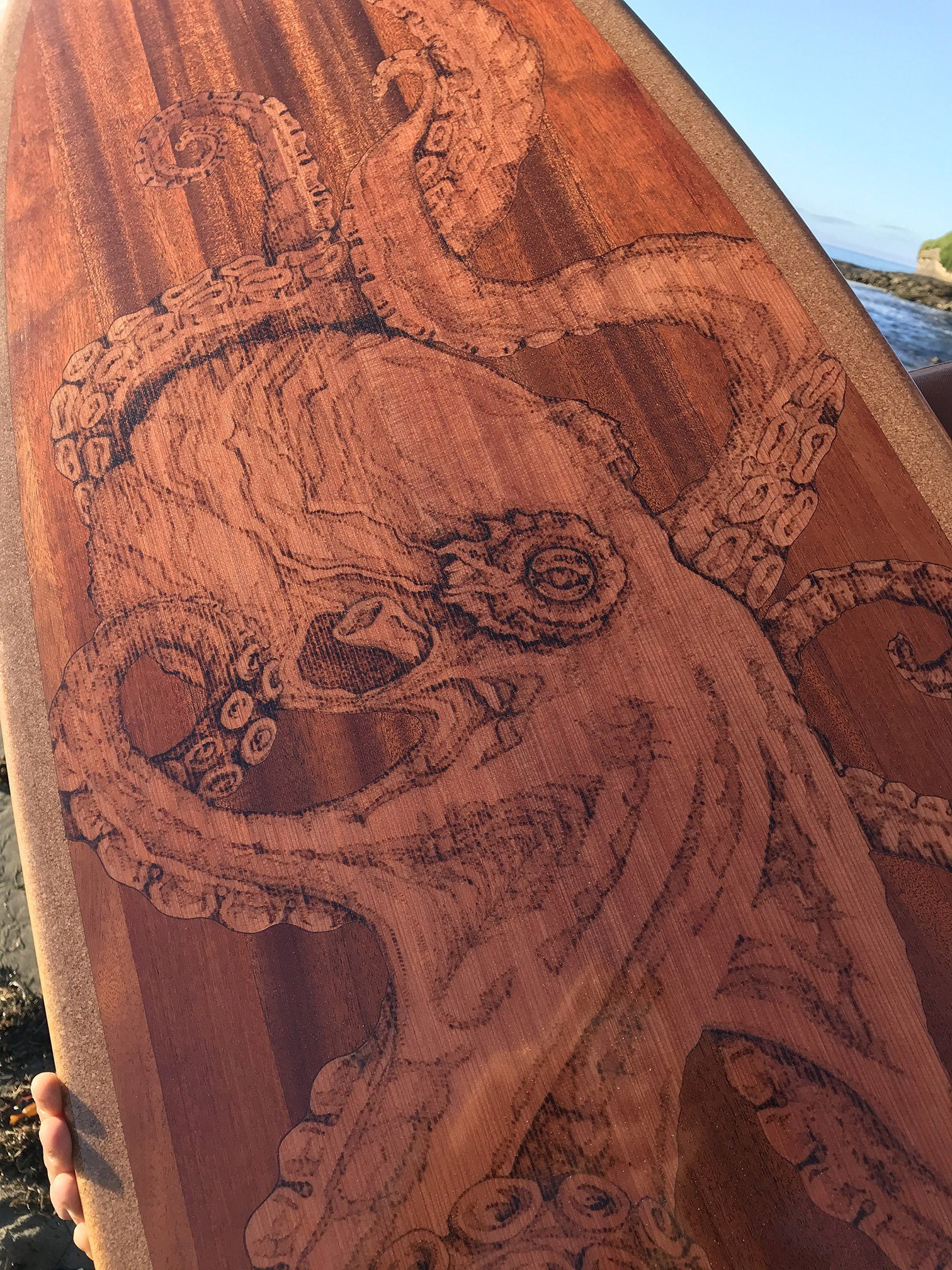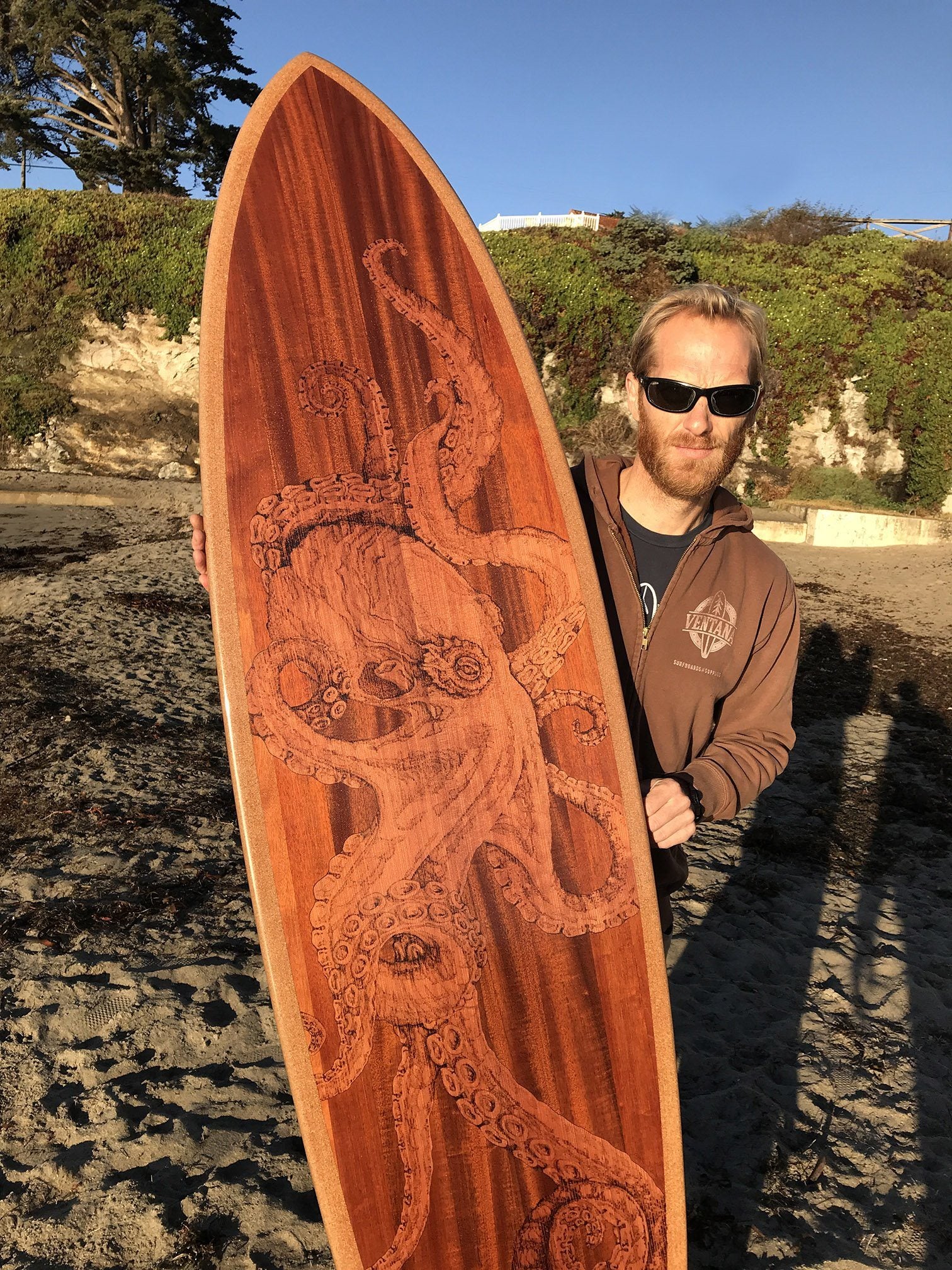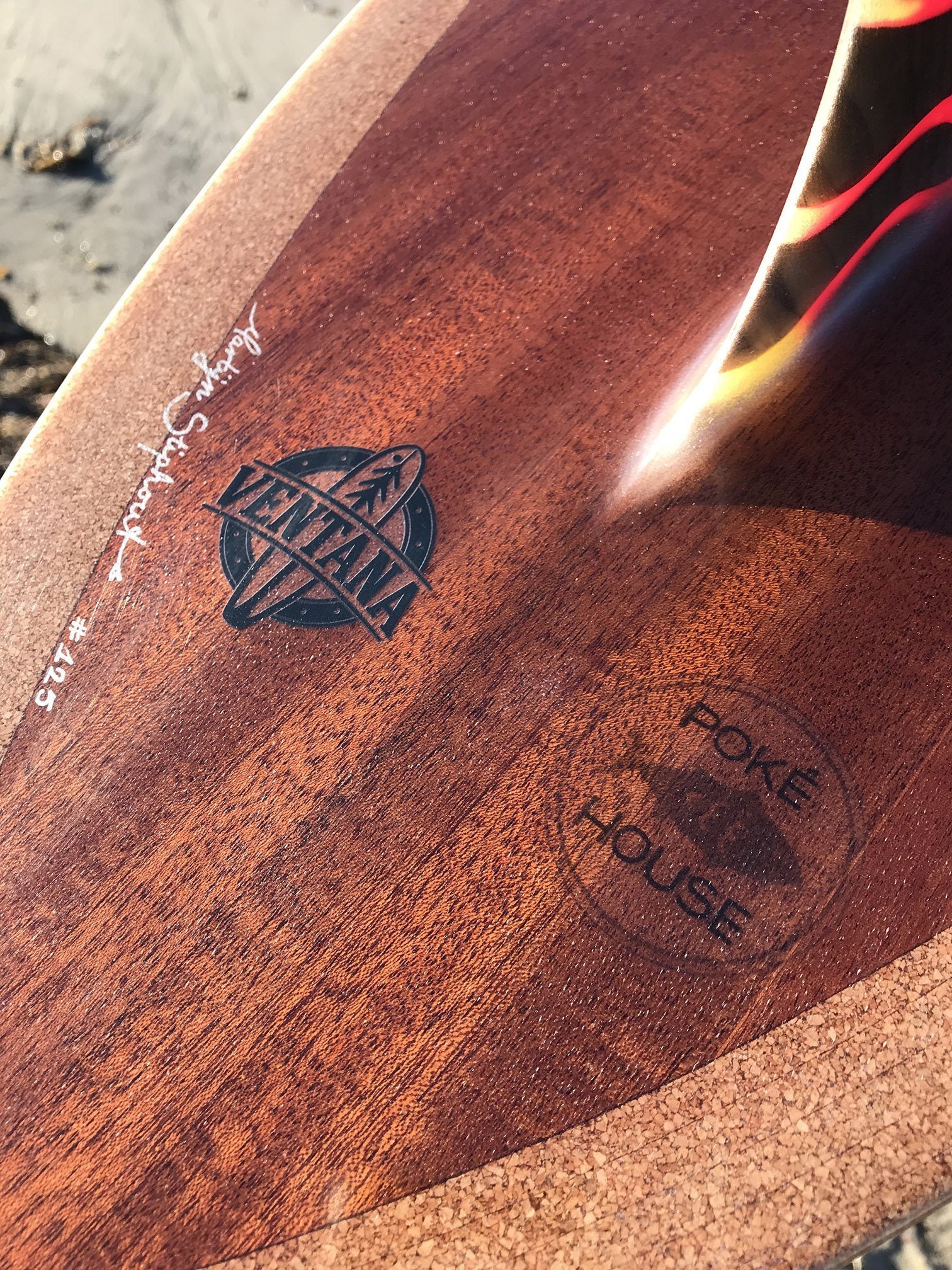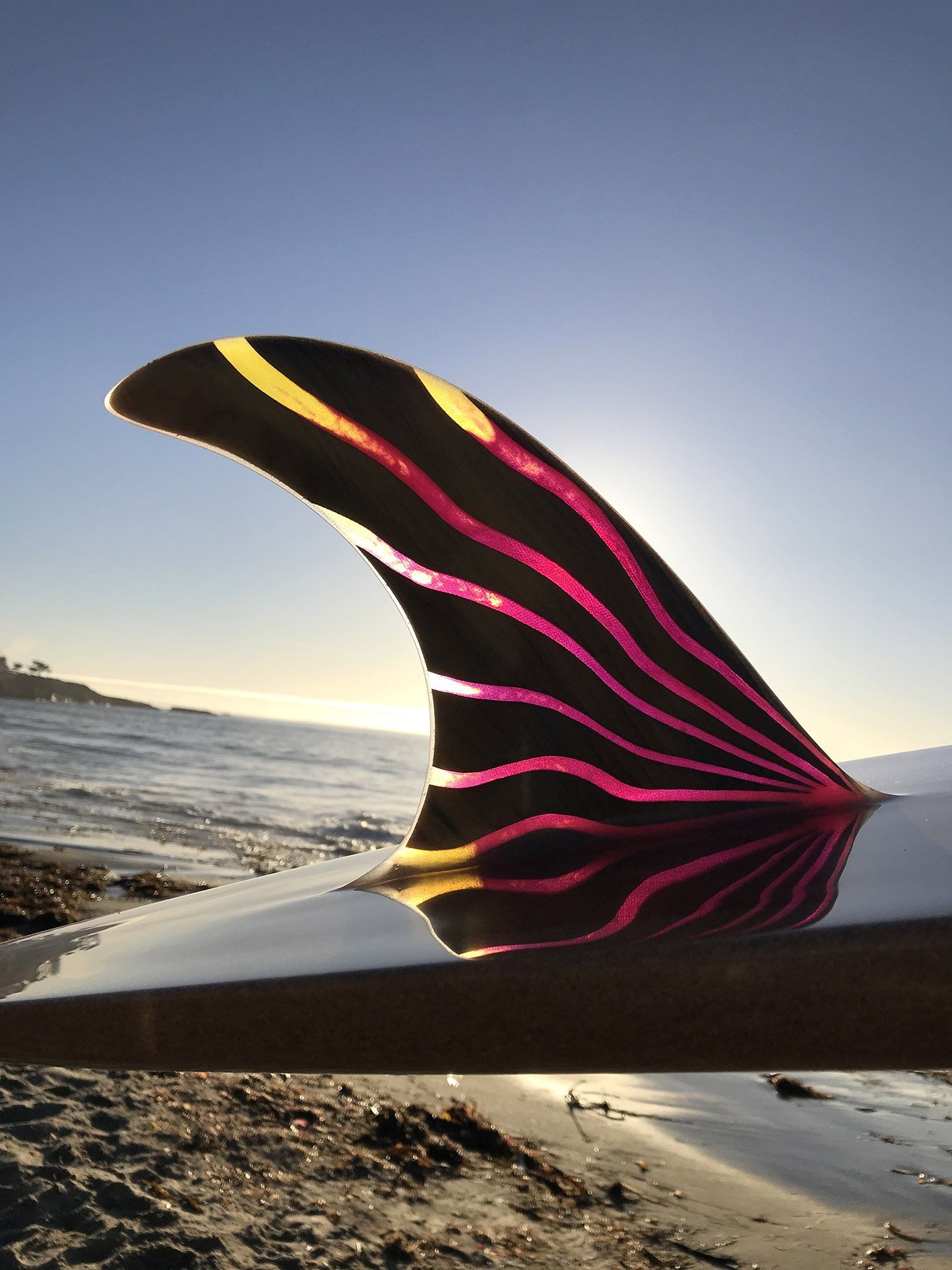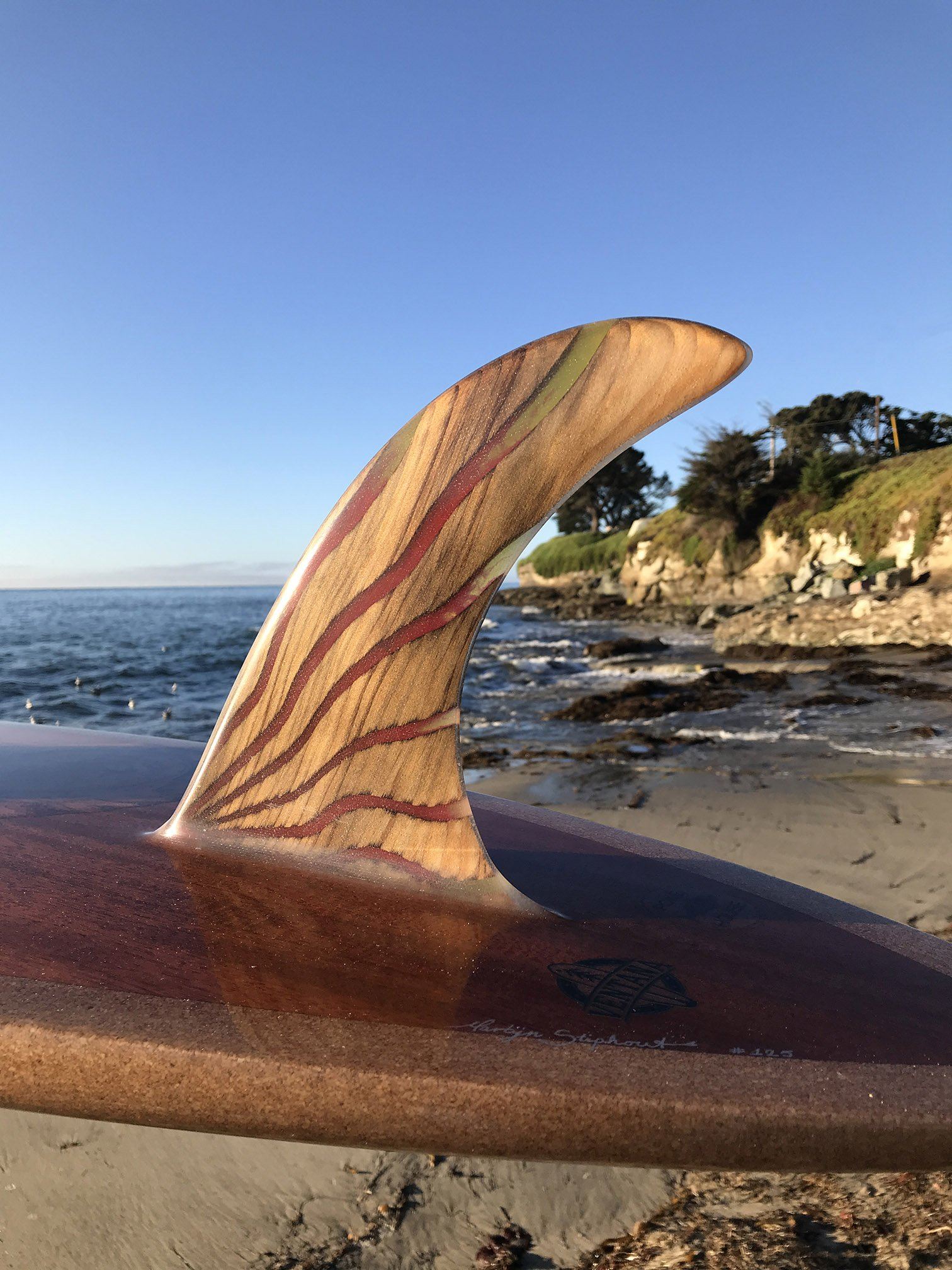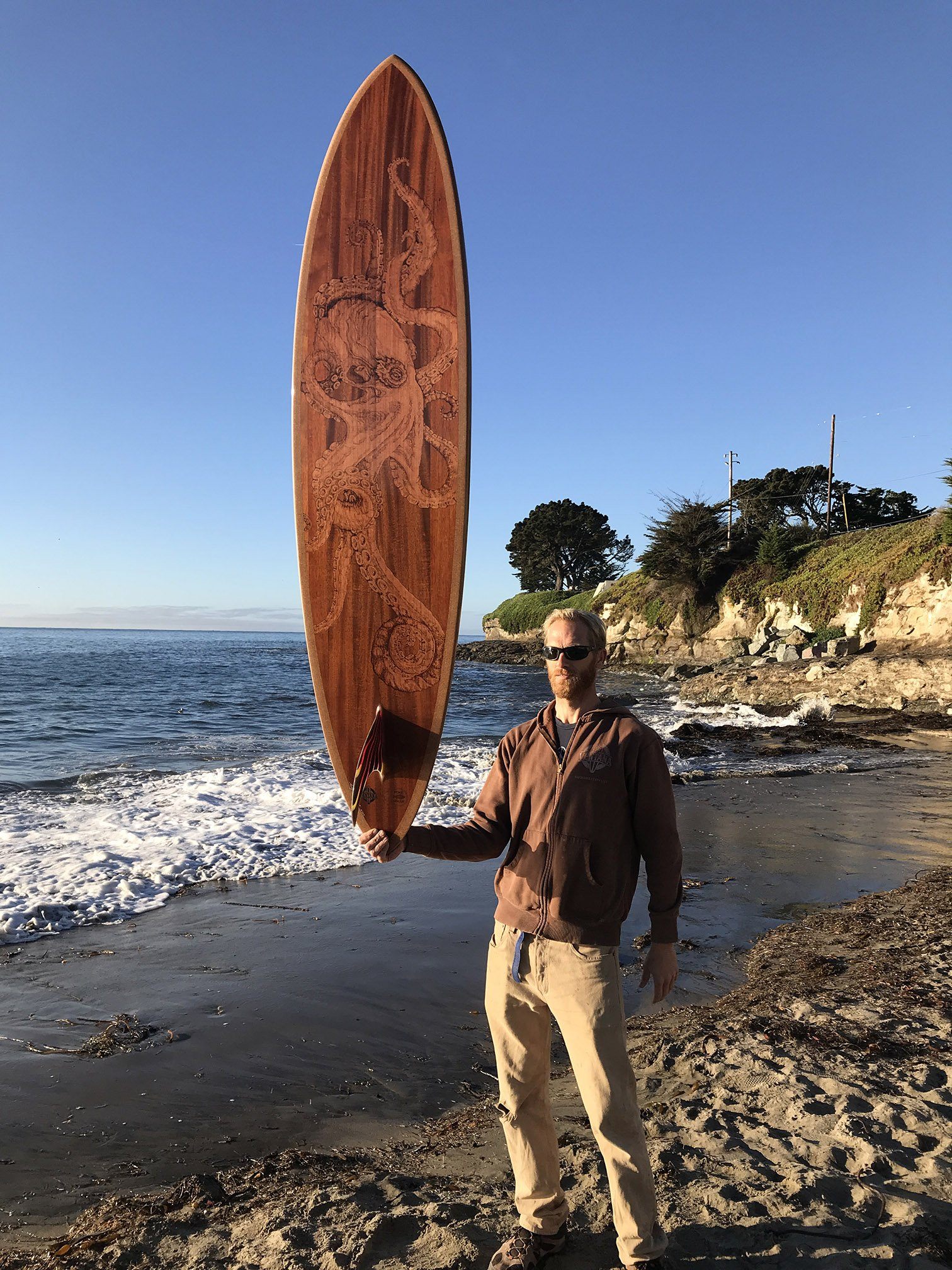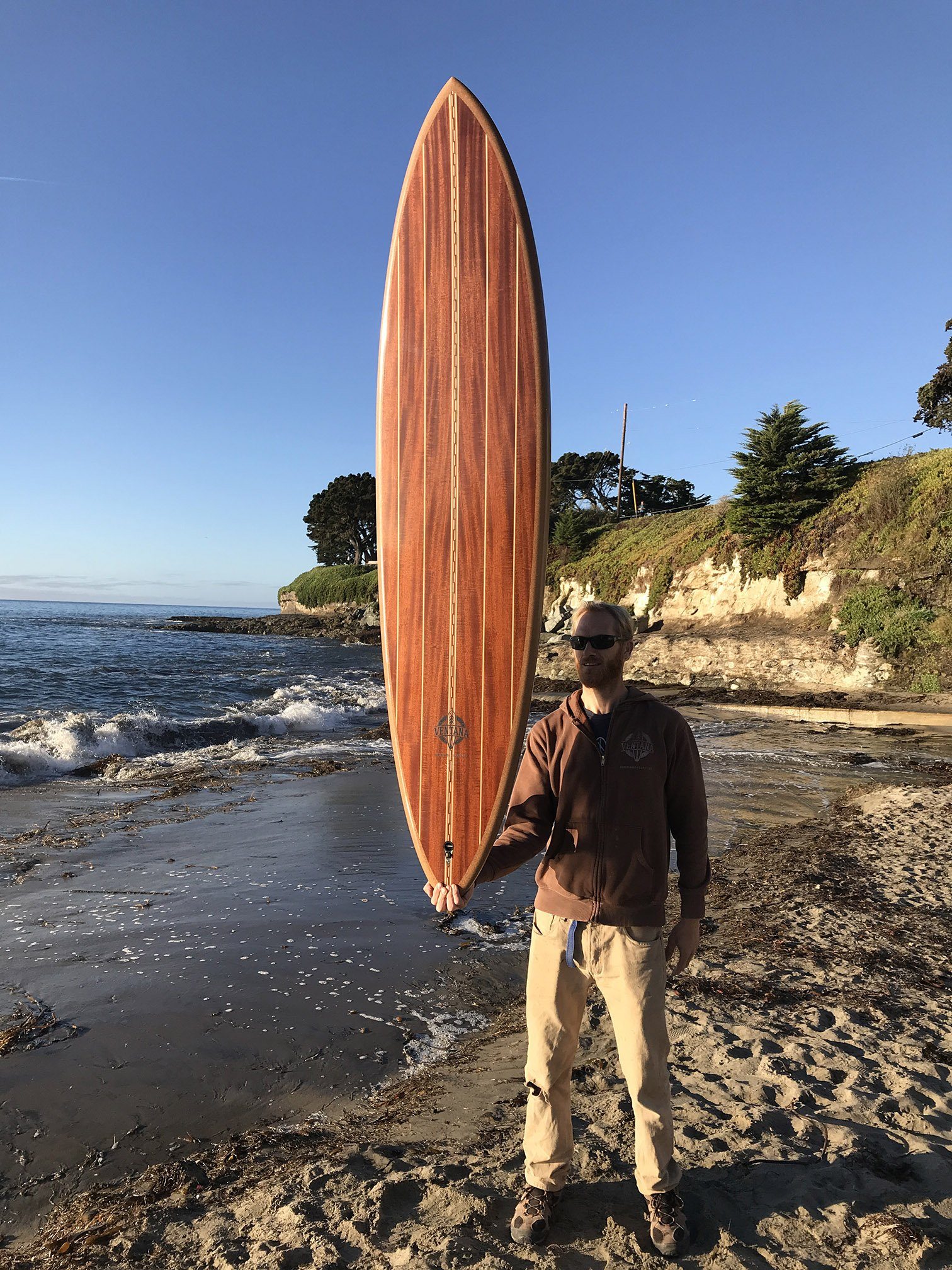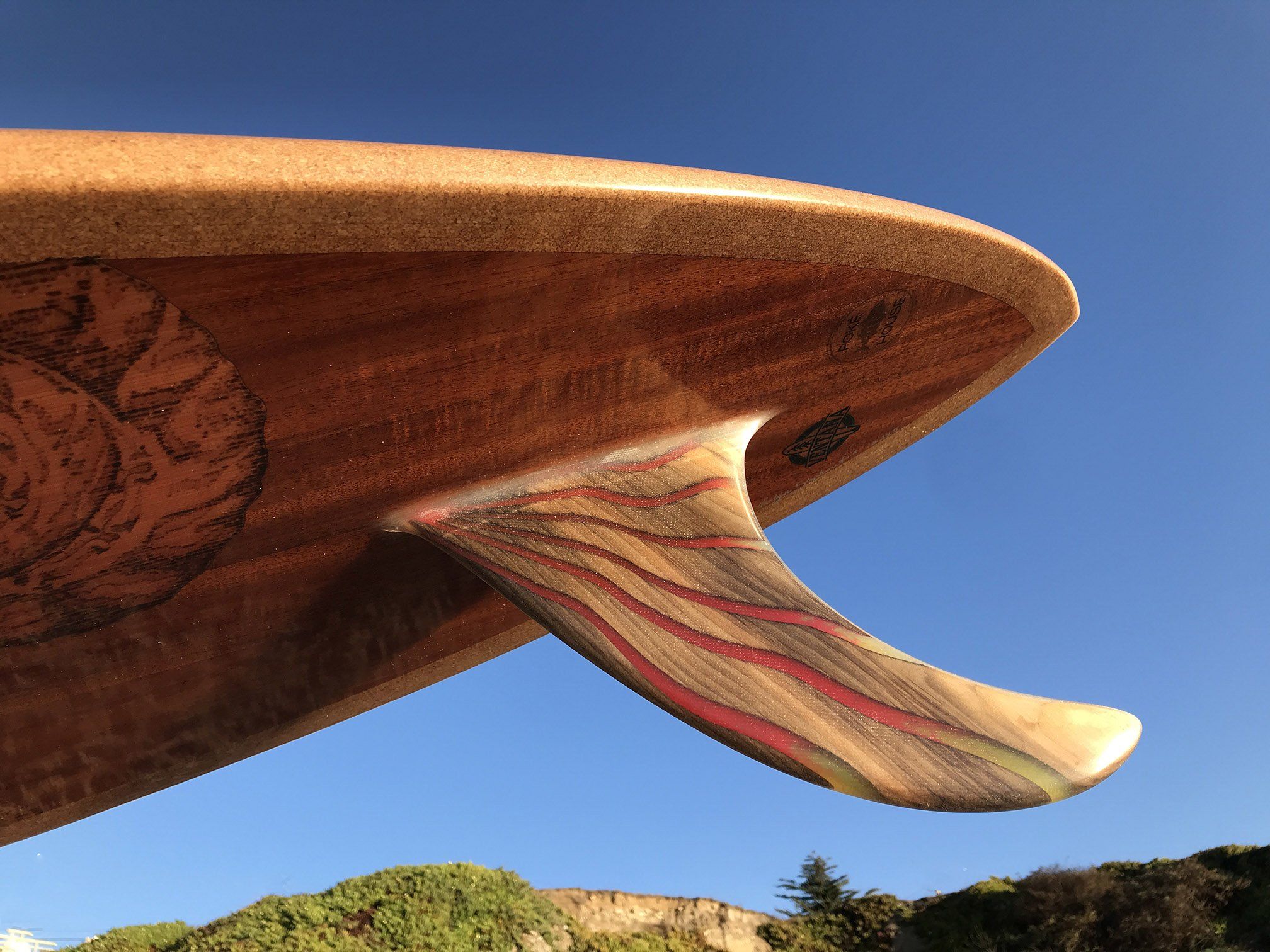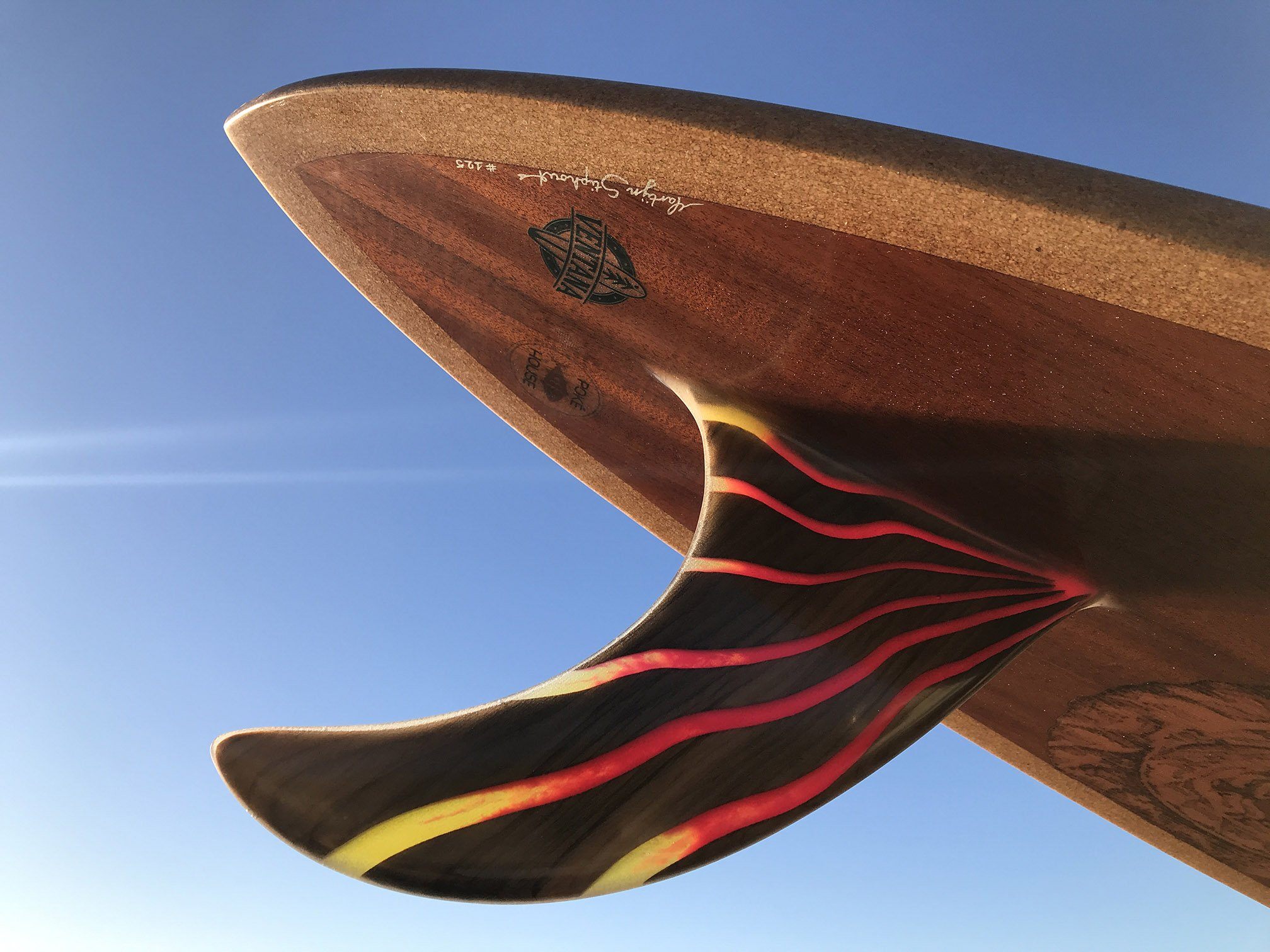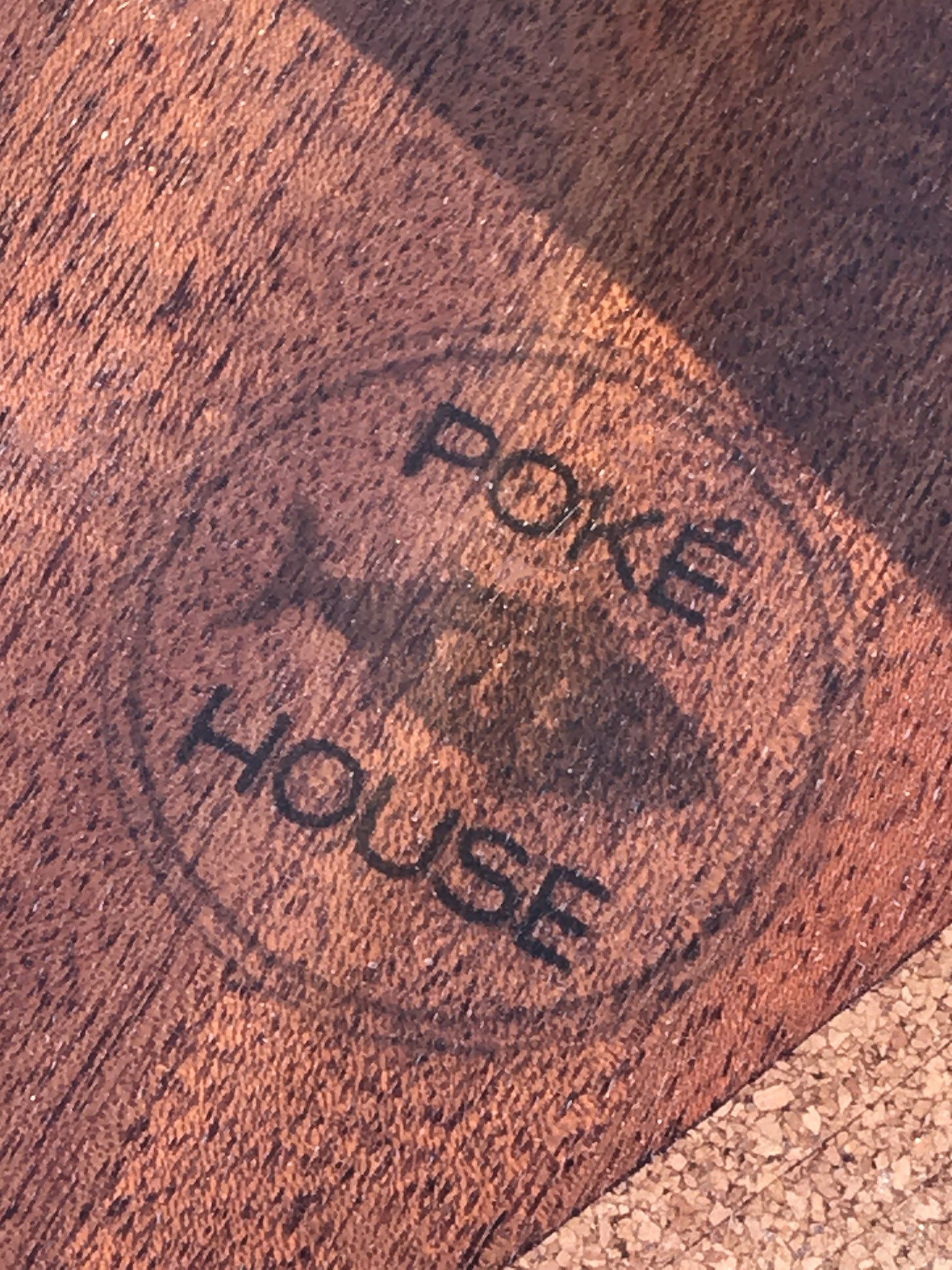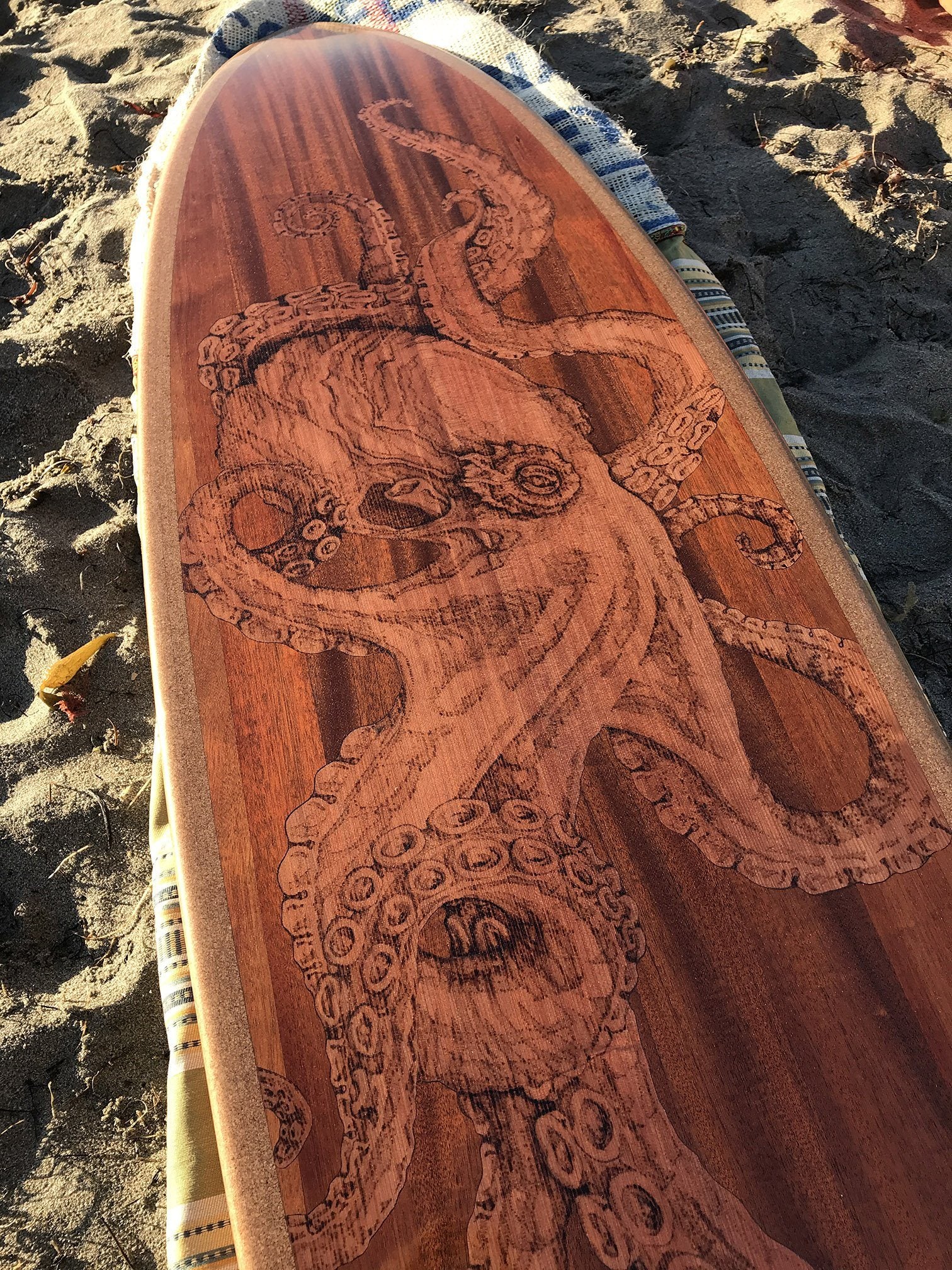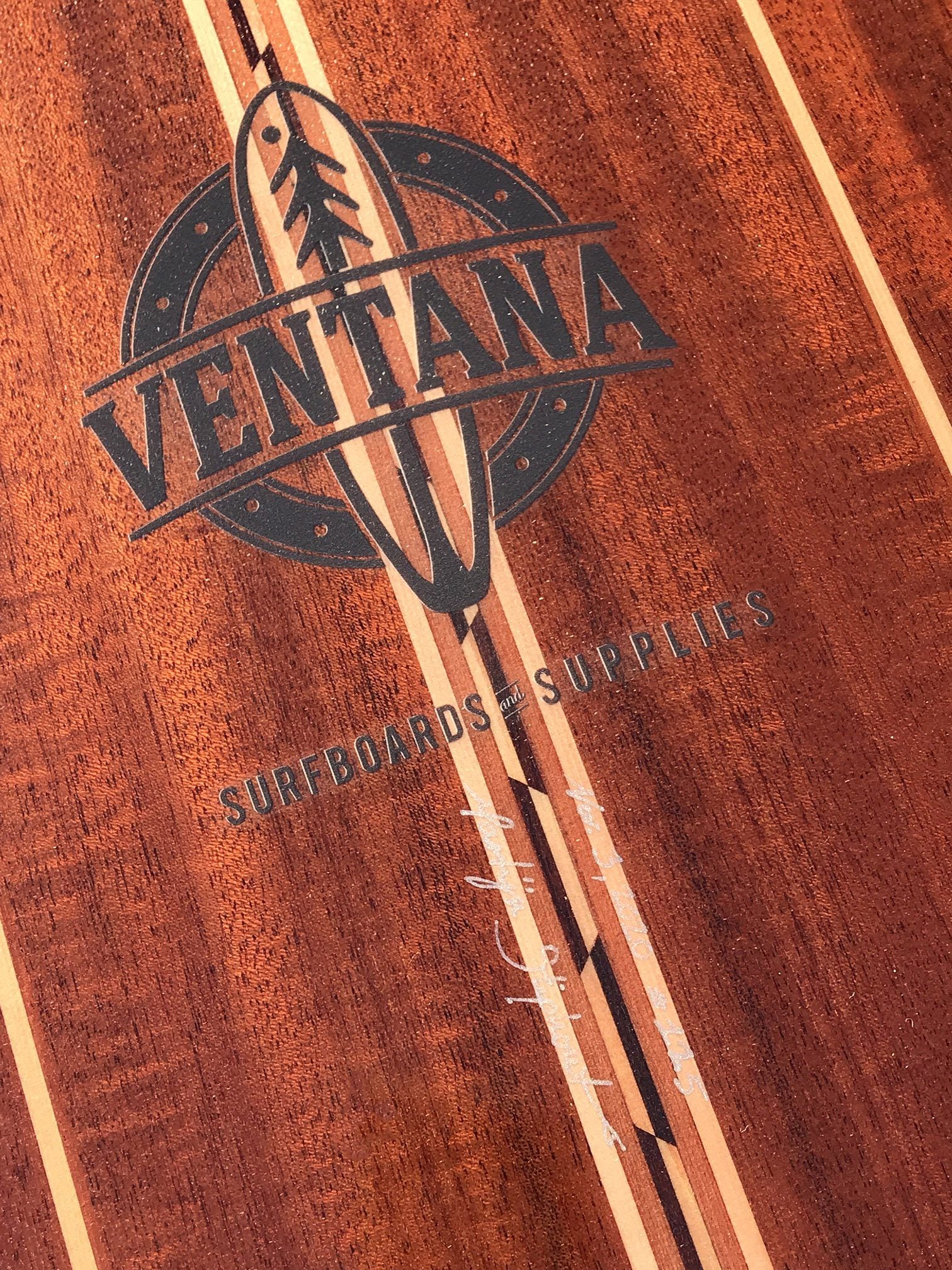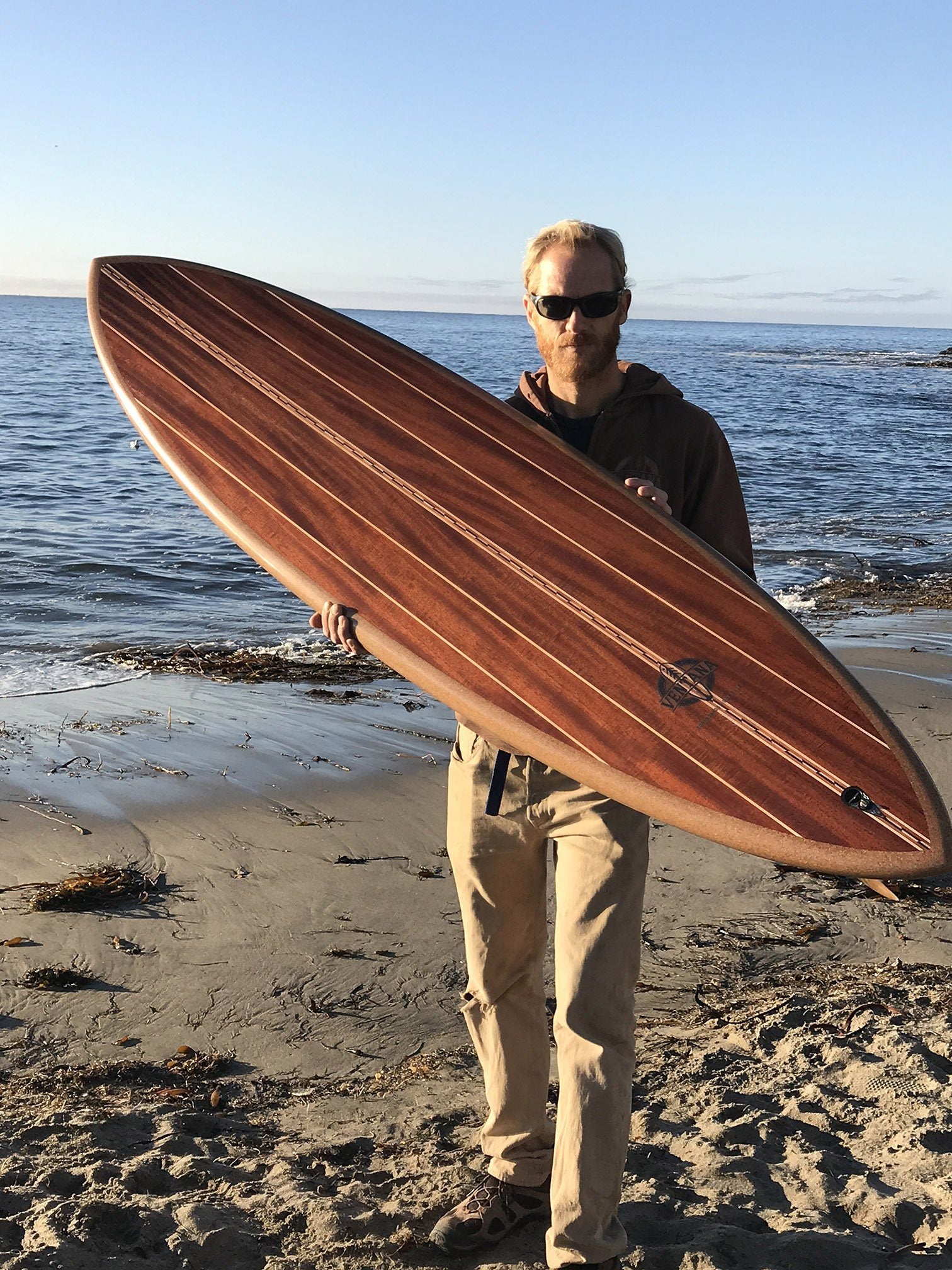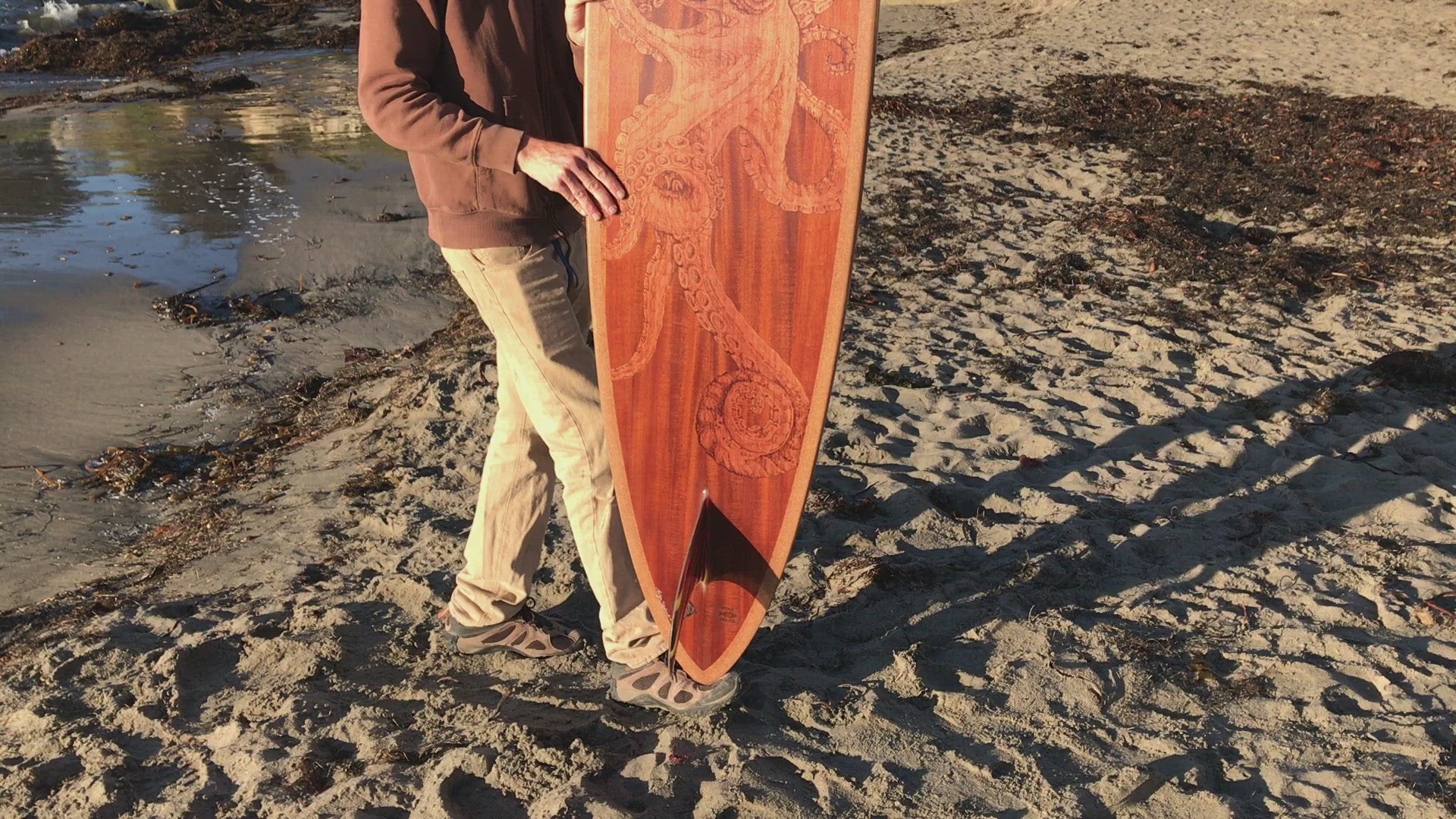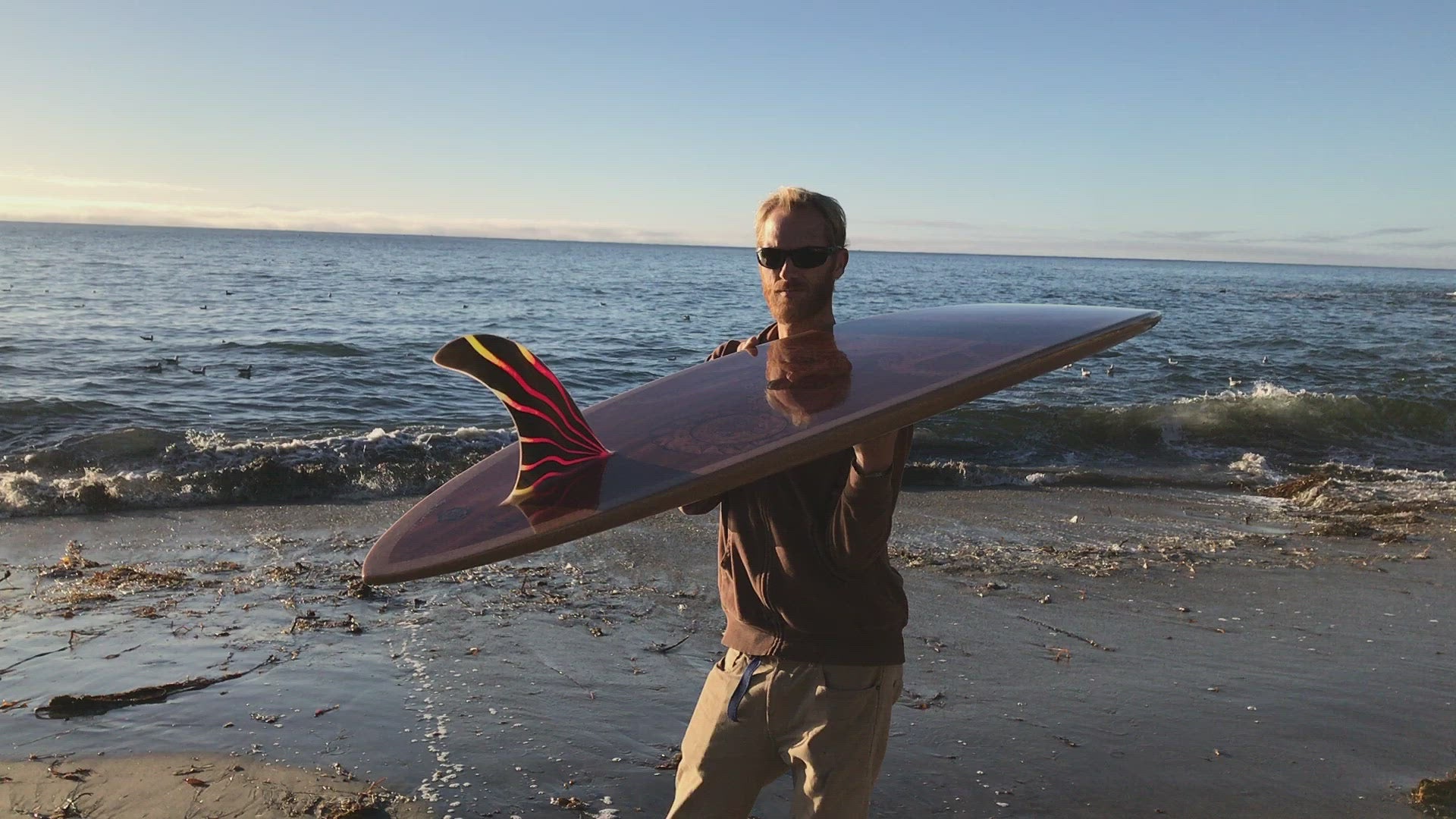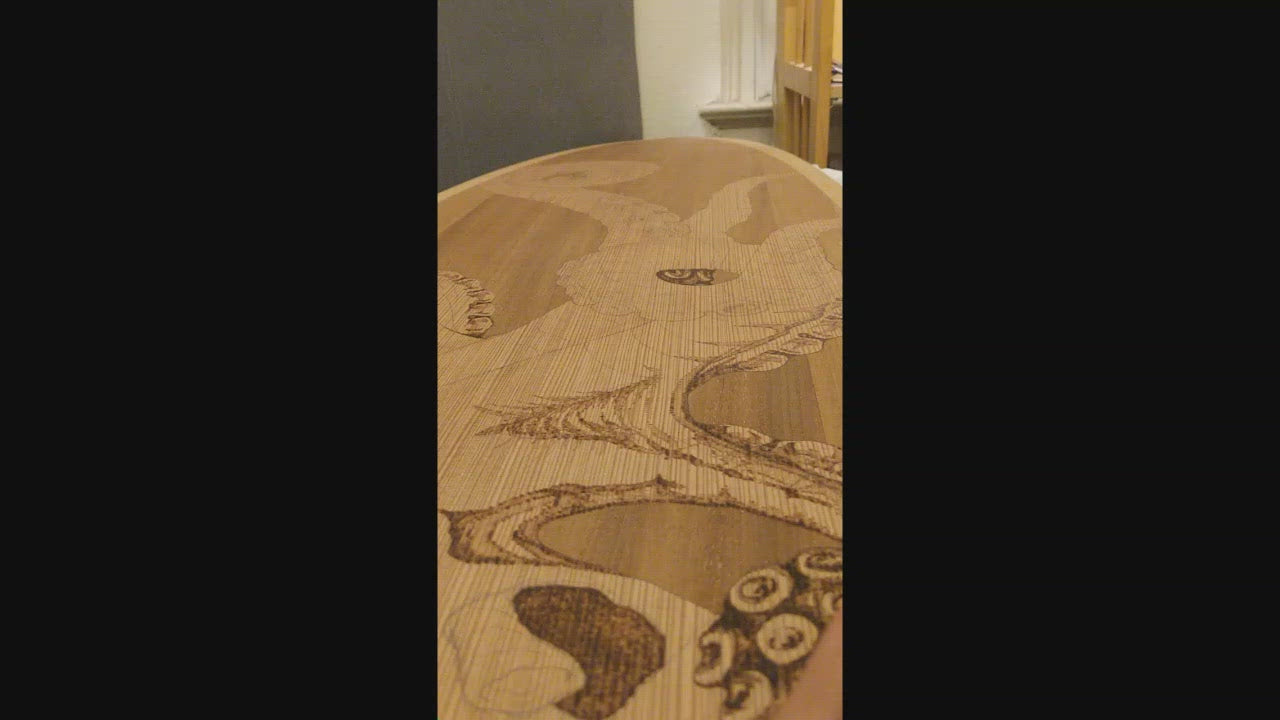 More Cool Info
Free U.S. Shipping & Shipping Details

Every order includes Free USPS First Class or UPS Ground Shipping. Of course, you can select premimum options, too.

We generally ship products between 12 and 48 hours after we receive your order. In some cases, such as with surfboards, custom orders, or custom engraved products, we will contact you within 24 hours to discuss production and shipping timing.

We can ship anywhere in the world that is legally permitted under U.S. law. Any potential customs payments and processing fees are the responsibility of the customer.
Return Policy

Our Refund Policy is simple. We do the right thing. We trust our customers, and if you have any issues with any of our products, we'll work with you to do what's fair.

Contact craftspeople@ventanasurfboards.com to discuss your return or other issue. We approve returns within 48 hours.

Any refunds will be returned via the method and manner in which they were paid. For instance, a credit card payment will be refunded to the same credit card; a wire transfer or electronic check will be refunded to the same account from which it came, etc. A cash payment may be refunded via Venmo, bank transfer, or PayPal.