Astro Chimp Swallow Tail 6'0"
Regular price

Sale price

$ 0.00
This one's sold, but we can make more! Contact us!
This special board was hand-shaped to commemorate the partnership between Conservation International and Save the Waves.


The Astro Chimp model was designed for when the surf starts to get a bit more vertical. We increased the nose and tail rocker, though overall still relaxed compared to contemporary performance rockers. The Astro Chimp can handle punchy beach breaks, peeling points or barreling reef passes. This shape is fast down the line, trims great and still works well as a crowd beater.
It is part of the Ventana Locus Surfboards Eco Collection, a collaboration to create high performance, eco-responsible, foam-based surfboards. This model uses a Marko Foam 25% Recycled EPS blank that is also 100% recyclable.
The multi-colored tail block is made of a very special piece of Douglas fir from the hull of the Western Flyer, considered by many to be the most famous fishing boat in the world. John Steinbeck, Ed "Doc" Ricketts and crew sailed this 77-foot sardine boat into the Sea of Cortez in Baja California, Mexico in 1940. The following year, Steinbeck published his book, The Log from the Sea of Cortez. Learn more about this amazing boat and Ventana's use of its wood.
The stringer is made by Ventana of reclaimed redwood.
It has a 4-fin set up. Like all Ventana boards, this one is glassed with
Entropy Bio Resin, a very strong and lightweight epoxy made with a high tree sap content. The top deck uses a sheet of 6 ounce fiberglass plus a sheet of 4 ounce; the bottom uses a single 6 ounce sheet.
This board is collaboration between innovative shaper Tyler Hopkins of Locus Surfboards who hand-shaped the board and master craftsman Martijn Stiphout of Ventana.
Dimensions: 6'0" x 19.5" x 2.5"
ECOBOARD Gold Verified by SustainableSurf.org!
Learn more about the special partnership between Conservation International and Save the Waves ... signed on this board!
Contact us for information on custom shapes, colors, fin configurations and styles.
-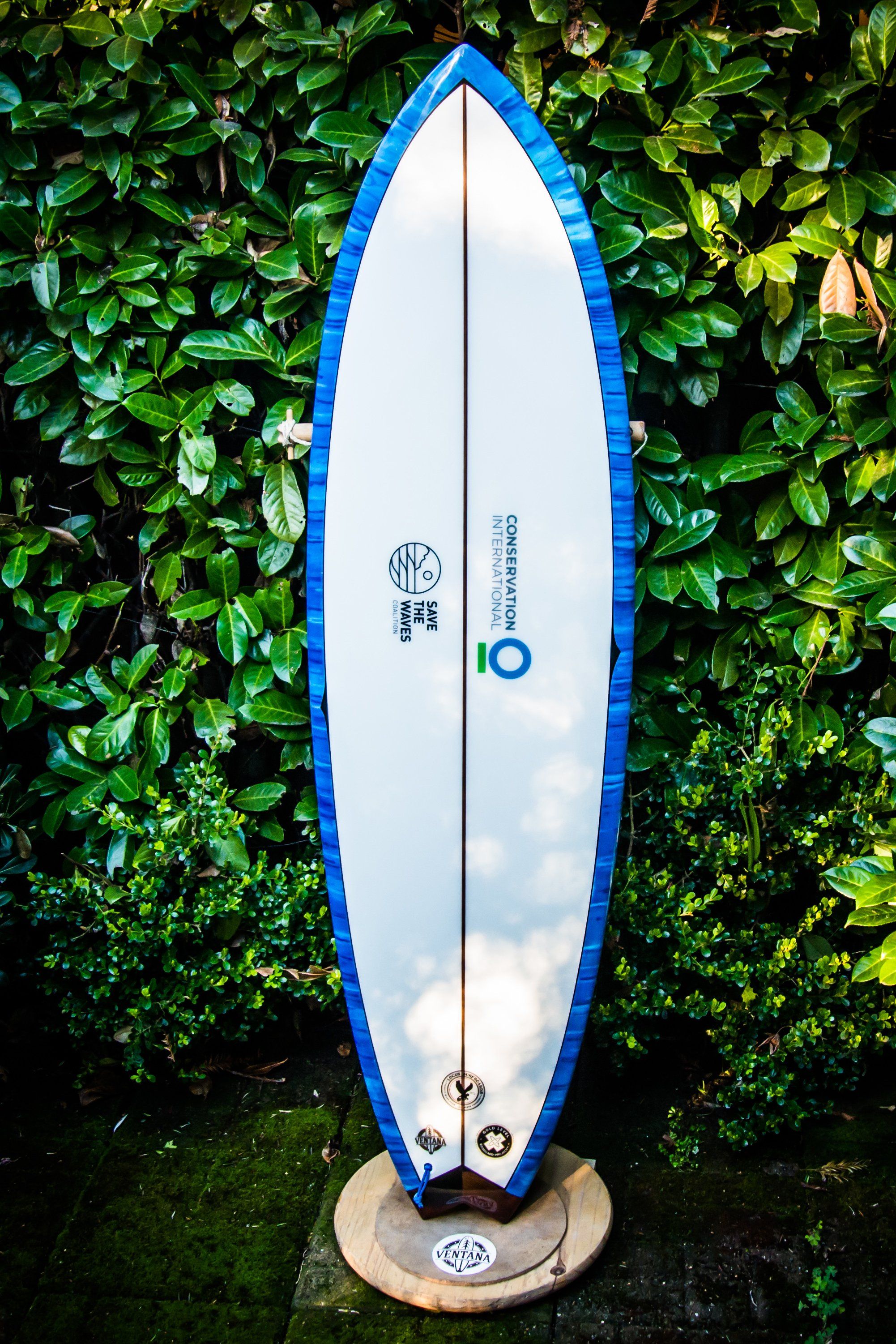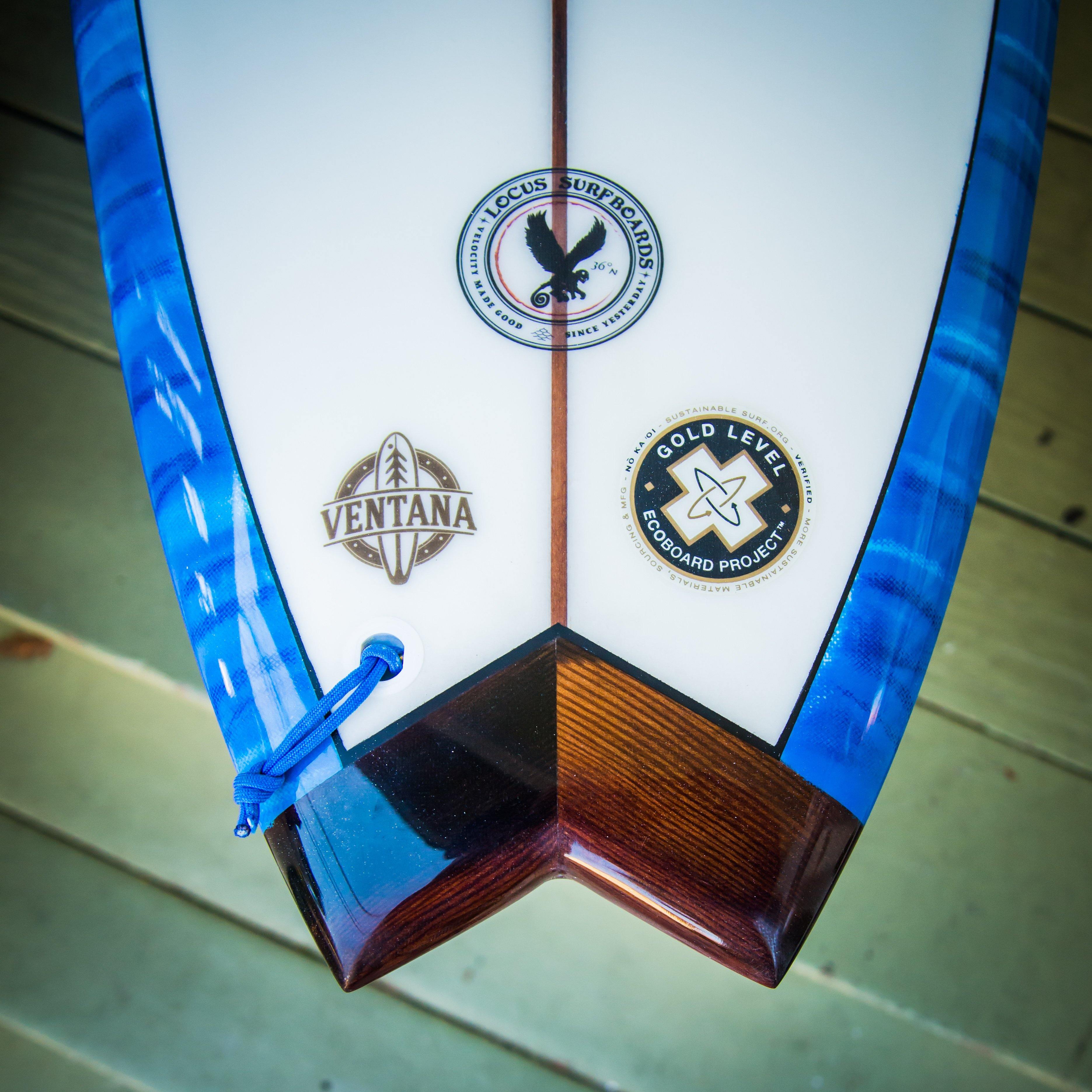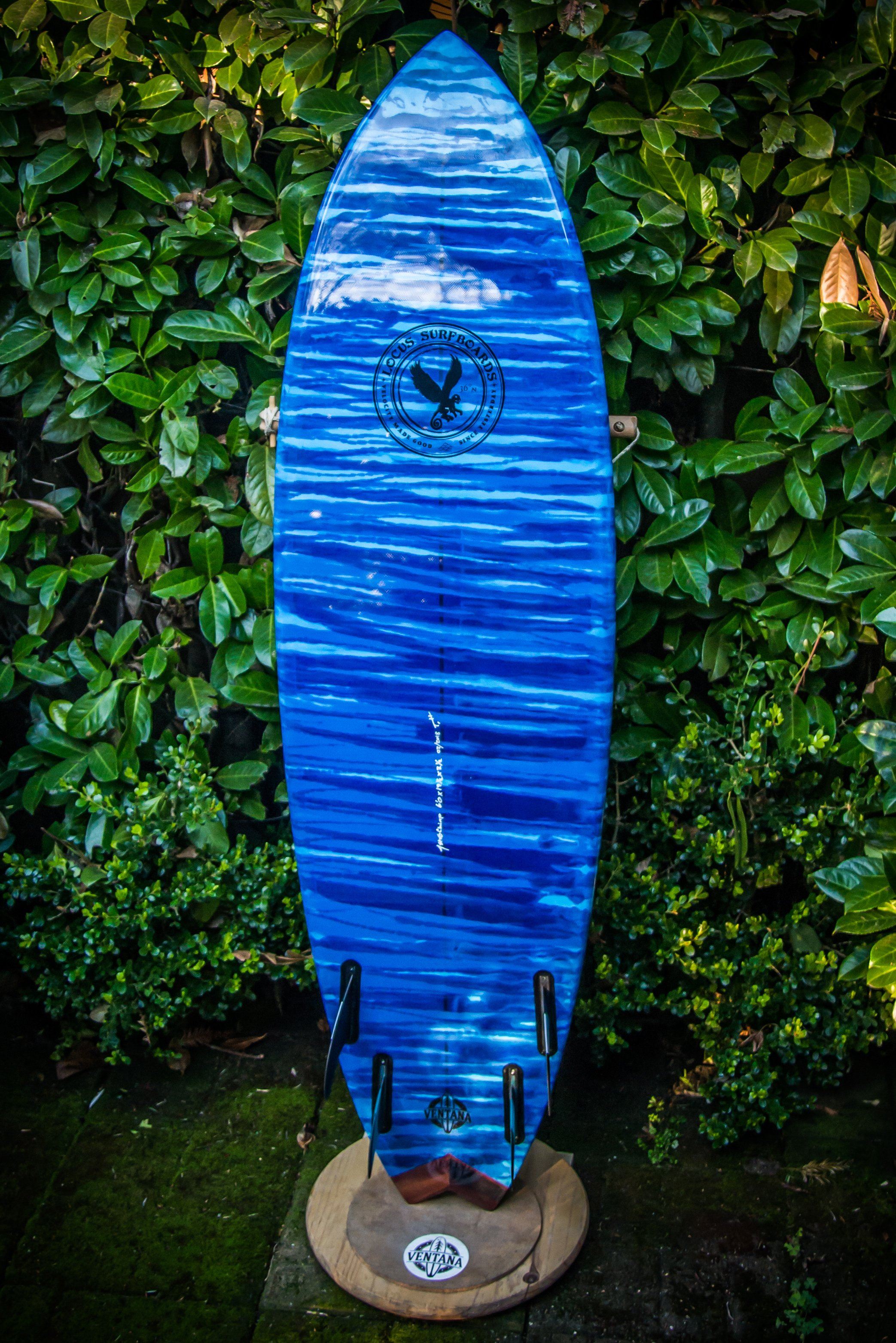 More Cool Info
Free U.S. Shipping & Shipping Details

Every order includes Free USPS First Class or UPS Ground Shipping. Of course, you can select premimum options, too.

We generally ship products between 12 and 48 hours after we receive your order. In some cases, such as with surfboards, custom orders, or custom engraved products, we will contact you within 24 hours to discuss production and shipping timing.

We can ship anywhere in the world that is legally permitted under U.S. law. Any potential customs payments and processing fees are the responsibility of the customer.
Return Policy

Our Refund Policy is simple. We do the right thing. We trust our customers, and if you have any issues with any of our products, we'll work with you to do what's fair.

Contact craftspeople@ventanasurfboards.com to discuss your return or other issue. We approve returns within 48 hours.

Any refunds will be returned via the method and manner in which they were paid. For instance, a credit card payment will be refunded to the same credit card; a wire transfer or electronic check will be refunded to the same account from which it came, etc. A cash payment may be refunded via Venmo, bank transfer, or PayPal.