Jessie KB Flyer Fin
Regular price

Sale price

$ 950.00
Titled "Self Kelp," this one-of-a-kind longboard fin was wood burned by Santa Cruz-based artist
Jessica Kendall-Bar
as part of the Ventana Fin Artist Project. 
Jessica is a scientist by training, in her fourth year of a PhD program at UC Santa Cruz, where she studies the neuroscience of sleep in marine mammals. She attended UC Berkeley, where she studied Marine Science and Integrative Biology. She has experience researching oceanic geochemistry, octopus behavior, marine arthropod mating, moray eel behavior, and marine mammal neuroscience. She has published three peer-reviewed scientific articles and has received multiple awards for her academic and research accomplishments. These include the National Science Foundation Graduate Research Fellowship, the Steve & Rebecca Sooy Graduate Research Fellowship, the UC Regents' and Chancellors Scholarship, the Ernest F. Hollings Scholarship through NOAA, the Charles H. Ramsden Endowed Scholarship, and UC Berkeley's Summer Undergraduate Research Fellowship.
For our last project, Jessie burned an incredible piece on a Ventana handplane. For this project, she has outdone herself!
The fin is made of Alaska yellow cedar used in the reconstruction of the Western Flyer boat, considered by many to be the most famous fishing boat in the world. John Steinbeck, Ed "Doc" Ricketts and crew sailed this 77-foot sardine boat into the Sea of Cortez in Baja California, Mexico in 1940. The following year, Steinbeck published his book, The Log from the Sea of Cortez about the adventure. Learn more about this amazing boat and Ventana's use of its wood.
This fin can be fiber glassed onto any surfboard or displayed as an art piece. You can choose a reclaimed wood base from more than ten different historical sources - original Santa Cruz Beach Boardwalk redwood, salvaged elm from San Jose State University, Alaskan yellow cedar from the original Hollywood Bowl benches, Cabernet Sauvignon wine tank redwood, and many more. After purchase, we'll contact you to help you select your base which can be engraved with the Ventana logo or with a custom engraving of your choice.
This fin is glassed with sap-based Entropy Resins, soy-based Ecopoxy, and Aerialite fiberglass.
Length: 9 inches
Hear Jessie explain the concept she created:
All Ventana Fins are ECOBOARD Project Gold Level Verified by SustainableSurf.org!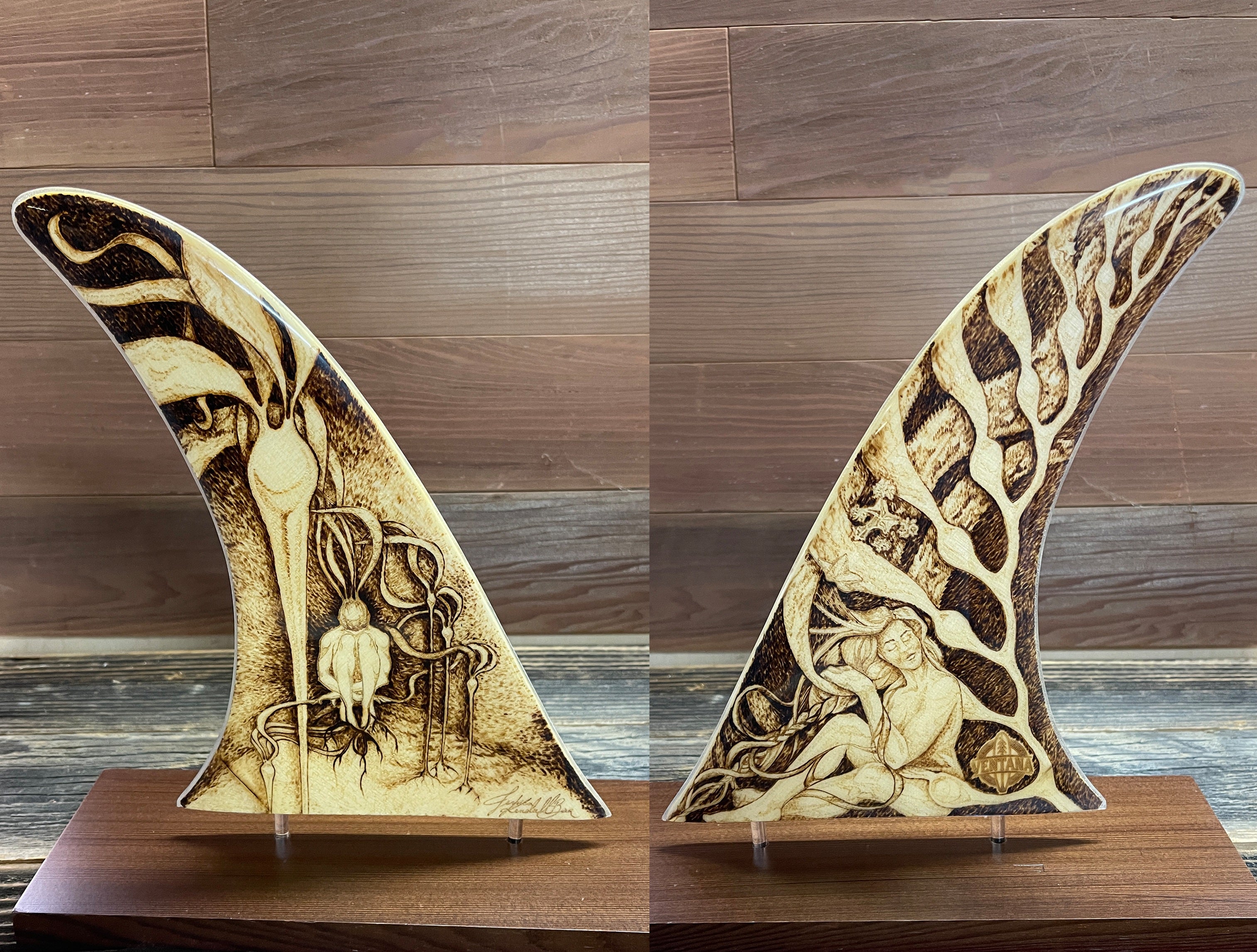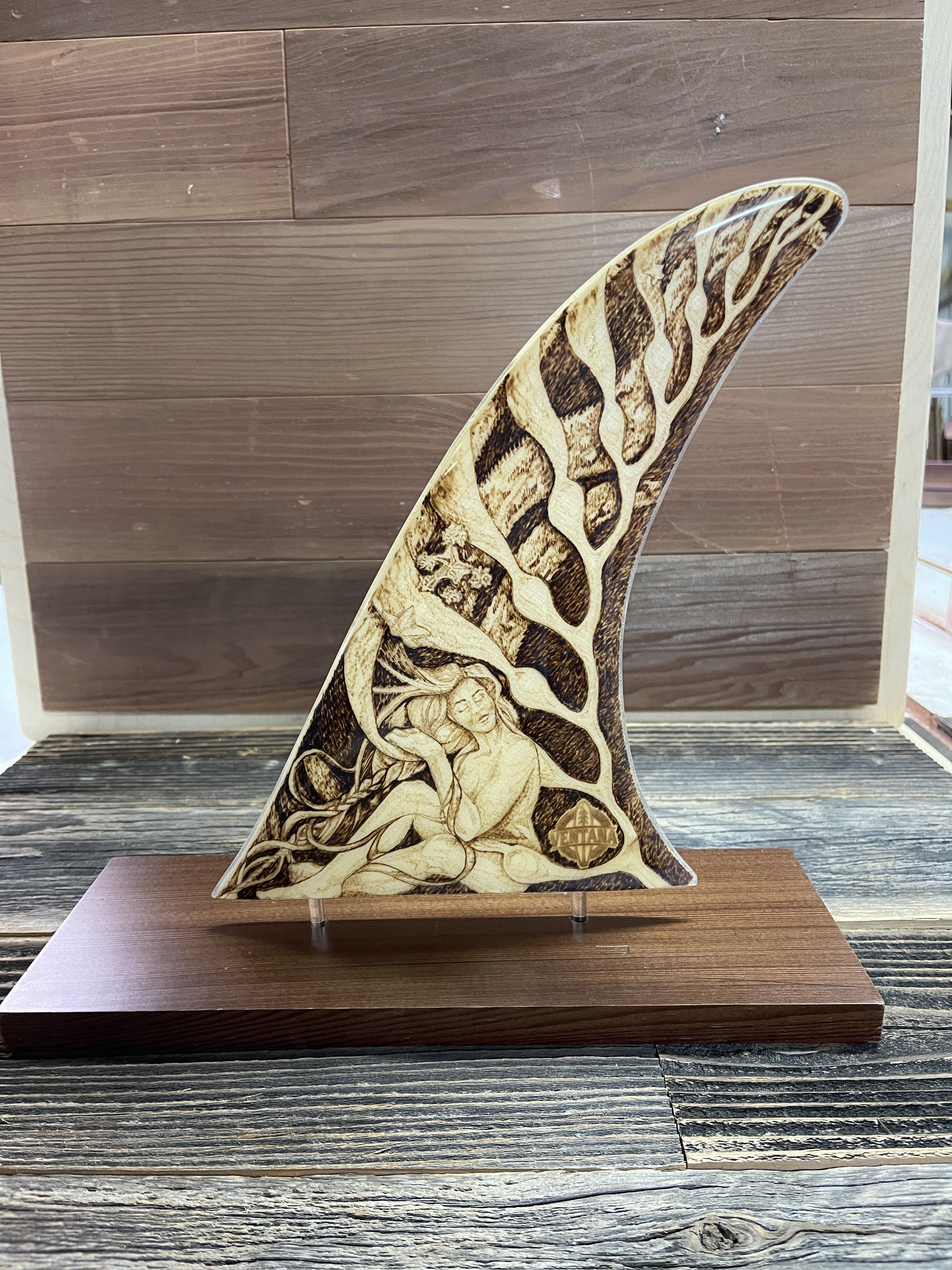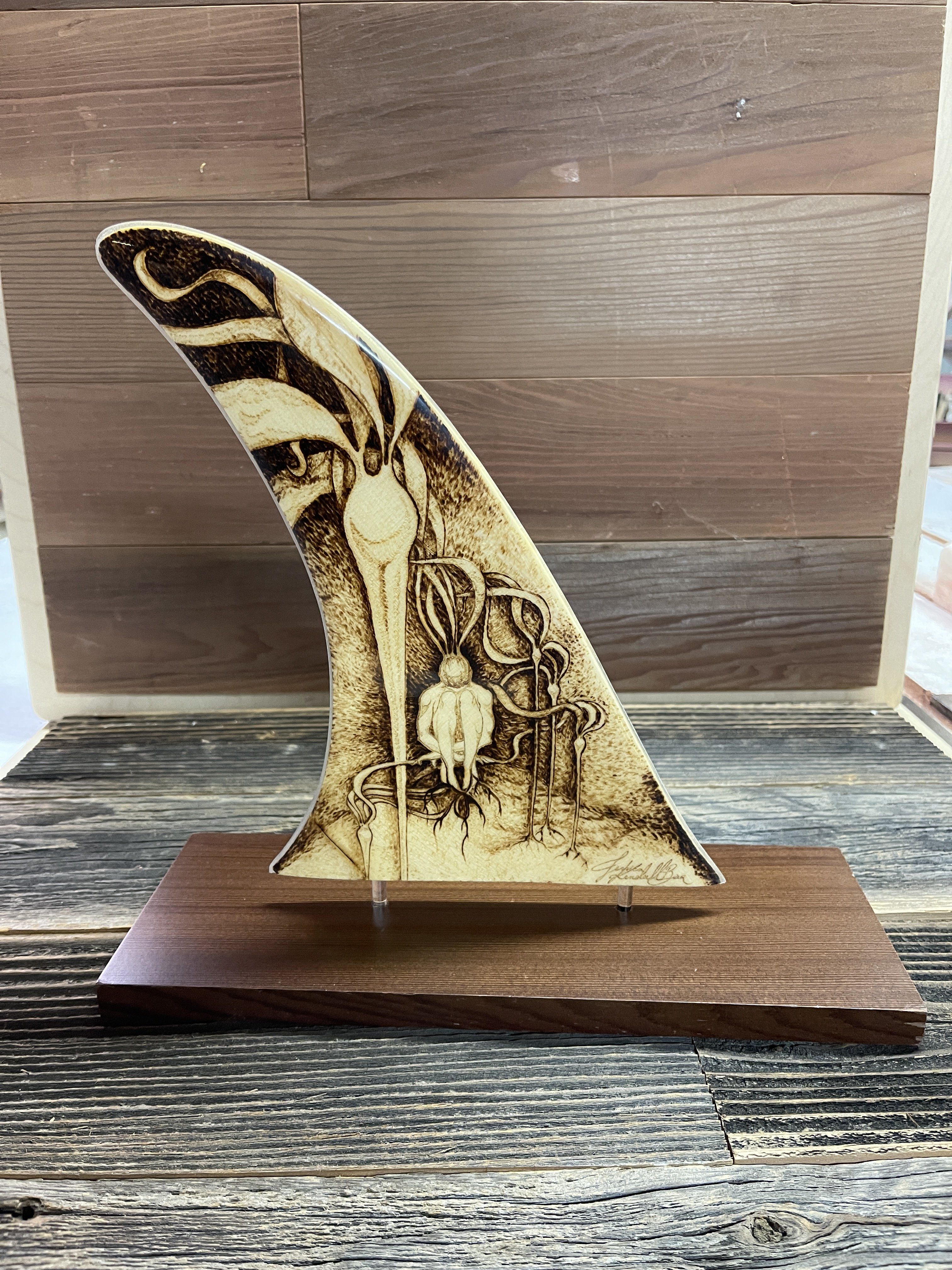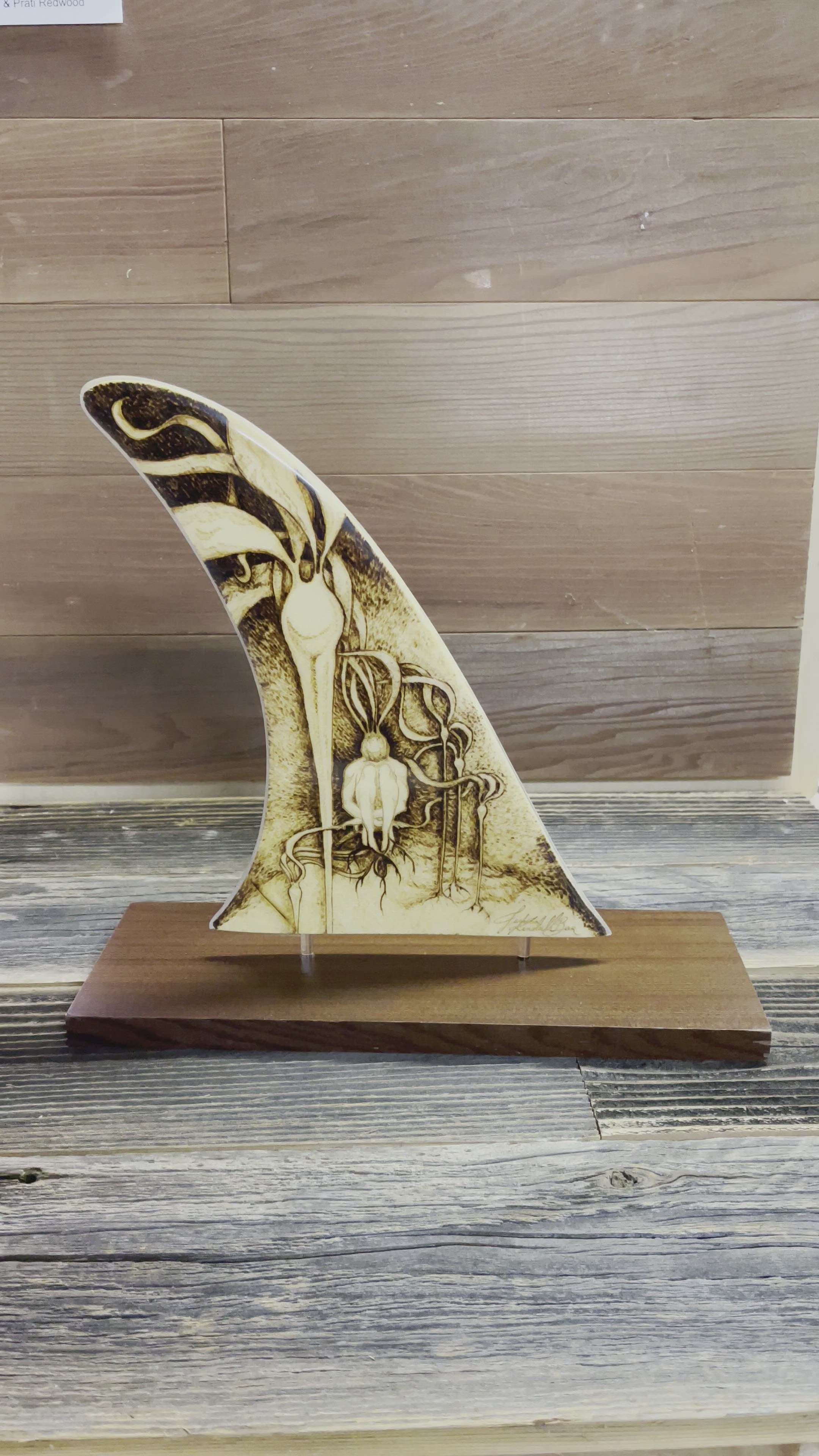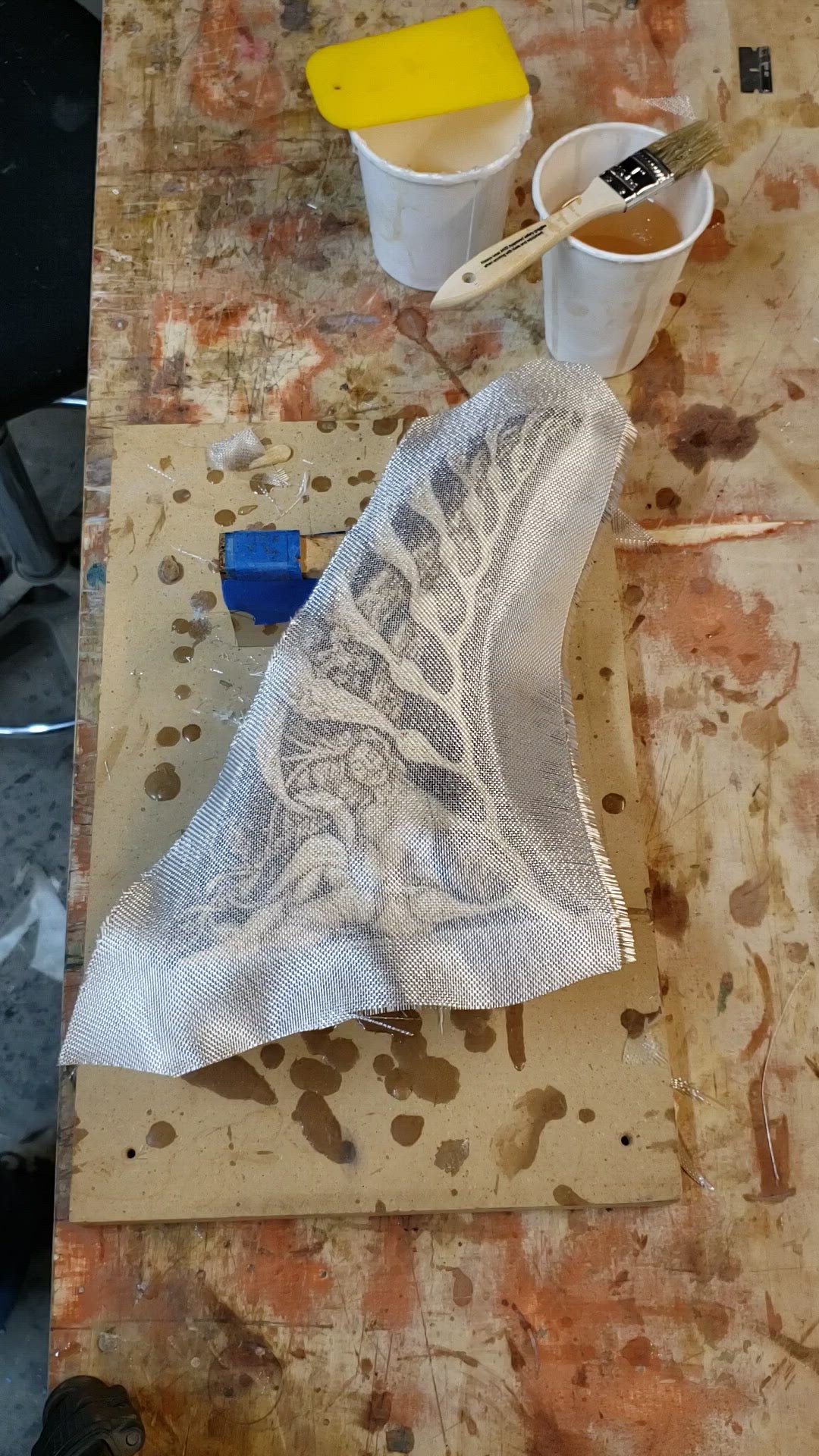 More Cool Info
Free U.S. Shipping & Shipping Details

Every order includes Free USPS First Class or UPS Ground Shipping. Of course, you can select premimum options, too.

We generally ship products between 12 and 48 hours after we receive your order. In some cases, such as with surfboards, custom orders, or custom engraved products, we will contact you within 24 hours to discuss production and shipping timing.

We can ship anywhere in the world that is legally permitted under U.S. law. Any potential customs payments and processing fees are the responsibility of the customer.
Return Policy

Our Refund Policy is simple. We do the right thing. We trust our customers, and if you have any issues with any of our products, we'll work with you to do what's fair.

Contact craftspeople@ventanasurfboards.com to discuss your return or other issue. We approve returns within 48 hours.

Any refunds will be returned via the method and manner in which they were paid. For instance, a credit card payment will be refunded to the same credit card; a wire transfer or electronic check will be refunded to the same account from which it came, etc. A cash payment may be refunded via Venmo, bank transfer, or PayPal.